For businesses looking to get started on social media, or even for those who want to ramp up their social media marketing efforts, one question looms large: how do I get results without running afoul of the rules? You know, the unwritten rules of social media etiquette?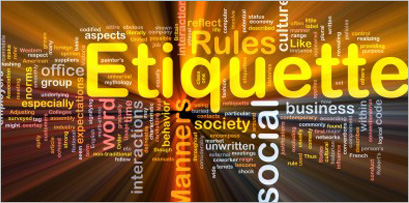 What can I say? What should I not say? How often can I post? Do the same rules apply to Twitter that apply to Facebook? Let's take a look at 5 important rules for social media etiquette (and see how many you're breaking!):
1. Limit your posts.
Basically, this means resisting the urge to post every time the mood hits you. The average life span of a Twitter tweet is about 2 hours, so limit them to roughly 15 per day. A Facebook post stays fresh for about 3 hours, so about 3 posts per day should do. On LinkedIn, you can share tweets, but it's best to filter out anything that isn't directly relevant to your connections.
Remember that too much of a good thing is a bad thing, so get on a schedule and make each post count. A few pithy gems are always preferable to the kind of spammy overposting that's likely to get you unfriended and disconnected.
2. Promote smart.
What does this mean? Obviously, you want to promote your business (this is social media marketing, after all). But, the way you do it is important. Two important points about promoting on social media:
Don't overdo it. Your posts should be 80% informational and 20% sales material, regardless of which platform you're on
Don't harass. Sending the same, or similar, messages over and over is annoying. If they're interested they'll let you know.
Get personal. Promotion shouldn't be like an email blast. Reach out on a more personal level to your fans and friends. It gets a better response than something that sounds like an auto-post.
3. Give and take.
If someone promotes you on their wall, reciprocate with a thank you, and a mention on yours. And, always give credit where credit is due. It's great to share other people's posts, as long as you let everyone know who the original source is.
Did someone inspire a recent post? Did you find their blog post interesting? Are they the subject of your latest tweet? Link to them. A big part of good social media etiquette involves the give and take that encourages cooperation—even among competitors.
4. Add to the conversation.
Always add value. What doesn't add value, you ask? Here are some common no-no's:
Complaining/ranting
Self-aggrandizement
Preaching
TMI (too much information, of course)
Posting information that is only interesting to yourself
The list goes on. Anything that does not focus on your audience, that doesn't establish you as an authority in some way, that isn't helpful—this is the kind of fluff that wastes people's time, which as everyone knows is quite rude!
5. Play by the rules.
Every platform has its own set of rules for behavior, so follow them. They aren't always a long list of regulations—Twitter, for example, offers best practices and guidelines that won't take much of your time to read. Facebook's Community Standards includes common sense rules that could save you some grief later on, and the LinkedIn blog is a good source of helpful information about how to stay out of hot water on their platform.
Whichever social media account you're spending time on, good etiquette is important. Keep these rules in mind when conducting business and you'll see better results and better returns.