"Having a profile that is 100% complete is 40 times more effective," but only 50% of profiles are at 100% complete on LinkedIn. That's how Wayne Breitbarth started his LinkedIn training, Power Formula for LinkedIn.
Social media sites are consistently changing in terms of look, navigation, and functionality. As a marketer, we need to stay updated on these powerful marketing tools. I sat in on Wayne's training session, and sure enough, came out with some great strategies and tactics to explore and try.
Here is a summary of what I learned:
Company Profile Page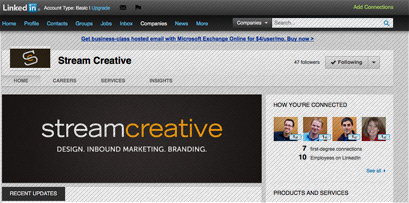 The updates have been out for a while, but it was a nice refresher to walk through the layouts and all the nice tools businesses can take advantage of such as:
Eye-catching banner image
Company status updates seen by your followers

Targeted status updates allows you to share an update with a specific group of people – the only catch is that the group needs to be 100+
Products and Service section

You can have up to 3 rotating banners here.

The banners can be made dynamic, meaning certain banners can be displayed based on the viewers profile information.
The banners can also be clickable – so why not add a call-to-action in the banner?

Organize your products and services by different categories.
Image and Video area to highlight and promote some of your specialties
Receive recommendations to help gather your social proof

The best way to receive a recommendation is to just ask for one.
Personal Profile Page
There's a new profile page layout coming soon. Wayne suggested that you ask for it early to get a jump-start on the new layout, navigation buttons, and become familiar with the new tools!
The new profile will allow you to search for new connections by browsing through your connection's connections, and by using specific keywords. This is a new strategic way to build your connections and relationships.
LinkedIn Strategies
We dove into some strategies you might not be aware of on LinkedIn. Wayne's message was really to think about what your goals are on LinkedIn, and then using LinkedIn tools, develop strategies to achieve these goals.
Here are a few strategies he shared:
Connect with people you might not know, but would like to know.
Join Groups and add to discussions to expand your exposure and build your brand – you!
Use messaging to your advantage. We all know that we can message our 1st degree connections, but did you know that if you are a member of a group, you can go into that group and message other members? This is a great opportunity to connect with others you may not know but are in the same industry.
We all like to see who has viewed our profile right? When you are on the screen that shows you who has viewed your profile, you are given the option to either connect or message them. There is a button right there for you to act on, so you have no reason not to.
Lastly, having Calls-To-Actions on your Individual Profile as well as Company Profile page is important and essential. Calls-To-Actions (CTAs) are: banners, buttons, images, or a text link that prompts the viewer to perform the next step or to take action on what they just read.
LinkedIn is a powerful marketing tool. Many of the key functions are FREE as well.
It is important as LinkedIn evolves, that you evolve with it in order to take advantage of all the tools available. By doing so, you'll be on your way to making yourself a top-notch marketer, whether it is for yourself or your company.
How are you using LinkedIn for self-promotion or business? Have you taken advantage of their tools?