HubSpot is a leader in the inbound marketing world. They know the ins-and-outs of online marketing, and have created amazing all-in-one marketing software. The marketing software makes all these things possible:
Blogging
Social Media
Search Engine Optimization
Calls-to-Actions
Landing Pages
Lead Management
Email
Marketing Automation
Closed Loop Analytics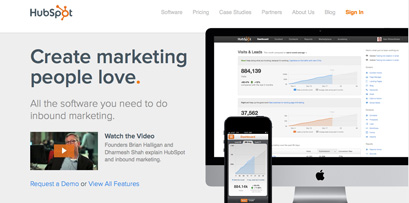 Those are a lot of awesome features in one product, so you can see why we use it here at Stream Creative. HubSpot has built their brand and made themselves a credible expert in marketing and website growth and development. They are our go-to source for information and resources. Because we think so highly of them, we wanted to share their guide to optimizing your website for search engines.
Importance of Website SEO
First off, an explanation of the importance of website optimization, or search engine optimization (SEO), is needed. SEO is about focusing and narrowing the topics on the pages of your website, making each page unique. Having unique pages based on one topic, or keyword, helps search engines to track and index your website pages, and thus include them in search results. The goal of search engines, such as Google and Bing, is to serve the right content to the right person at the right time. Search engines also want to provide relevant and credible results, which ties in with SEO fundamentals. SEO fundamentals are what help determine your ranking in search engine results, and include:
Off-page SEO: building trust and authority through inbound links
On-page SEO: creating two different types of content through blogs, landing pages, ebooks, etc.

Branded content: general information about your business
Non-branded content: specific about your industry, services, or products
Website Optimization Guide
When going through this guide and working on your SEO, remember that the ultimate goal is to get found by using keywords that are relevant to your business.
Choose your keywords

Read the page's content
Identify one primary keyword per page
Identify one variation of the primary keyword
If you can't identify one keyword, rewrite the page content or create a new web page
Optimize the page for the one primary keyword

Create the page title

Should be less than 70 characters, so the whole title can be seen in search results
Primary keyword should be first word followed be the keyword variation separated with pipes – straight vertical line | ( shift \ )

Each page title needs to be unique
Don't include the business name in every page title

Business Name should be included on homepage and contact us page

Add the meta description

Appears under page title in search results

Should be less than 150 characters
Incorporate the primary keyword
Give a valuable compelling reason to visit the website
It's important to note that Google will sometimes display a different meta description than what you may have put.

Optimize the URL

Include the primary keywords
Separate each word with dashes ( - )
Keep the keyword close to the root domain

Create heading tags

Create an H1 heading tag that incorporates the primary keyword
Place the heading at the top of the page – above the fold, so you don't need to scroll to see the heading

Optimize page content

Include the primary keyword in the content 3-4 times
Keep the primary keyword above the page fold
Don't keyword stuff, or overuse the word - keep it conversational
Write for your readers, not for search engines

Add calls-to-action (CTA)

Have at least one CTA related to the content and keyword
Keep CTAs above the page fold
The CTA should be an internal link to a landing page

Include internal links

Create a text link to a page using the primary keyword
Create 1 or 2 internal links
Link to other pages from the page
Build a spider web of related content

Add images

Search engines need to "read" images
Add alt tags to your images using the primary keyword
Use the primary keyword in the image filename
Link the images to web pages and landing pages
Once you've gone through these steps, you're on your way to having an optimized website and increasing your search engine rankings. Optimizing your website it a great way to draw more traffic to your website because search engines will have an easier time finding your content and delivering it to search results.
Learn more about Search Engine Optimization from HubSpot or contact us for information or help. We offer SEO help as part of our inbound marketing services. Get started today!