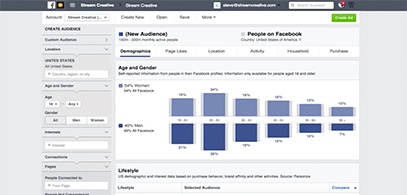 Facebook Audience Insights is an incredible analytical tool that when used to the fullest, will provide you with a large amount of demographic and behavioral data about your audience and competitors. Facebook Audience Insights is my go-to tool for researching personas and identifying the right audience for Facebook ads. Insights can be accessed through Facebook Ads Manager and is free to use.
One of the best features of Insights is that it enables advertisers to target their ads more effectively. For example, I use this tool to learn about audiences, build out buyer personas and crate content topics and strategies.
Facebook Audience Insights data comes from two sources:
Self-reported Facebook data: This is the information given by users when they fill in their profile information, including age, gender, relationship status, job title, location, page likes, etc.
Third-party data partners: Information such as household income, purchasing behavior, and home value is also available through external companies that match that data to Facebook user IDs. It is worth noting this information is only available for U.S. audiences.
To use Facebook Audience Insights, login in to your Facebook Ads manager and click on 'Audience Insights' in the left-hand menu. If you are in Business Manager, click on Tools > Audience Insights.
Step 1. Choose Your Audience
Facebook will open a pop-up window to prompt you, and will give you three options. Everyone on Facebook, people connected to your page and a custom audience. If you have a large email list you can upload that to your custom audience to start to understand the demographics and behaviors of your list.
I'd recommend starting to explore "Everyone on Facebook."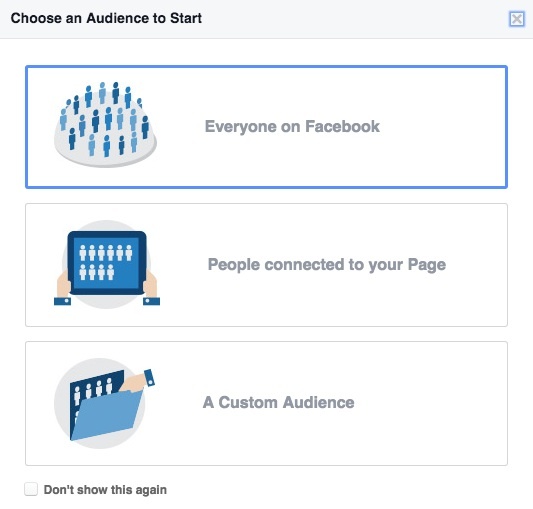 Step 2. Start Segmenting Your Audience.
The location is set up with a default audience in the United States but you can quickly add or remove other countries. You can also type in a region or city to narrow it down even further.
With the listed menu, you are able to segment the audience by age, gender and interests. This is where you can start putting industry interests or influencer names in under interests. This search function tends to produce fairly random results (it's not anything you are doing wrong – just a inconsistent function of Facebook). It's not uncommon for the search to not include people you would expect to easily find or be listed. It's a little trial and error but it's worth testing, and you may get a different result from one trial to the next.
Step 3. Dig into the Data
Now that you defined some of these parameters you can explore six different data tabs:
Demographics
Page Likes
Location
Activity
Household*
Purchase*

In the Demographics table, you are able to segment further by clicking on the left-hand menu. For example, if you want to look at the female segment of this audience, you can select this on the menu. This can be done for all of these options (age, gender, and more advanced options including language, relationship status, job title, etc.).
The Page Likes tab is where you can get some great common interests for your personas. This also is where we get information for our Facebook Ad targeting. Most often, you can then use these Page Likes in your Ad targeting interests. It's not guaranteed that these will show up in the interests for ad targeting, but oftentimes it will, or a variation of the name.
You can also can get an idea of Locations of these users and their general activity. Both are really important when running/targeting your ads.
Step 4. Save Your Audience
Now that you have pulled all of this data, make sure you save it so you can revisit it again. This will come in handy once you want to target your Facebook ad campaigns.
Just click 'Save' at the top of the page and give it a name. To open a previously saved audience you can click on the open tab and it will show you a list of your saved audiences. This data will be available to you in PowerEditor when you are setting up your ads as well.