Eliminate roadblocks and frustration that comes with website content updates using HubSpot CMS Hub. The HubSpot CMS Hub eliminates any tensions between marketers and developers during a website redesign process and throughout ongoing website optimizations. With smart features, like drag and drop editing and themes, developers can create flexible content structures that allow marketers to make quick, easy updates.
Take a look below as we compare CMS Hub Professional and CMS Hub Enterprise to help you make the right choice. In this article, I'll review:
How Much is CMS Hub Professional vs Enterprise?
CMS Hub Professional is $400 per month and CMS Hub Enterprise is $1200 per month. The HubSpot CMS is designed to make website creation and management easier, without sacrificing on power or security. Here's our latest article on HubSpot CMS Hub Pricing this year.
CMS Hub is an all-in-one website platform designed to help you grow traffic and generate leads. Everything you need to both build and optimize a peak performing website is baked all together - out of the box.
Unlike other content management systems that become more difficult to use over time, HubSpot CMS Enterprise scales with business and takes the pain out of managing software, enabling users to focus on creating remarkable website experiences for their customers.
Key Differences Between CMS Hub Professional and CMS Hub Enterprise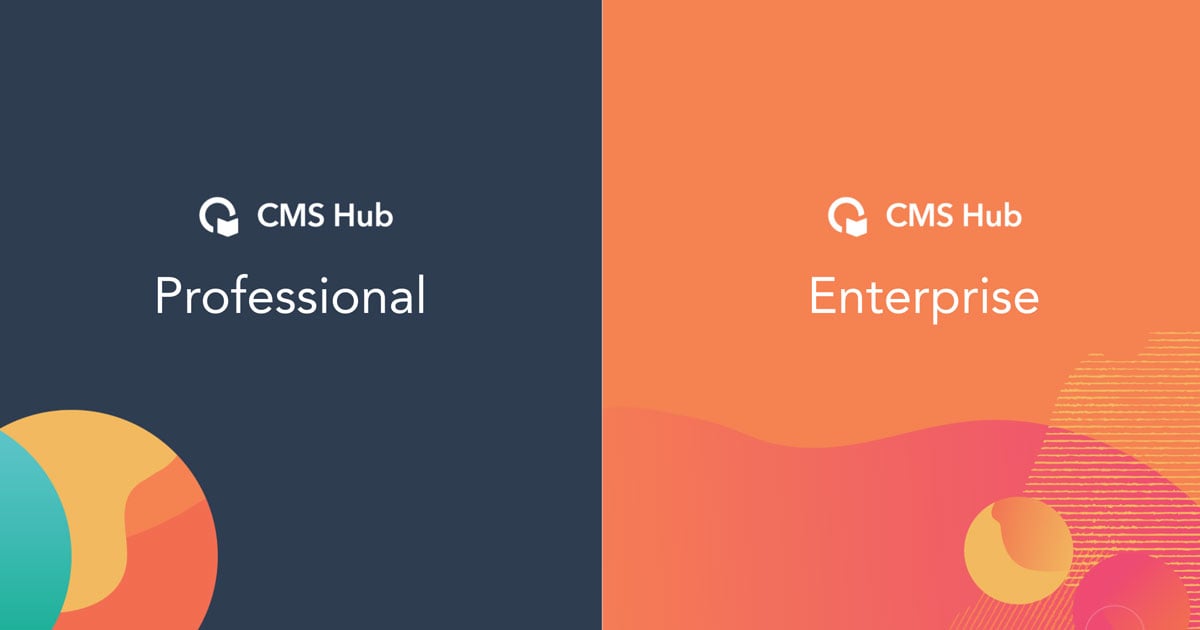 The CMS Hub allows marketers to take ownership of real-time website modifications and day-to-day updates. By leveraging HubSpot's easy-to-navigate tools and the content creation experience created for them by a developer, marketers can make changes to their website as they see fit, instead of relying on a developer. CMS Hub enables users to focus on the customer experience instead of internal systems.
CMS Hub Professional is for fast-growing companies who are tired of being held back by clunky content systems that require heavy maintenance and make it difficult for marketers to get their work done. If you're an existing CMS customer, you now have access to all the features found within CMS Hub Professional.
CMS Hub Enterprise comes with everything found in Professional, but also gives scaling organizations the opportunity to build powerful web app experiences and provides more governance over a growing team.
Why CMS Hub Professional?
CMS Hub Professional is the next evolution of the current HubSpot CMS, and includes a multitude of new features to make it easier for both marketers and developers.
Maintenance and Management Without the Migraines:
You don't have to worry about the speed, security, or reliability of your CMS. As a SaaS CMS with a globally hosted CDN, 24/7 threat monitoring, and a web application firewall baked right in, HubSpot takes care of system maintenance for you so you can focus on the experience you provide your customers.
Easily Build and Optimize Remarkable Website Pages:
Easily create a website that drives business results. Leverage HubSpot's default themes and modules to create a beautiful website that matches your brand or have your developer create something custom. Either way, you can effortlessly edit your site with drag and drop page editing that puts the marketer in control. You can also easily extend your content by leveraging the apps and website assets listed in HubSpot's verified marketplace.
All-in-One Tool to Help Grow Traffic and Generate Leads:
CMS Hub comes with a professional CRM, so you can personalize content to the needs of your customers, and report on the success of your content with features like contact attribution reporting. You'll also have access to HubSpot's conversations platform, including chat and conversational bots. You can also explore HubSpot's growth suite to see the power of integrating your marketing, sales, and services efforts into the same platform as your website.
Why CMS Hub Enterprise?
CMS Hub Enterprise comes with everything found in CMS Hub Professional and expands with features like serverless functions and memberships.
Build Powerful Web-App Experiences:
Build powerful web-app experiences like calculators, event registrations, and more by leveraging features like serverless functions and dynamic content through HubDB. You can also create membership-driven websites that truly provide your customers with a personalized experience every time they visit your website.
Gain Governance and Control at Scale:
Never have to worry about a rogue change being made to your website. Content partitioning in tandem with user permissioning ensures that each user in CMS Hub has access to the content and features that are necessary for them to perform their job. If you notice a change you don't remember making, activity logs will quickly tell you how that change occurred so you can take action.
Extend Your Brand:
CMS Hub Enterprise includes two domains automatically. This allows you to create a microsite for a specific campaign you are running, or host a separate business line's website all within the same, secure CMS platform.
The Capabilities of CMS Hub Professional
Flexible Themes
Allow your developer to create a site-wide content editing experience that puts the marketer in control. Start from scratch or leverage one of HubSpot's pre-built themes as a starting point. Themes allow marketers to make large-scale changes to web-based content without needing a developer for maintenance and without knowing CSS.
Drag and Drop Page Editing
Focus on creating amazing content, not managing your content creation process. With CMS Hub, your developer can create a flexible content creation experience that allows you to create pages through a drag and drop editing experience easily .
SEO Optimizations
Automatically receive suggestions for how you can optimize pages across your entire site, and implement those changes from one tool. Use topics to organize your content in a way that makes it easy for search engines to crawl and properly index your site. Integrate HubSpot with Google Search Console to get even more data on how your content is performing in search.
Multi-Language Content
Easily create, manage, and optimize a multi-language site as your business grows. In-language variants of a specific page will automatically be associated together, making your content easy to manage as you scale. Once published, run tests on each multi-language variation to understand what is performing best.
Dynamic Content with HubDB
With HubDB, you can build data tables displayed on your website or landing pages. With HubDB, you can update the content in the data table, and have that change reflected across your entire site wherever the table is referenced. This is especially useful for event calendars, product catalogs, employee listings, and resource libraries.
Content Staging
With the content staging tool, you can redesign and relaunch website pages in a safe staging area. Import existing HubSpot-hosted pages or create new pages from scratch. Any content created and published in content staging is hosted on a sandbox domain, and won't replace your live content until you've reviewed and approved everything.
Backed by a Market-leading CRM
HubSpot CMS comes with the HubSpot CRM baked in. With it, you're able to easily keep track of visitor engagement with your website, and use that information to create tailored messaging that speaks directly to each user. Keep track of how your visitors interact with your content from the first page visit, all the way through to purchase, and beyond.
The New Features of CMS Hub Enterprise
Memberships
Create membership-based content using HubSpot lists to allow only specific customers to access a section of your website. Use this to create content for specific segments of your customer base, or manage premium content channels. Each contact gets a personalized password and login.
Serverless Functions
Add interactive elements to your HubSpot hosted content, like event registrations, guest books, and dynamic calculators, without the need to configure an external server, SSL certificate, or data transfer process.
Content Partitioning
Use team permissions to give your team access to only the content that is important to them. For example, allow your blog team to focus on the blogs that matter to them, without being distracted by blogs or landing pages owned by another internal team.
Activity Logging
Your team is growing fast, and many people across several teams have access to the content on your site. Ensure that you're able to pinpoint exactly who on your team made a specific update at any given moment with shareable activity logs. Quickly run this export, and gain governance over your site.
Reverse Proxy Support
Give your marketing teams the power to create and manage content with CMS Hub's easy-to-use content editing tools, while continuing to load all content from a single, trusted domain hosted externally.
Multi-Domains
If you have multiple business lines, or simply require more than just one domain, HubSpot has you covered. Manage and measure all of your website content in one HubSpot account across multiple domains. CMS Hub Enterprise comes with two brand domains out of the box, and additional domains can be purchased as needed.
Adaptive Page Testing
Go beyond simple A/B tests to ensure you are continuously optimizing your website. Choose up to five variations of a page to test against each other. HubSpot will continually test each version and serve up the highest performing option to your website visitors.
Which CMS Hub is Right for Your Company?
CMS Hub Professional and Enterprise are designed to eliminate barriers with a flexible content creation experience so your team can get work done. HubSpot provides the opportunity to create and edit web pages in a very user-friendly focused admin area that any marketer can use and not become overwhelmed. This is one of the main reasons we have made HubSpot our CMS of choice over the years.
Some companies need more than just a user-friendly CMS and need the power to handle enterprise level functionality. Traditional CMSes make it difficult to scale the system, which creates unnecessary complexity and builds siloed systems.
Scaling companies often need to extend their brand across multiple websites, regions, teams or microsites. CMS Hub Enterprise empowers your team to gain governance and control at scale.
An important element to consider is the extremely secure hosting environment. HubSpot provides its customers with peace of mind that their sites are hosted on the most secure CMS available today. They achieve this in a number of different ways. HubSpot's security details are provided here, and their team is readily available to provide answers to any questions or concerns IT departments present - adding to the confidence in their system.
Website content management and ongoing website updates become easier when you have the right CMS system. Reduce your frustrations and the time you spend designing and updating your site with HubSpot CMS.
Do you have additional questions about finding the right CMS system for your brand? Contact Us today to learn more.