How much does the HubSpot CMS Hub cost?
CMS Hub is available in three editions: Starter, Professional and Enterprise. The HubSpot Content Management System (CMS) pricing for CMS Hub Starter is $25/month, Professional is $400/month and CMS Hub Enterprise is $1200/month.
The HubSpot CMS can also be purchased with any edition of the Marketing Hub, Sales Hub, or Service Hub.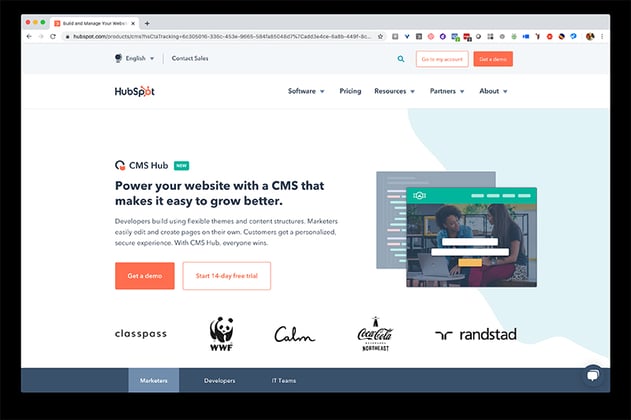 Why Is HubSpot's CMS Our Content Management System of Choice?
At Stream Creative, we've been building web sites since our company was founded in 2006. In the first few years, we worked with static HTML, a proprietary CMS, Joomla, Wordpress, and others. In 2010, we decided to make the HubSpot CMS our content management system of choice for these reasons:

HubSpot CMS empowers our clients to control their website and do it with ease.
HubSpot provides the opportunity to create and edit web pages in a very user-friendly focused admin area that any marketer can use and not become overwhelmed.
We understand that marketers want to eliminate roadblocks and frustration with making website content updates. They want the ability to make updates themselves in a non-cumbersome format.
Is the HubSpot CMS Hub Worth the Price?
The short answer to this question is yes because HubSpot's world-class content management system saves your marketing team time, and ultimately - money. The system makes it efficient for developers, agency partners, or marketers to build out pages, incorporate design elements, and add content.
An important element to consider is the extremely secure hosting environment. HubSpot provides its customers with peace of mind that their sites are hosted on the most secure CMS available today. They achieve this in a number of different ways. HubSpot's security details are provided here, and their team is readily available to provide answers to any questions or concerns IT departments present - adding to the confidence in their system.
Are you wondering if the $25-1200 monthly fee includes hosting? This is a common question and you'll be happy to learn that the cost not only includes hosting but as mentioned above, also alleviates many costs related to keeping a site maintained and updated. Here's our lates post comparing HubSpot CMS Hub Professional vs Enterprise.
Because HubSpot is constantly updating and improving the CMS, you won't pay extra for updates or have to worry about maintenance issues that would typically require a developer's assistance. As the HubSpot product team makes enhancements, updates are rolled out automatically to every CMS user on the platform.
An additional benefit is that CMS users also have access to the HubSpot Free CRM, which combines the power of CRM and CMS into one integrated platform.
By packaging CMS Hub with HubSpot CRM, you're able to easily keep track of your site visitor's engagement with your site, and use that information to create tailored messaging that speaks directly to them. Keep track of how your visitors interact with your content from first page visit, all the way through to purchase & beyond.
Overall, HubSpot CMS combines website creation, website hosting, and the power of HubSpot's CRM to enable users to provide personalized content to contacts, align their marketing and sales efforts, and deliver robust web analytics reporting.
How Flexible Is the HubSpot CMS?
In the majority of cases, the HubSpot CMS can handle the needs of a growing company. We see the platform implemented in companies ranging from a few team members up to global manufacturers and insurance carriers. Companies of all sizes find the CMS affordable and flexible to scale their needs.
One of the most flexible attributes of the HubSpot CMS is the database feature called HubDB. If you already have a complex database solution in place, we've identified ways to integrate existing databases with HubSpot. View an example of this process in our HubSpot CMS Manufacturing case study here.
Unlike other content management systems that become more difficult to use over time, HubSpot CMS Enterprise scales with business and takes the pain out of managing software, enabling users to focus on creating remarkable website experiences for their customers.
How Is a Custom HubSpot CMS Built?
There are many options to build your website on the HubSpot CMS. HubSpot provides 6 themes to immediately start using. Themes also allow your developer to create a site-wide content editing experience that puts the marketer in control over the web site. Marketing teams are able to start from scratch or leverage one of HubSpot's pre-built themes as a starting point. Themes allow marketers to make larger scale changes to their web based content without needing a developer for maintenance and without knowing CSS.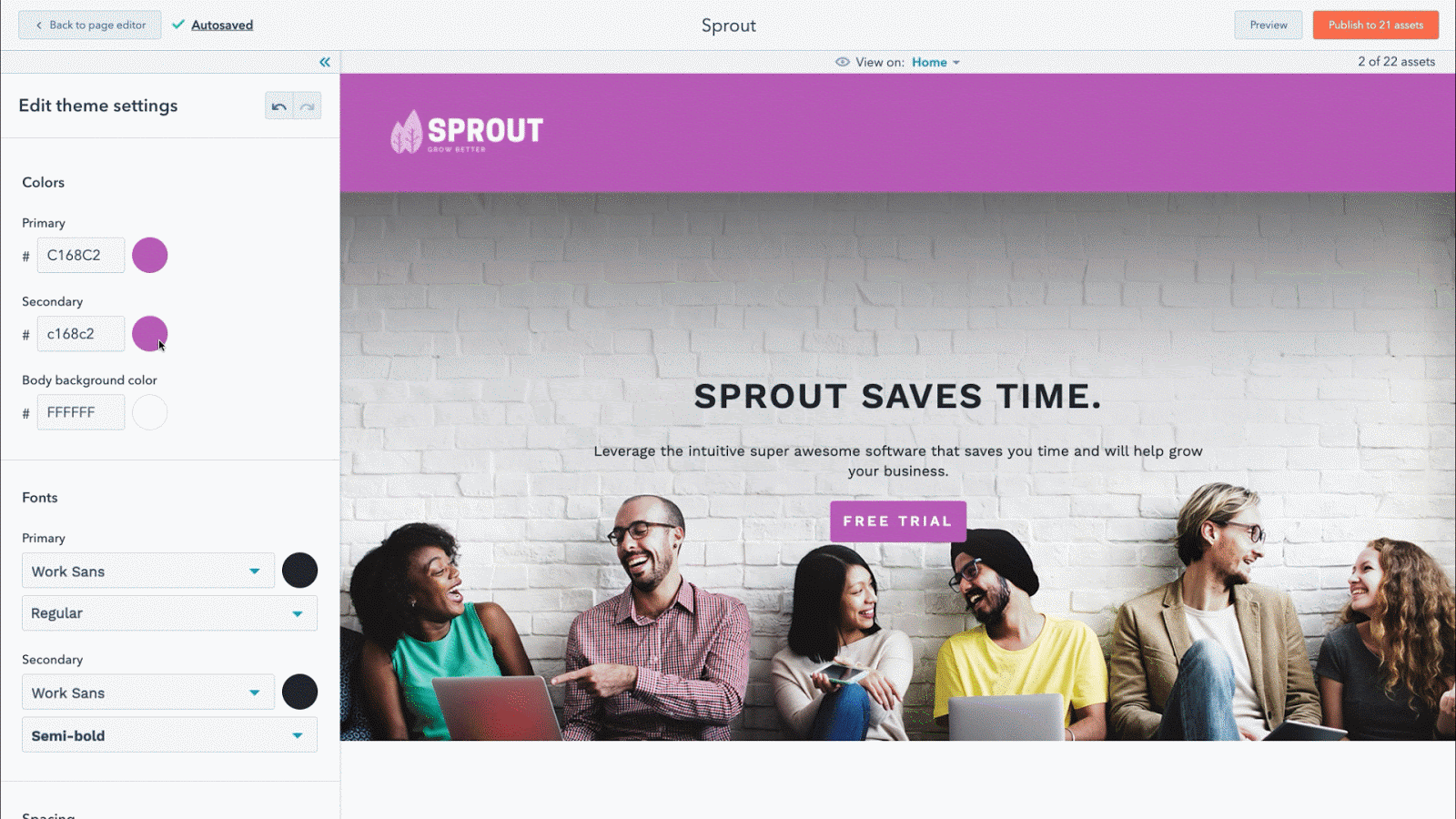 The HubSpot marketplace offers a number of free and paid templates from solutions partners to allow you to start building your website based on its prebuilt themes and templates. This is similar to how you might use Wordpress themes or build a Squarespace site.
Users also have the option to develop a custom CMS. This allows internal development teams and agency solution partners to build complex and innovative HubSpot CMS web designs.
HubSpot CMS Hub Starter Features in 2021
Ready for the complete list of HubSpot features you can expect to use with the CMS Hub? If you decide to purchase HubSpot Marketing Hub Professional or Enterprise, you will expand on the CMS offerings with even more robust features and capabilities.
Themes
Use one of HubSpot's pre-built website themes with the option for custom development. Build a cohesive site without worrying about mismatched designs, logos, or navigations.

Drag & Drop Editing
Update and create pages without a developer's help or custom code. Publishing changes on the fly has never been easier.

Landing Pages
Create landing pages to convert visitors into leads. Embed forms and CTAs and streamline lead generation.

Blogging
Give content creators a powerful platform for building authority around topics and generating traffic to your site.

Website Pages - Limit of 15
Build webpages quickly and easily with HubSpot's powerful webpage building tools.

Multi-language Content
Easily manage multiple language domains and optimize each one for SEO. Allow users to toggle between languages.
Full CRM
By packaging CMS Hub with HubSpot CRM, you're able to easily keep track of your site visitor's engagement with your site, and use that information to create tailored messaging that speaks directly to them. Keep track of how your visitors interact with your content from first page visit, all the way through to purchase & beyond.
HubSpot CMS Hub Professional Features
Full CRM
By packaging CMS Hub with HubSpot CRM, you're able to easily keep track of your site visitor's engagement with your site, and use that information to create tailored messaging that speaks directly to them. Keep track of how your visitors interact with your content from first page visit, all the way through to purchase & beyond.

Conversations platform
With live chat, team email, a Facebook Messenger integration, and an easy-to-use chatbot builder, HubSpot gives you the messaging tools and context to have unlimited, personalized conversations with prospects and customers at scale.

Branded Email
Send bulk emails that are tested and optimized for different devices and inboxes. Create better emails with a drag and drop editor and personalization tokens.

Ad management
Connect accounts from supported ad networks to your HubSpot account. Create audiences from your HubSpot CRM, and see which ads are generating customers.

Website traffic reports
Analyze traffic to your website and see which pages are performing, and which ones are not. Gain a better understanding of your customer journey, and what content is really resonating with your audience.

CDN
Your website and all of its content is served through our global content delivery network (CDN). This allows us to handle high levels of traffic - ensuring your site remains active during an influx of traffic. Data centers around the globe host your content. If one datacenter goes down, traffic automatically is rerouted to the next closest center so you, and your visitors, don't experience any downtime.

24/7 Security & threat monitoring
We have an entire team of individuals dedicated to ensuring the security of your content. Through both automated and manual checks, they monitor the CMS 24/7 for attacks, potential abuse or other anomalies, so you can focus on the customer experience.

Phone Support
Have a problem with your site? No problem. Call our support team 24/7 to ask questions about your site traffic, or quickly chat with a HubSpot expert to troubleshoot a styling issue on your site. [NOTE: Other CMSes do not offer phone support -- this is a good differentiator to lean into]

Blog & content creation tools/mgmt
Easily create a blog that gets your business found online. SEO optimizations are baked right into the content creation experience, so you always know you're putting your best foot forward when it comes to optimizing your content for search.

Google AMP Blog posts
Improve the speed of your blog, and your ranking in search with Google AMP. AMP, or Accelerated Mobile Pages, is a mobile-specific page format that loads almost instantly on a mobile device. To load the content quickly, the AMP version of your blog won't load any Javascript files, stylesheets, HubSpot forms, head HTML, or footer HTML. When reviewing your blog post performance, you'll see a breakdown of views for the AMP version and standard version of the post.

Standard SSL
Security should never be considered a luxury. At HubSpot, every site hosted on our CMS is automatically provisioned with a standard SSL certificate. SSL creates greater trust between your brand and visitors to your site, and increases your ranking within Google search results.

Page Performance reporting
See how each individual page on your HubSpot hosted site is performing. Understand which pages receive the most traffic, how engagement is trending across your entire site, which pages are driving the most form submissions, and more.

Landing Pages creation/mgmt
Easily create new landing pages by leveraging our drag and drop content editing experience. Changing things like the form on the page, the colors of the page, or your font require no coding thanks to the theme that your developer has set up for you.
Password-protected pages
HubSpot website pages and landing pages can be password protected, giving you the ability to control who can see the content on a specific page. This is often useful when creating thank you pages and resource download pages.

Forms
Add pop-up, embedded, and collected forms to any page to gather the contact details that your business needs.

CTAs
Build personalized call-to-action buttons that guide visitors toward key conversion points on your website. Optimize with A/B testing to determine best performing variations, track visitor actions across multiple pages, and add smart personalization.

Website page creation/mgmt tools
Focus on creating amazing content, not managing your content creation process. With CMS Hub, your developer can create a flexible content creation experience that allows you to easily create pages through a drag and drop editing experience.

Design Manager
A developer's home base within HubSpot. Build out themes, modules, or entire web pages within our own IDE. A flexible folder system and isolated module system that packages together your HTML, Javascript, and CSS makes it easy for you to create assets that your marketer can leverage when creating content. [NOTE: we are not pushing the design manager as part of this launch. Instead, we should highlight the local development tools below].

Local website development
Develop on HubSpot using the tools, technologies, and workflows that you prefer. Leverage tools like GitHub to handle version control, and make changes to your web assets as you're ready.

Developer documentation and community
CMS Hub has extensive documentation and getting started resources that will allow you to jump right in, and start developing right away. If you still can't find the answer to your question, our active community of developers is here to help you in our Slack community.

Marketplace + Marketplace Assets
Want to add a new element to your site? Check out our Marketplace where you can find hundreds of assets built by HubSpot, and the developer community. If you're looking to open up a second stream of revenue for your business, your developers can list assets that they've created on HubSpot for others to purchase. All assets are vetted and reviewed by HubSpot to ensure quality.

Advanced Menus (Navigation)
Update your site's navigation in one central place to implement changes across your entire site. Advanced Menus ensures that your site is easily navigable, and creates an organized site map that will help your site's rank in search.

Site Export
If you'd like to maintain a local copy of your website, or if you're simply exploring other CMS options, HubSpot allows you to export an HTML file of all your pages and web assets.

Blog Import
If you're bringing your blog over from a different platform into HubSpot, you can do this quickly with our blog import tool. Save yourself hours of manual content entry, and get started quickly on CMS Hub.

Content Staging
With the content staging tool, CMS Hub users can redesign and relaunch website pages in a safe staging area. You can import existing HubSpot-hosted pages or create new pages from scratch. Any content created and published in content staging is hosted on your-domain.sandbox.hs-sites.com. After you've reviewed the live proof of your redesigned site, you'll take your new site live to replace your existing live site all in one click.

Domain manager
Domain Manager helps you easily manage your connected domains within HubSpot. Set up a subdomain per content type, and follow our step-by-step documentation and guided set up to take your site live fast.

URL Mappings
With the URL redirects tool, you can redirect traffic from a HubSpot-hosted page or blog post to any URL. Use this tool to maintain the authority of your content in search as you make changes to your site.

Personalization tokens/Smart Content
Use CRM data to personalize the content across your site. Add a personal touch to your landing pages, or update entire sections of your site based on information you've already gathered on your site visitors.

Website Themes
Themes allow your developer to create a site-wide content editing experience that puts the marketer in control over the web site. Start from scratch or leverage one of HubSpot's pre-built themes as a starting point. Themes allow marketers to make larger scale changes to their web based content without needing a developer for maintenance and without knowing CSS.

Dynamic Content with HubDB
With HubDB, you can build data tables displayed on your website or landing pages. With HubDB, you can update the content in the data table, and have that change reflected across your entire site wherever the table is referenced. This is especially useful for event calendars, product catalogs, employee listings, and resource libraries.

Video
Host and manage video files inside the CMS Hub, and embed those videos into website pages and blog posts with just one click. Update the metadata for each video so it's easy for search engines to find your content. Insert CTAs and forms into videos to capture more leads.

A/B Testing
An A/B test allows you to create a variation of an existing page, and test this change in the page's layout or content. The same page URL will load a random variation and after some time, you can compare the engagement on both versions.

Campaigns
Organize all the components of a campaign into one view so you can see which pieces of content had the most impact on growing your business.

Content Strategy
Organize your content in a way that is optimized for search. Create topic clusters that automatically links supporting content back to your core "pillar" pages to ensure that search engines can easily crawl your site and identify you as an expert on any given topic.

SEO Recommendations & Optimizations
CMS Hub will scan all your content and make recommendations on how you can optimize all your content for search. Easily see how you can improve your site, and take action all from the SEO Recommendations home screen.

Multi Language Content Mgmt
Easily manage and optimize a multi-language site in HubSpot. Language variations are grouped with their primary language page for SEO benefits and convenient in-tool management. Compatible with the A/B and dynamic testing feature, any language version of a page can be tested so you can improve your pages for performance goals.
HubSpot CMS Hub Enterprise Features
Memberships
Create membership based content using HubSpot lists. Allow only specific customers to access a section of your website. Use this to create content for specific segments of your customer-base, or manage premium content channels.

Multi Domains
As you grow, you might open up multiple business lines, or require more than just one brand domain. Track all your content within one instance of HubSpot by adding multiple brand domains to your HubSpot instance.

Content Partitioning
Use team permissions to give your team access to only the content that is important to them. For example, HubSpot.com can be accessed by our web team, while inbound.com can be accessed by the INBOUND team.

Reverse Proxy Support
Give your marketing teams the power to create and manage content with HubSpot's easy-to-use content editing tools, while continuing to load all content from a single, trusted, domain hosted externally.


Custom CDN Configuration
Configurable CDN settings allow your I.T. teams to manage the security of your HubSpot hosted content, dictating how external visitors access your website for maximum protection.

Site Performance Reporting (& API)
This feature allows customers to build custom reporting dashboards for their HubSpot hosted content. This data can be used to track down errors (outages) reported by their end customers, areas of the site that are slow, high traffic areas of the site, how the site is performing for them over time, and what the site's overall uptime is in a given period.

Audit Logging
This feature allows customers to track down changes to HubSpot content including pages, modules, blogs, images, CTAs, and others. This data can be digested by marketing managers, agency partners, or IT teams to understand what was changed, who changed it, and how it changed (updated/published/deleted/etc).

Dynamic Page Testing
Dynamic page testing allows you to go beyond simple A/B tests to ensure you are continuously optimizing your website. Choose up to five variations of a page to test against each other. HubSpot will continuously test each version and serve up the most performant option to your website visitors.
KB DOC

Serverless Functions (via Lambda Support)
Add interactive elements to your HubSpot hosted content, like event registrations, guest books, and dynamic calculators, without the need to configure an external server, ssl certificate, and data transfer process.

CMS Memberships with SSO
This feature allows IT / Security teams to streamline their account authentication process with the CMS Hub. Use your internal SSO with HubSpot's CMS Memberships to create private areas of a published website without requiring them to manage an additional account. Simply turn your CRM + CMS into a private area on your website to host webinars for customers and visitors who get individualized, store sensitive information, and much more.

Code Alerts
This feature helps developers identify areas of the HubSpot website that have infrastructure / design problems that may be creating a bad customer experience and slow site speeds. Syntax errors, HubL errors, slow pages, and missing tags can all result in a page failing to load properly for website visitors.
HubSpot CMS Comparisons
The many great features of the HubSpot CMS Hub can make a comparison with other systems overwhelming. Start by outlining the most critical features for your organization at this time, and what those needs will be in the future as you grow. Compare this list with the HubSpot CMS level options to have a better understanding of your access and capability requirements.
Need help deciding if the HubSpot CMS is the right option for your business? Talk to us!