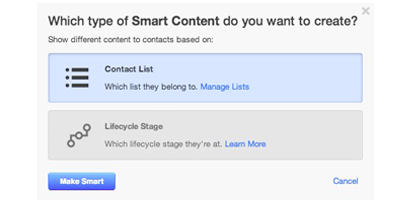 This week, 5,000+ marketers from around the world have come together in Boston, MA for Inbound 2013 – a four-day event hosted by HubSpot featuring more than 100 keynote sessions, product demonstrations and entertainment. The Stream Creative team is onsite and not only are we learning from colleagues representing other parts of the country and sharing a bit of our own expertise, we are hearing all about the incredible new product offerings being launched this week by HubSpot. One of the biggest announcements happened today with the unveiling of The Content Optimization System, Social Inbox and Signals. Here's the latest on what HubSpot platform users have to look forward to with many more details to come…
Content Optimization System
We recently posted about what marketers need to know now about dynamic content. HubSpot's new Content Optimization System takes integrating dynamic content for your website, blog and landing page to the next level - providing the system needed to recognize unique of visitors and optimize content for each person looking at it based on their demographics, geographic location and interests.
Features we love:
Mobile optimized - 60% of adults connect to the web through a smartphone (source: Pew Research), tablet computer, or an on-the-go laptop. HubSpot content management system, blogging software, landing pages and emails have all been built using responsive design, an approach which repackages the content for devices of any size.
Integrated - Content tools connected to your contact database - allowing for a complete history of your leads interests and interactions and enabling personalization throughout your marketing.
Social Search Ready - Integrates social sharing throughout content tools focusing on basic meta data and authorship tags for search engine results that have become increasingly influenced by social.
Social Inbox
Social Inbox is a tool which integrates social media monitoring, publishing and analytics with HubSpot's contact database, enabling marketers to create highly segmented views of the social activity of leads and customers .
Features we love:
Integration with Contacts Database – The system will automatically match a prospect, lead, or customer's Twitter account based on email and pull up a full record of each of their interactions with your company to date, so you can personalize responses with additional details and context. Social Inbox will also flag any tweet from someone with the same name as a contact from your database, so you can continue to build out contact profiles.
Segment Monitoring and Alerts - Social Inbox enables companies to quickly and easily elevate social media shares of key populations, to readily identify the lifecycle stage of a given individual within the Social Inbox tool, and to set up alerts based on your brand's core priorities, from category and competitive monitoring to tracking key purchase indicators.
Social Use Extended Across the Company - The structure and usability of Social Inbox makes it easy for sales and services managers to leverage the application's feature set as well. Specifically, mobile app notifications allow sales managers to receive push notifications based on mentions of their specific leads. The integration of Social Inbox with HubSpot's email tool also allows services employees to respond directly to customer inquiries on Twitter with a personalized email.
Actionable Analytics - Enhanced analytics allow marketers to see how many visits, leads, and customers were generated by each social media channel. In addition, users can see not just the total number of clicks or interactions with an individual share, but also the names of each contact that expressed an interest.
Signals
Signals is a notification tool that tells you when and how to engage your leads and customers. This tool shows real-time notifications based on "signals" coming from emails you've sent, your website, your CRM system, even social media.
Features we love:
Lead Revisit Notifications - Receive lead revisit notifications right on your desktop when a lead returns to your website. This provides information about the research a prospect is doing and what they may be interested in.
Email Open Notifications - Track the emails sent to know when an email is opened or clicked (from Gmail, Outlook Web Access, or Outlook.com)
LinkedIn Integration - Mark important LinkedIn contacts as VIPs to receive notifications when they interact on LinkedIn, for example when they change jobs or titles.
These new tools launched by HubSpot will help marketers and sales representatives focus on prospects and customers with a more personalized and targeted approach. Watch for more updates from Inbound 2013 as the week's festivities progress. In the meantime, here's a sneak peek of our crew hard at work.