The new HubSpot payments solution aims to improve the buying experience of customers. HubSpot B2B Commerce is an end-to-end payment processing solution that promises to give buyers a more delightful and connected user experience.
Why Is HubSpot Payments Processing Tool Crucial for B2B Companies?
As more B2B buyers demand a frictionless, digital buying experience that mirrors B2C e-commerce, ensuring payments occur in a secure and streamlined manner is more vital than ever. Unfortunately, many companies are still bogged down by clunky and inefficient payment solutions that are needlessly complicated.
A sound payment system should be a seamless and streamlined process that takes as few steps as possible rather than being difficult and complex. Longer purchase processes and a sales process full of friction can lead to lost revenue due to loss of customers. A good payment processing platform is crucial for business success.

HubSpot Payments aims to provide B2B companies with a platform that enhances customer experience. It eliminates the painful sales processes that leave customers frustrated and lead to B2B companies losing revenue.
Another feature on HubSpot is Snowflake, and though only a few HubSpot customers use it, the CRM platform continues to find its way into large enterprises. It makes setting up a HubSpot instance in a department as part of its marketing strategy quick and straightforward. Two, when a company decides to use the cloud on HubSpot, bypassing its legacy infrastructure.
HubSpot's integration with large enterprise tools becomes a customer retention strategy, even though most HubSpot users are smaller than the typical enterprise. Adding HubSpot Payments to its CRM could keep HubSpot's medium-sized users from outgrowing the platform quickly.
HubSpot Payments is a win-win for both businesses and their customers. B2B companies can collect payments faster, using fewer tools and creating a more seamless customer experience.
HubSpot Online Payments Processing
The latest HubSpot Payments processing system is integrated into the native HubSpot CRM platform to ensure customers experience seamless transactions. HubSpot Payments allows companies to accept payments faster and with fewer tools since natively built within the HubSpot CRM platform.
Since HubSpot Payments is integrated within the HubSpot CRM, companies can quickly begin accepting digital payments without the need to write code or patch up disparate integrations. Digital payment systems enable businesses to get faster payments and eliminate paper checks that involve manual error-prone processes.
Implementing digital payments also creates a more streamlined and secure buying experience for companies. It allows buyers to order and pay in just a few seconds using their preferred payment method. Thus, customers have the benefit of the same seamless experience.
The HubSpot Payments processing system supports all major credit cards and ACH payments. This support ensures that companies have the flexibility to choose the payment methods that work best for them.
HubSpot and Stripe: A Powerful Partnership
HubSpot CRM recently added no-code Stripe online payments and data governance enhancements to Operations Hub, such as analytics and a Snowflake integration. The online no-code Stripe online payments are currently only available to US users.
HubSpot uses Stripe to power HubSpot Payments (You currently can't use PayPal or other payment processors). Stripe, a HubSpot partner since 2018, has a robust infrastructure built within HubSpot's CRM. This partnership enables fast-growing businesses to accept payments from their customers and provide them with a streamlined buying experience.
The partnership between HubSpot and Stripe enables companies to scale by providing tools that deliver frictionless payment processes and power their growth. Thus, Stripe enables companies to give customers who want seamless CRM and payments processes a more connected and contextualized experience.
HubSpot CRM-Powered Online Payments Processing Features
HubSpot supports new customers by processing the first $50,000 of ACH transactions each month for free. Other attractive features of HubSpot Payments include:
Payment Links
HubSpot Payments provides a unique, native URL that streamlines customer payments processing using fewer steps for buyers and sellers. The links, then, work with forms, reporting, workflows, deals, and analytics.
Users can embed their payment links on the company website, shared through chat, email, or quotes. The links, thus, make it a lot easier for customers to make one-off sales and manage payments within HubSpot.
Recurring Payments
Recurring payments allow customers to sell memberships, set up retainers, take ongoing donations, and more. Customers can also access regular payments as objects in the HubSpot CRM, giving them the ability to tailor the payment processes to meet their specific needs.
Sales Hub
HubSpot's Sales Hub incorporates natively integrated quotes. This feature allows companies to get paid as soon as their customers accept their quotes. It eliminates the need to follow up on deposits and payments after the customer has signed.
Sales teams save precious time, and customers experience a frictionless process. Companies can also use this feature to connect with other finance integrations and thoroughly view the whole payment process from quote acceptance to cash payment.
Other features available on the beta version are new Operations Hub enhancements, native integrations with data resources such as Snowflake, and new data-governance features.
Benefits of HubSpot Online Payments Processing
Digital payments are quick and easy and enable companies to quickly set up and get running, thus saving businesses time and improving their customers' experience. Because HubSpot Payments is native to the HubSpot CRM, companies can leverage that information in other customer-facing functions.
HubSpot Payments makes it easy for businesses to have clarity across all departments. Companies can segment and manage their customers based on their digital purchases without depending on unreliable integrations or the need to double-check other systems.
HubSpot Payments online payments processing is powered by the partnership forged by HubSpot and Stripe. This partnership enables no-code credit card and bank transfers. HubSpot users can sync data with Stripe and generate quotes, but payments aren't integrated within the platform.
Before this, many of HubSpot's service-oriented SMB customers didn't have digital commerce mechanisms. These SMBs managed invoices and payments through their accounting departments, with checks and wire transfers being the preferred modes of payment.
Few HubSpot customers had implemented their integrations with digital payment platforms such as Stripe and PayPal. HubSpot Payments offers B2B services businesses a way to open up new revenue streams and improve customer experience by allowing a frictionless payment process.
As SMBs are moving from paper transactions and light automation, HubSpot Payments is an ideal solution that enables customers and sales reps to make orders and payments online through a centralized CRM without cumbersome Excel spreadsheets. This gets people closer to that frictionless transaction.
HubSpot Payments enables users to set up subscriptions and recurring payments to support them. While HubSpot focuses on CRM, it unveiled Operations Hub, which added revenue forecasting capabilities to its CRM.
HubSpot Payments Processing Pricing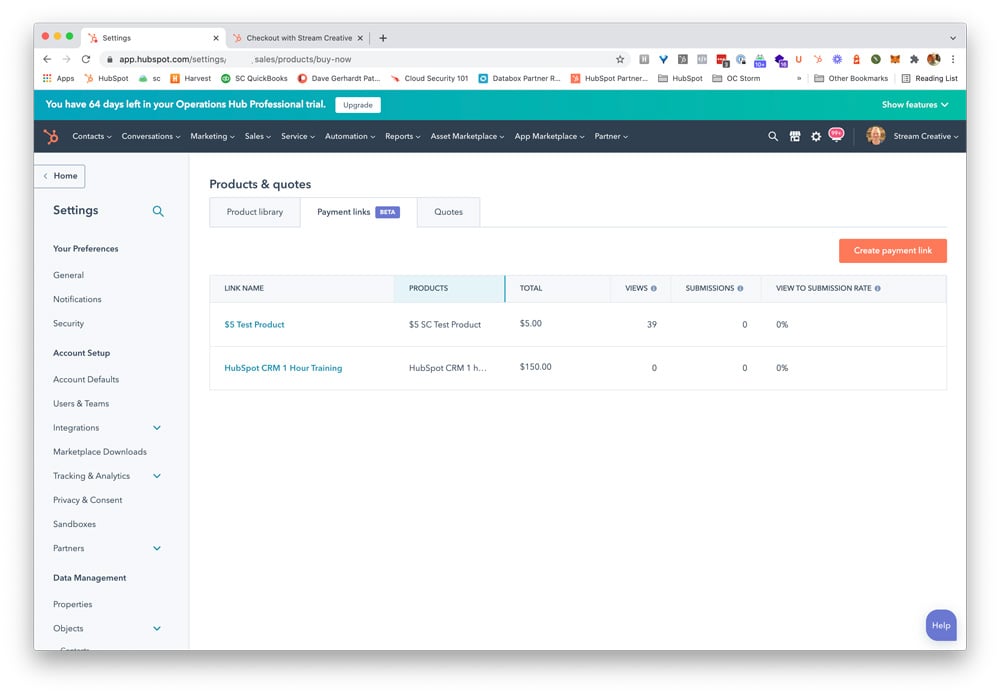 Pricing on HubSpot Payments is a flat rate of 2.9% of the transaction amount for credit cards and 0.5% for bank account transfers, capped at a maximum of $5 per transaction.
Payment Rates and Fees
What Are the Payment and Fees for the Payments Tool?
HubSpot has a transparent and straightforward pricing approach with zero setup fees, monthly fees, minimums, or hidden charges. HubSpot charges a percentage of each transaction you make, so you only pay for the service when you use it.
For credit and debit cards, HubSpot charges a flat 2.9% of the amount you transact.
For ACH payments, HubSpot processes your first $50,000 per month for free. Above that, HubSpot charges a low rate of 0.5% of the transaction amount, capped at $5 per transaction.
Buyers and sellers can see their current payment processing rates by going to their payment account settings.
Invoicing for Payments Fees
Payment fees are automatically deducted from each transaction you make rather than being included on your regular HubSpot invoice. To access details of fees charged for a particular transaction, go to the Transaction History tab and click on the transaction To see a report showing the total costs for a certain period, select Download reports and click Payments.
What Is a Chargeback?
A chargeback is an involuntary refund or a reversal of a card-based transaction from a seller to a buyer. Chargebacks usually occur when a buyer disputes a charge and contacts their bank. The buyer's bank will then take one of the following actions:
Dismiss the case if the charge is valid,
Inquire from the seller to gather more information about the disputed bill, or
Lastly, decide the cardholder's claim is legitimate and issue an immediate chargeback to the customer.
Buyers may initiate chargebacks only for specific reasons. Those reasons include:
The buyer didn't receive the goods or services from the seller.
The purchased goods or services are defective or are not what the seller described.
The cardholder was charged for a recurring transaction even though they canceled it.
Fraud, where the cardholder claims a fraudulent purchase occurred using their stolen card information.
Lastly, incorrect transaction amount or duplicate transaction, where the buyer claims a charge for the wrong amount or charged twice for the same transaction.
The cardholder must initiate claiming a chargeback in less than 120 days after the original business transaction.
Who Will Notify Me of a Chargeback, and How Do I Respond?
HubSpot's payment's risk team notifies sellers via email whenever they receive a chargeback. Indeed, HubSpot will support you in challenging the chargeback if you believe the chargeback is unwarranted.
HubSpot will also communicate with the card networks and update you on the progress and outcome. Most card brands will provide you with only 20 days to respond, so it is vital to respond to the notice as quickly as possible.
What Is an ACH Return?
Automated Clearing House (ACH) transactions can fail or reverse later for several reasons. In both cases, this is known as an "ACH return". The most common reasons for ACH transactions failing up front are:
Insufficient funds: the buyer's bank account does not have adequate cash to cover the transaction costs.
Account closed: an active bank account previously owned by the buyer has been completed.
Unknown account: the buyer has such account exists.
A successful ACH transaction may reverse later for the following reasons:
Unauthorized transaction: the cardholder claims they did not authorize the transaction
Previous authorization revoked: the buyer who had approved the bank transaction revokes it.
How Does HubSpot Inform Me of an ACH Return?
HubSpot will notify you of any ACH returns through email. For upfront failures, HubSpot's payment risk team will inform you within five business days of the transaction date.
For a successful ACH transaction that is reversed later, HubSpot will notify you when the risk team is aware of the return. ACH rules provide two days for cardholders to reverse an unauthorized transaction. However, buyers have up to 60 calendar days following the original transaction.
How Do I Resolve an ACH Return Issue?
There is no ACH resolution process to dispute ACH returns. ACH transactions are similar to check-based payments, and so you will need to make direct contact with your buyer to agree on an alternative mode of arrangement.
If this is not successful, then the only avenue is to take legal action. If the buyer has reversed the transaction due to a claim that they did not authorize the transaction, you should be ready to provide evidence that the buyer authorized the transaction.
HubSpot CRM-Powered Online Payments Processing: Frequently Asked Questions
Eligibility and Enrollment
HubSpot Payments beta release and is currently available for US customers only. Customers can sign up to receive notifications when the product fully rolls out. Here are the FAQs about HubSpot CRM-Powered Payments.
1. Who Is Eligible To Use the Hubspot Payments Tool?
Your business or organization must be based in the US, have a US bank account, and use a paid version of HubSpot. HubSpot plans to expand eligibility to customers worldwide soon.
2. What Payment Methods Does HubSpot Support?
HubSpot Payments supports credit cards, debit cards, and ACH debits. The tool, then, allows you to decide which payment methods to accept from your customers - cards, bank transfers, or both.
3. Can I Accept Payments From Customers Outside the Us?
Yes, you accept card payments from buyers outside the US as long as the payments are denominated in US dollars. HubSpot supports global and local card brands, including MasterCard, Visa, American Express, Discover, and Japan Card Bureau (JCB).
4. What Role Does Stripe Provide for HubSpot Payments?
In part, Stripe powers HubSpot Payments. HubSpot's payments processing tool is separate from the HubSpot-Stripe integration. Buyers with an existing Stripe account can integrate HubSpot's quotes tool with Stripe checkout.
5. Why Does HubSpot Ask For Personal Information and Information About My Business When Setting up the Payment Process?
Some financial laws and regulations govern payment processing. These laws are aimed at preventing money laundering and funding illegal activities. HubSpot and other payment processing services are required to verify basic information about your business to meet these regulations. HubSpot also implements KYC – know your customer – rules to protect you from fraudulent activity on your account.
6. Why Does the HubSpot Payments Require My Business' Tax Identification Number?
Your tax identification number is required to verify the identity of your business and for IRS reports that HubSpot is required to file. The IRS, indeed, requires all payment service providers, including HubSpot, to notify the IRS of its users' total payments annually.
7. The HubSpot Underwriting Team Has Contacted Me to Request Additional Information. What Is the Purpose of This Extra Information?
As with any other payment service provider, HubSpot bears the financial risk associated with the processing of user transactions. To protect you and the businesses and consumers you serve, HubSpot needs additional information about the types of products and services you sell, your financial situation, and the potential credit risk of your business.
Security With HubSpot's Payments Processing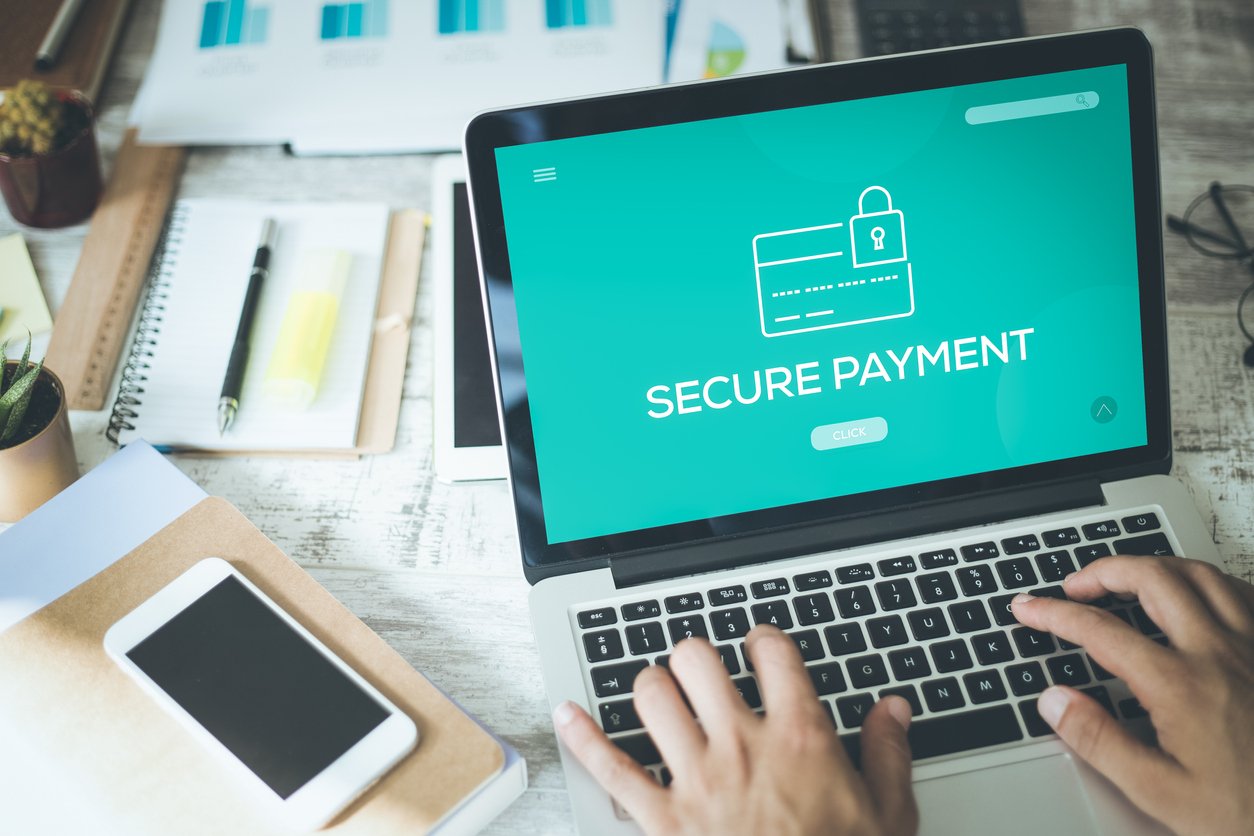 1. Is HubSpot's Payment Tool Secure?
The payments tool uses various layers of security to protect sensitive payment information from security breaches. Thus, your buyer's payment credentials are encrypted to ensure that unauthorized parties can't access sensitive payment information.
2. Is HubSpot's Payment Tool PCI Compliant?
Yes, the payments processing tool is compliant with the Payment Card Industry's Data Security Standards (PCI-DSS). The transactions process through Stripe, a robust digital payments infrastructure provider that complies with the payment's industry highest level of protection, the PCI-DSS Level 1.
3. Does the Payments Tool Require My Business Information To Validate Compliance With PCI Security Standards?
Unlike traditional payment processors required to validate their compliance with PCI, you are not required to validate your compliance with PCI with HubSpot Payments annually.
Refunds & Payouts
1. Does HubSpot Charge Me a Fee for Refunds?
No, the HubSpot Payments tool does not charge any fees for processing refunds. However, no refund occurs if the cost associates with the original transaction.
2. How Do I Withdraw the Refund From My Payments Account?
HubSpot will recapture the actual transaction amount by debiting it from your bank account or deducting it from your future payouts.
3. How Quickly Does a Payment Deposit Into My Bank Account?
Transactions are automatically deposited to your bank account within two business days for card payments and seven business days for bank transfers. Then, payout deposits appear on your bank statement as "HUBSPOT PAYMENTS".
4. Will I Receive a Notification About My Payouts?
Yes, HubSpot sends you an email notification about a sent payout.
Learn More About HubSpot's B2B Online Payment Processing
Are you an SMB? Are you thinking about expanding your B2B Company and meeting your targets? Do you need help deciding if HubSpot Payments is the right option for your business? We are here for you. We can, indeed, make the whole process of integrating HubSpot payment processing seamless. Contact us!