The success of a company requires a strategic digital marketing plan to ensure brand advertising reaches as many potential customers, current customers, and loyal customers as possible. Achieving this degree of search campaign success depends on the diversity of your digital media. Employing all three types of digital media (paid, owned, and earned) will boost both the number of customers and consumers reached and vary the way in which they encounter your brand. When used together the Big Three act as a powerful tool, building brand awareness and increasing sales.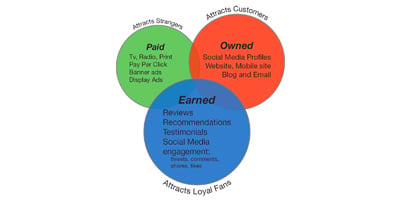 Paid Media
When a company pays to leverage their brand on a channel, this is considered paid media. Different types of paid media, such as display ads, paid search ads, Facebook ads, and commercials, exist and can be used in different ways. Though paid media is an expense for your growing business, it will give your content a clear voice and wide audience.

Since paid media is a cost, it is most effectively used when placed in an intentional, highly targeted promotional context. Used strategically, paid media will accomplish the specific purpose of driving the right customers to the right brand, asset promotion, e-book, or webinar. Paid media gives your business explicit control over who sees your brand's advertising.

Paid media, however, presents two challenges. First, the platform has become especially cluttered, which means consumers might overlook your advertisement. Second, new technology has made it possible for consumers to block your ad, diminishing the response rate for your ad.

Although it has less impact on organic search results than owned and earned media, paid media can provide significant, measurable results within your search campaign, supporting the overall strategy.
Owned Media
While paid media entails an added expense, owned media includes the many digital assets your brand already maintains and controls such as your website, mobile site, blog, infographs, e-books, and social media accounts. When each of your company's owned digital assets has been optimized for search marketing, your brand will be present when and where potential customers look for topics relevant to your products or services. The more owned media, the greater presence your brand will have online, making your company authoritative and increasing your rank results on search engine results pages.
Owned media also allows your company to control the conversation surrounding your brand. This level of control compels your company to maintain an ongoing, appealing conversation. In other words, the content your company publishes must be of value. If the content your business provides has no value or is insincere, your customers can simply change the channel or stop listening. Owned media requires an ongoing commitment to providing valuable information in order to maintain the trust and following of customers.
Earned Media
Unlike paid and owned media (advertising which comes directly from your business), earned media is advertising generated by your customers. Earned media is when a customer becomes the channel for your advertising by word of mouth or uses social media, a personal blog, or review website to recommend your brand.
This type of recommendation or review can be the best endorsement your brand could hope to have. According to the Global Trust in Advertising Report by Nielsen, 92% of consumers around the world trust recommendations from family and friends more than all other forms of advertising. In other words, most people will trust when their mother tells them a certain brand of chewing gum is the best before they will believe the same message in an advertisement for the gum. Positive remarks from customers will always be more trusted than your advertisements because customers have nothing to gain from praising a product.
What your audience says about your brand is just as important as who says it. If your business attracts the attention of top influencers in the market, this will also improve your authoritative ranking on search engine results pages. Considered the most effective channel to earn favor with audiences, social media platforms provide the space to generate earned media from your customers. When it comes to search engine rankings, however, the connections between social media and your owned assets will impact rankings the most. Reviews, comments, photo sharing, and bookmarking on your website and its content will most directly impact the quality of a website with respect to search engines. Encourage earned media interaction directly through your website and not just through social media platforms.
Though earned media will always be considered the ultimate in digital advertising, it will never be consistent. When a company opens its brand up to earned media, it also opens itself up to negative comments and feedback. Any business involved with earned media, should have a response plan in place for negative feedback. Often negative earned media can provide an opportunity for your company to display stellar customer service skills, turning a detriment into an asset.
To understand the three digital marketing tools on more basic terms, think of it this way:
Paid Media = General Consumers
Owned Media = Customers
Earned Media = Super Fans!
By achieving the digital marketing trifecta, your business and brand will have one of the most powerful digital strategies on the web supporting your company.
Are you using paid, owned, and/or earned media in your digital strategy? I would love to hear about your measurable results.