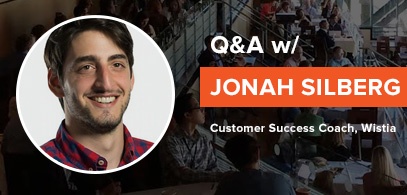 This post was written by Jamie Cartwright and originally appeared on Weidert Group's blog on 5/4/16.
Experience Inbound 2016 is jam-packed with nationally-renowned brands and presenters. Jonah Silberg represents Wistia, the leader in helping companies deploy video for inbound marketing. Wistia is a software platform that enables you to create video that turns visitors into leads. In preparation for Experience Inbound, we asked Jonah to answer a few questions about Wistia, his work, and why he's looking forward to Experience Inbound 2016.
1. Tell us a little bit about what you do at Wistia. What do you enjoy about your work?
In a nutshell, my role is to help people try out Wistia and evaluate if we'd be a fit for their priorities with video. I think it's actually one of those rare and exciting three-peanut shells, where I get to spend time on projects in sales, support, and marketing.
Without question, the best part of my job is the variety of companies we have a chance to connect with at Wistia. We work with one-person shops just getting started with a video blog, all the way up to national brands and organizations where video itself is their product.
2. What kind of companies benefit most from video marketing? What kind of companies today tend to make the best videos?
Two loaded questions! It's an exciting time to pursue video marketing, as there's now considerable research to suggest video is the single most effective medium for communicating your message at scale.
Of particular relevance, decision makers now gravitate towards video as a source of quick, digestible information. A Forbes survey of more than 300 senior executives found that if both text and video are available on the same page, 59% prefer to watch the video. More broadly, consumers are more likely to buy a product after watching a video. Simply using the word "video" in an email subject line has been shown to boost open rates by nearly 20%.
All of that is to say, video drives engagement across industries and functions—be it marketing, sales, product training, recruiting, support, or other teams. There's fantastic variety in how companies leverage video, but to me, two common threads stick out from organizations that do it exceptionally well.
The first is an unrelenting focus on accomplishing a single goal per video, as it's easy to try to bite off too much. The second—prioritizing the use of video as a way to connect on a personal level with current and prospective customers. I'm looking forward to discussing both at Experience Inbound!
3. Why do marketers need a platform like Wistia for their video marketing?
As you can imagine, we're often asked what sets us apart from YouTube or Vimeo!
Wistia's tool set is based around a simple idea—when customers and potential clients take time to watch your video content, it's valuable to know what they're most interested in and how to make that insight actionable.
For the vast majority of businesses, success with video shouldn't be defined by content going viral. Instead, it's more effective for businesses to focus on a measured, ongoing approach to create material that demonstrates the value of your product, highlights the character of your brand, and answers common questions.
Total view count is certainly an important metric, but there are a few other key questions to consider. For example:
Do you have a way of capturing new leads directly through your video content to

ensure interested viewers don't slip away?

Is there consensus on your team about what audience retention looks like, and what

types of videos are working?

Are you able to qualify leads based in part on their individual viewing activity?
Wistia is designed to help answer these questions and retain viewers where you know they'll be most engaged—your own website.
4. What's the biggest barrier to marketers using more video and using Wistia? What tends to hold Wistia customers back from being successful?
Often it's time and in-house capacity to focus on video amongst competing priorities. The great thing is, shooting, editing, and sharing video is way more accessible than ever before. As a quick example, here's our walk-through on how to shoot professional-looking video with an iPhone.
We're big believers at Wistia that you don't necessarily need high production value to see high impact and return on investment. At the end of the day, video works because it facilitates a uniquely personal connection with your audience.
There's no question that for most of us, it's intimidating at first to be in front of or behind the camera. That's why in addition to hosting tools, we aim to be a resource on replicable strategies to create and maximize video content (check out the Wistia Library!). Of course when you're getting ready for a shoot, it always helps to get loose.
5. Give us a preview of your talk at Experience Inbound 2016? What's one of the main ideas you hope attendees to walk away with?
Tying in with the previous question, my hope is that folks at any level of familiarity with video will leave with some actionable ideas on ways to create simple, scalable content with a personal touch.
I tend to gravitate towards sessions that are chock full of examples of specific strategies companies see success with, so I will lean in that direction! And what would a presentation on video be without a few example clips?
Note: This post was written by Jamie Cartwright and originally appeared on Weidert Group's blog on 5/4/16.