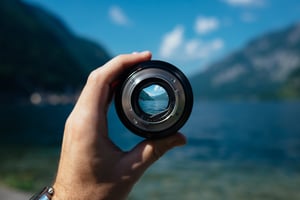 Much has been written about admonishing leadership teams of the need and steps for creating vision and mission statements. There are volumes, even books on the subject. This article won't duplicate or match the conventional wisdom found on the web or in print. But it will endeavor to highlight the best thinking on B2B vision and mission statements. It will also serve to assist company founders, CEOs, and leaders in sound ways to think about them and inspire meaningful creation and use of them in the B2B space.
Are you in the process of updating your B2B digital marketing plan for the upcoming year? Now's a good time to perform a checkup of your company's vision and mission statements. Even if you're not in the budgeting and planning season, gaining more clarity on long-term company direction and near-term focus will pay big dividends towards achieving more significant results.
Or maybe you haven't created them yet because you've been too busy running the business; you're not sure how they differ; you don't know how to get started, and you're not too sure what to do with a vision and mission statement once you have them nailed down.
No worries. This article will help serve as a practical guide for setting or touching up your B2B vision and mission statements. It will cover the following:
Consider the Big Picture of B2B Vision and Mission Statements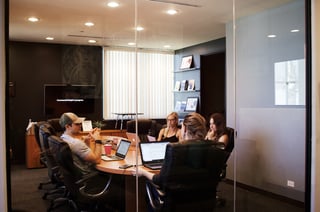 How important is having a well-defined B2B vision and mission statement in the grand scheme of things? According to a study by the business consulting firm Bain and Company, organizations with clearly defined vision and mission statements as part of their overall strategic plan outperform those who don't have them.
While they are not the same as your tagline, positioning statement, core values, or strategic goals, they are equally important, if not more so. Think of creating them first and then informing and aligning everything else you develop with them top-of-mind.
What's the Difference Between Vision and Mission Statements?
There's a distinct and vital difference between vision and mission statements. And you'll often find mission statements preceding discussion of vision statements in written articles and a backward order of mission and vision.
As this article appropriately states, "The mission statement supports the vision and serves to communicate purpose and direction to employees, customers, vendors, and other stakeholders." The key point is that the mission statement supports the vision and not the other way around.
Signaling the difference between vision and mission, Brit Skrabanek in ClearVoice writes, "A vision statement focuses on tomorrow and what the organization wants to ultimately become. A mission statement focuses on today and what the organization does to achieve it." Not only should we understand the difference between vision and mission statements, but we should first establish our vision statement before crafting our mission statement.
The Yin and Yang of your business universe
Vision and mission statements have different perspectives. Your vision statement defines an organization's end state, while your mission statement indicates what you're endeavoring to achieve in the short-term. Said another way, the vision statement looks forward to what you want your organization to become; the mission statement focuses on the immediate -- why you exist right now.
A B2B Vision Statement is…
Writing in Psychology Today, Jenelle Evans says the vision statement functions as the 'north star' - it is what all employees understand their work every day ultimately contributes towards accomplishing over the long term."
Others have characterized the vision statement as your ultimate dream state -- the new bliss -- a destination of where you want your journey to end up. It serves as inspiration and a guiding beacon for growth, motivating employees, and connecting effectively with your target market.
What would your niche in the marketplace look like if you were making measurable progress on solving the problems you are called to address? That's your B2B vision.
A B2B Mission Statement is…
If the vision statement is the north star, the mission statement represents an organization's current compass bearing -- the direction needed for navigating to its ultimate, desired destination. From a practical point of view, the mission statement serves to complement the vision statement (of tomorrow) by addressing needs and specific actions in the here and now.
According to this article in the Marketing Blender, "A well-crafted mission statement answers what you do, who benefits from this and how you do it. Depending on the particular organizational structure, a company's mission statement can be broken down into its different divisions. All in all, the purpose is to help you stay focused on the activities of today that further your dreams of tomorrow."
What actions and/or services will your organization be engaged in delivering to specific beneficiaries in the near term that one-hundred percent support your vision? That's your B2B mission.
What are Some Characteristics of Great B2B Vision and Mission Statements?
Here are some essential characteristics common to both B2B vision and mission statements:
Clear and use simple, easily understood language (8th to 10th grade reading level -- no long, complicated words, jargon and buzzwords)
Succinct with specific actions (less is more)
Easy to understand, remember, and convey to others (inside and outside your company)
Contain 5-14 words total (20 max.)
Target less than 20 syllables total (30 max.)
And again, here's how they differ:


| | |
| --- | --- |
| B2B Vision Statements: | B2B Mission Statements: |
| Should be written before mission statement | Should be written after vision statement |
| Focused on the desired state - a future you are working towards | Focused on the immediate situation - what you do now to benefit your niche B2B market |
| What you're most passionate about | What needs you're focused on right now |
| 5-10 years (or however long it may take) | Actions to take over the next 1-5 years |
Examples of B2B Vision and Mission Statements
Take a look at some B2B vision and mission statements to inspire your own development or touch up. Take note of those that follow the characteristics given above and those that do not.
B2B vision statement examples
| | |
| --- | --- |
| Company: | Vision Statement: |
| LinkedIn | To create economic opportunity for every member of the global workforce. |
| The Nature Conservancy (Non-profit) | To leave a sustainable world for future generations. |
| ADP | Be the world's authority on helping organizations focus on what matters. |
| HubSpot | To make the world Inbound. We want to transform how organizations attract, engage and delight their customers. |
| Walker Sands | To receive national recognition as the most innovative, dedicated, and productive marketing and communications firm in the United States. |
| Zoom | Video communications empowering people to accomplish more. |
For more inspiration, see 30 examples of vision statements (While examples are for non-profits, they illustrate effective characteristics of vision statements B2Bs can learn from and apply to their industry.)
B2B mission statement examples
| | |
| --- | --- |
| Company: | Mission Statement: |
| ADP | Power organizations with insightful solutions that drive business success. |
| Shopkeep | To rescue independent business owners from the nightmare of archaic POS, and replace it with something beautiful, simple and affordable. |
| Infor | We build beautiful business applications with last mile functionality and scientific insights for select industries as a Cloud service. |
| Prezi | We're a presentation resource, on a mission to reinvent how people share knowledge, tell stories, and inspire their audiences to act. |
| ManpowerGroup | To power the world of work and help the communities in which we live. |
| Oracle | Oracle, a global provider of enterprise cloud computing, is empowering businesses of all sizes on their journey of digital transformation. |
| Salesforce | We help our customers discover new trails to success using the #1 CRM platform. |
| Slack | Slack brings all your team's communication together, giving everyone a shared workspace where conversations are organized and accessible. |
For more inspiration, see these 50 examples of mission statements which include a grade on reach and reading level. (While examples are for non-profits, they illustrate effective characteristics of mission statements B2Bs can learn from.)
How to Create B2B Vision and Mission Statements - A Proven Approach
In this section we'll discuss a process and framework for creating useful B2B vision and mission statements without a lot of brainstorming or widespread company involvement. If you've skipped down to this section, you may want to familiarize yourself with the characteristics of these statements as you move through this exercise.
A word about vision statements for the ears of chief executives only

What most voices don't tell you about vision is that you may never realize it in your lifetime. But that shouldn't keep you from longing for and having faith in the possibility of a better situation. Think of it this way: the vision statement is more about making the journey than it is about reaching the destination.
And if you keep at it you may just achieve the dream.
Visionary leaders heed an aspirational call and persevere towards achieving it. They never give up or lose faith. Steve Jobs was such a leader. In the 2015 film, Steve Jobs, he declared a vision to his daughter on a rooftop. He looked at the music player strung round her neck and said, "I'm going to put music in your pocket." And, as we all know, the iPhone with iTunes became a reality.
It's the responsibility of the company's founder and/or its CEO to lead in the development of the organization's vision statement. You may have a leadership team of two or more principals. That's fine, the principals should then come together and establish their vision for the future.
After all, who in your company is more passionate about your purpose and why you exist than you and your leadership team? Creating the company vision is not something you can delegate down the line. That would be like a chef asking her line cooks to determine the restaurant's cuisine and menu.
A leader's guide for creating a B2B vision statement
From a leadership perspective, there are similarities between positioning statements and vision statements, namely:
They are emblematic of your unique position and point of view in the marketplace
They represent your authentic message - something that holds deep personal/brand meaning
They are relatable and meaningful to a niche audience, industry, market or sector
Questions the leadership team should then seek to answer are as follows:
What is our unique position and point of view in the marketplace?
Why did we come together to form this company in the first place?
What are we most passionate about?
What holds deep personal meaning to us?
What would things look like for us and our customers if we were completely successful?
The answer to these questions will help you formulate your B2B vision statement. Remember to keep your vision statement easy to understand and to the point with no more than 20 words. You may also want to include reference to the market or industry which you serve. So the end result should be a short sentence that describes the future objective you're working towards (and the industry or niche market that will benefit).
Finally, consider crafting your vision statement with one of these structures (and corresponding examples):
Action + Quality/Future State + Industry/Market/Sector
"Become the most recognized go-to source for social media marketing in the world" (Social Media Examiner)
Action + Industry/Market/Sector + Quality/Future State
"Our vision is that people everywhere will share the power of a wish." (Make-A-Wish)
Industry/Market/Sector + Action + Quality/Future State
"Video communications empowering people to accomplish more." (Zoom)
Create your B2B mission statement with a building blocks approach
With a vision statement in hand, it's time to create your B2B mission statement. Before proceeding, you may want to review the mission statement characteristics noted above. The main thing to keep in mind while developing your mission statement is that it should be focused on addressing current, short-term needs and actions.
Vision Statement >> 30,000 foot view above earth
Mission Statement >> down-to-earth actions
One of the most straightforward and simplest ways to create a mission statement is to "pair high-level actions with a targeted beneficiary," says Craig Van Korlaar of TopNonprofits in the Guide to Creating Mission and Vision Statements. It would look like this:
Action(s) + Targeted Beneficiaries
"To honor and empower wounded warriors." (Wounded Warrior Project)
"To power the world of work and help the communities in which we live." (Manpower Group)
Alternatively, according to Van Korlaar, these two basic building blocks could be expanded to include "services, partners, causes, and problems." Here are a couple of examples:
Action(s) + Service(s) + Targeted Beneficiaries
"Bringing clean, safe drinking water to people in developing countries." (charity:water)*
Action(s) + Beneficiaries + Action(s) + Problems
"Celebrating animals and confronting cruelty." (The Humane Society)*
Action(s) + Cause
"To advance the practice of content marketing." (Content Marketing Institute)
*Building blocks and examples shared are from TopNonprofits, Mission Building Blocks & Frameworks, 2017, free download.
A final word about mission statements
Your organization should have an overarching, company wide mission statement. You may also want to consider having each department head develop mission statements for engagement with their key customers. The finance department, for example, could have a mission statement for how they deal with both internal and external customers. Departmental mission statements should of course be tied to and support the overall vision and mission statements of the company.
How to Put Vision and Mission Statements to Work for You
What good are vision and mission statements if no one knows they exist? There are three audiences with corresponding functions for using your vision and mission statements:
Internal leadership team
Staff and stakeholders
External customers
Use them with external customers
On your website's about page
In social media profiles
Write case studies/success stories that highlight them
Incorporate them in the meta data (title tag and description tag) of your most important website pages
As a public relations tool
Create closer linkages through all your communications with suppliers, partners and customers
In supporting your marketing messages
Create a narrative around them in your business plan document used for investors
Use them internally
To inspire employees productive work habits
To share common and meaningful goals
Build them into performance standards
Encourage purposeful and ethical decision making
Rally your people's strengths and assets for a common and worthwhile cause
Empower others to accomplish something great
Use them with your leadership team
Build strategic areas of focus and priorities
Assess current needs and changing economic conditions
Articulate the core services, causes, actions, and problems you address
Align with a specific demographic or market niche
Use them to help develop your B2B digital marketing plan and budget
Incorporate them in all your business planning activities: core values, buyer personas, strategic plan, business plan, budget, positioning statement, logo, tagline, brand messaging, marketing plan and campaigns, etc.
As you can see, B2B vision and mission statements can, and should, permeate everything you believe and do within your sphere of influence and practice. Developing and using them doesn't have to be hard. By following this sensible guide to creating and using them, you could be miles ahead of your competition -- especially in the B2B space where vision and mission doesn't seem to be as widely practiced as among B2C or non-profit based organizations.
References/Further Study
The following essays and resources were used for research and reference material in developing this article.
Free Mission and Vision Statement Templates
Difference Between Vision and Mission Statements: 25 Examples
How to Write Mission and Vision Statements for B2B. And Why it Matters
How Company Mission Statements Drive B2B Sales
1500+ Best Company Vision and Mission Statements (by Industry)
17 Truly Inspiring Company Vision and Mission Statement Examples
Guide to Creating Mission & Vision Statements (Contains a link to download free vision and mission statement worksheets)
50 Example Mission Statements (mainly for non-profits, but a very helpful resource for B2Bs)
30 Example Vision Statements (mainly for non-profits, but a very helpful resource for B2Bs)
101 Incredible Mission Statement Examples (in 2020)
Unleashing the Power of Vision and Mission
Mission and Vision Statements
What is a Vision Statement and Why is it Important?
What is a Vision Statement