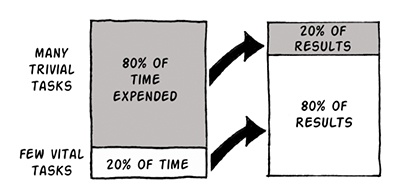 I get really excited each week when I find great posts to pass along to our inbound and digital marketing followers. My favorite one this week talks about applying the 80/20 rule to marketing. I've actually never thought about this concept in a way that so closely relates to my work – but when I took a deeper dive into the methodology, it really made sense. Check out this post along with a few other good ones I've collected this week:
1. Save Time and Double Your ROI: A Guide to Applying the 80/20 Rule to Your Marketing - QuickSprout.com
In this post, Neil Patel focuses on the many hats marketers wear. He discusses the "busy work" that takes us away from the important tasks that contribute to our most valuable results. With the 80/20 rule, Neil shares insight on how to double your ROI by cutting out unproductive activities.
2. 4 Ways to Optimize Your Facebook Ads – SocialMediaExaminer.com
Is Facebook advertising part of your marketing strategy for 2016? This happens to be one of my favorite topics lately as I've done a recent series on Facebook advertising. This post focuses on optimizing your ads to get the most conversions. Learn a few simple tips to know which ads are performing best, build look-alike audiences, and use ads across multiple platforms.
3. Content Strategy: A Development Guide – Kissmetrics.com
Nowadays, content strategy is about so much more than keyword-loading posts. This post focuses on how poor content quality can have a negative impact on a site when it is created primarily for SEO purposes. Learn some keys to help you strategize before producing content.
4. 8+ Tips to Create a Great Script for Successful Videos – ContentMarketingInstitute.com
When writing video scripts, it is important to write to be heard, not seen. This post touches on how in general, we speak less formally than we write. Having a conversational tone will make it easier for your talent to make your script sound natural and more engaging. This post also shares more simple rules to follow that will help your talent get your message across more effectively.
5. 16 Top Marketing Blogs and Publications You Need to Be Following – Inc.com
Travis Wright shares his top picks for marketing blogs and publications to follow. We all have our favorites, but this is a helpful, curated list that includes blogs and publications that don't just tell you about concepts and strategies, but also include practical application tips and tools.
What articles have you read this week that you found interesting or have saved as a good resource for your inbound and digital marketing initiatives?