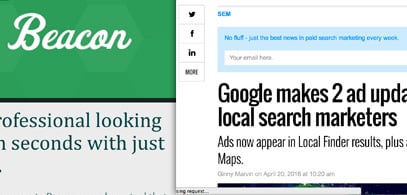 How have social channels helped with your content marketing strategy? This week's flashback posts touch on ways you may not be currently leveraging content-sharing opportunities on social. You'll also learn about an easy tool to create beautiful eBooks as well as some updates Google has made that effects local search marketers. Check out my favorite posts from this past week:
If you are currently using eBooks as a lead magnet for your business, you know that it can take a lot of time and resources to develop. Beacon is a new tool that allows you to develop great looking ebooks in just minutes by pulling in existing blog posts and using design templates to create a valuable piece.
Google Makes 2 Ad Updates That will Effect Local Search Marketers – SearchEngineLand.com
Google made changes to local search results and Google Maps that will impact retailers and service providers with physical locations. Ads appear in the Local Finder results — reached after clicking "More places" from a local three-pack in the main Google search results. The addition of these ads in the Local Finder results means retailers and service providers that aren't featured in the local three-pack have a new way of getting to the top of the results, if users click through to see more listings.
How To Use Facebook Instant Articles for Business – SocialMediaExaminer.com
You may have noticed recently that a lot of different publishers, including big names like the Washington Post, are now publishing full-length content directly to Facebook. The program, called Instant Articles is designed for mobile users. In this post, you'll learn how to sign up for Instant Articles, how to claim your URL, how to use Instant Articles and more.
On April 12, Mark Zuckerberg laid out the company's 10 year plan that includes reshaping the way people and brands use Facebook and its constellation of apps this year. In this post you'll learn about Messenger and messaging bots, 360 degree camera, social VR, Rights Manager, and higher quality live videos.
4 Components of a Killer Content Marketing Tactical Plan on LinkedIn –TopRankBlog.com
If you are a sales and marketing professional, it's likely you understand the power of using LinkedIn to build your business. You may be using LinkedIn to connect with other professionals, but are you using the content marketing opportunities to the fullest? In this post, you'll learn the ins and outs of LinkedIn showcase pages, using Slideshare, publishing and sponsored content.
What articles have you read this week that you found interesting? Please share any good resources for inbound and digital marketing initiatives in the comments below.