YouTube has been the most popular streaming site for videos on the Internet for quite some time, and its traffic shows no signs of slowing down. While YouTube is still facing the challenging of making a profit of the traffic to the site, Google revealed earlier this year in its earnings that 40% of its current traffic to YouTube comes from mobile users, an increase from 25% in 2012 and 6% in 2011.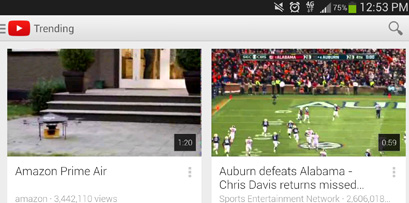 As soon as 2014, YouTube may consider shifting its content so that users of mobile devices such as Smartphones and tablets have better access to the content. It's no surprise that mobile usage of YouTube has increased; the trend goes hand-in-hand with other technological movements like the incorporation of Facebook, Twitter, Instagram and other social media networking sites. In fact, Facebook reported that it had 819 million monthly users or 73% of its total 1.15 billion users in the second quarter of 2013.
You may wonder what is contributing to the mobile trend and why so many users are changing the way that they view content. One scenario may look like this: Someone shares a video they saw on YouTube on his or her Facebook page. Friends view the Facebook page on their tablets or Smartphones and proceed to view the video on the mobile device.
If your company is currently attempting to branch out and increase your social media marketing on YouTube, it is crucial to constantly consider new ways to tweak your marketing strategy in order to obtain the most traffic to your business. Take into consideration the large amount of mobile traffic of YouTube before you post videos or content to your company's channel. Here are a few ways to increase your chance of success through YouTube mobile marketing:
1. Develop Shareable Content
Before you can even think about creating content that people want to share, you must first develop content that catches your audience's attention and makes them want to watch. Popular videos are often sad, moving, hilarious or timely, and users want to share these emotions with others. Set an emotional goal, and create a video that captures that emotion. Once you have traffic to your channel, you will need to keep them there with engaging videos and create a "ripple effect" which leads them to share the videos with others on their mobile devices.
2. Integrate YouTube Ads for Mobile Users
As a company, you can bid on keywords to utilize in your YouTube ads in order to maximize the effectiveness of your videos, much like you can do with Google pay-per-click. You most likely have seen videos that run advertisements before the video you have selected; mobile users, however, have the option to skip these TrueView ads.
While this may seem detrimental to your mobile marketing campaign, such is not the case. According to Google's vice president for display advertising, mobile video ads drove three times as much traffic as non-TrueView ads. It may be a lesson in psychology – if viewers didn't feel forced to watch the ad, they typically responded more positively and clicked the ad to learn more about the product, service or brand.
3. Advertise Your Brand
Most importantly, even if you are on a budget, there are still several ways that you can incorporate your company into YouTube to increase traffic. Incorporate a custom background for the channel that matches your company. For example, Verizon Internet and Verizon FiOs features a YouTube channel that is dedicated to a football girl. She stars in the adorable, engaging videos that often leave viewers chuckling and wanting to see more.
Once you have created engaging videos, integrated ads into your YouTube videos and developed a channel that is specific to your brand and company, you will increase your chance of capturing and holding the interest of your audience. Once you have your viewers where you want them, just sit back, relax, and let them share your videos on their mobile devices for you.
Michelle Smith is a freelance writer with a focus on social media and marketing. She can be found typing away on her laptop in sunny Boca Raton, Florida. Michelle welcomes your feedback via email or Google Plus.