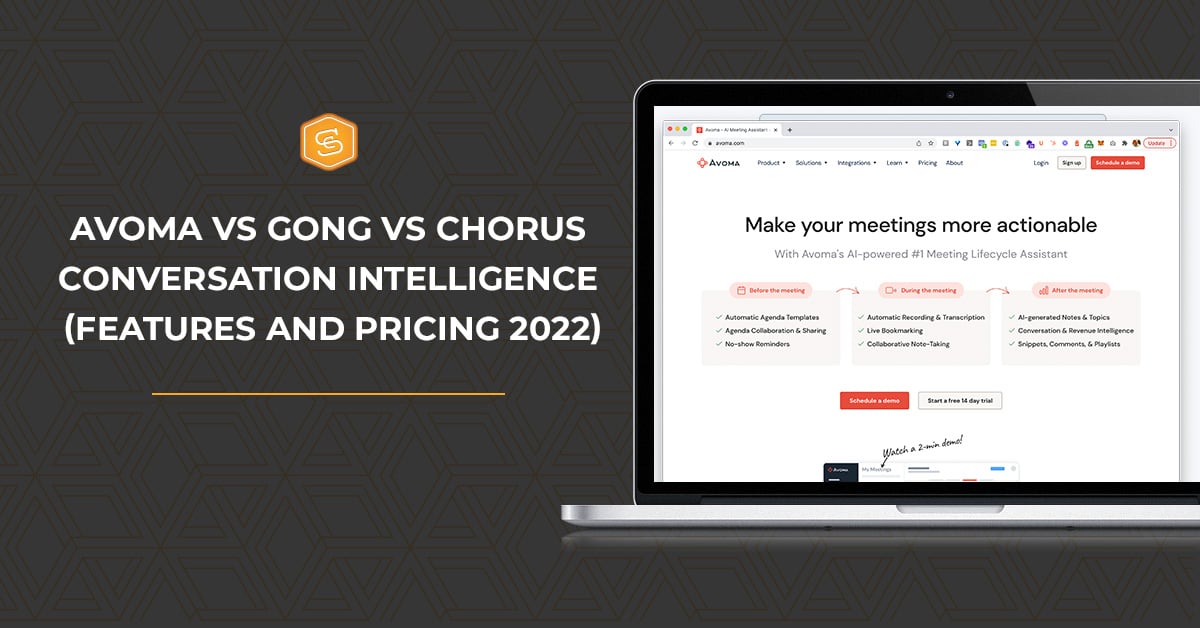 Over the last couple of years, sales has rapidly evolved to require the integration of technology to support revenue teams. There's a greater need for solutions that could help boost the sales team's performance. Specifically, businesses need digital marketing tools that give them a leg over the competition and drive higher sales. These business tools potentially improve human performance as it pertains to obtaining more information with every customer interaction. Conversation intelligence software is such a tool. It enables businesses to monitor 100% of their communications, thus providing the chance to identify improvement points. Backed by artificial intelligence (AI), this tool should help revenue-generating teams in marketing, sales, and e-Commerce create a better buying experience, drive more leads, and closely monitor current deals.
Overview of Conversation Intelligence Tools
To understand conversation intelligence tools, you must first comprehend conversation intelligence. The latter refers to the ability to assess the direction and outcome of a conversation. Within an organization, sales representatives need this quality to understand what the customer's pain points might be. Also, to know what is needed to handle the challenges brought up during the conversation.
Conversation intelligence tools stand to improve human performance as it pertains to understanding these conversations. The tool records and processes conversations as they happen and those already recorded. There are many similarities between conversation intelligence software and the traditional call recording software or cloud meeting solutions. The former goes a step further to analyze these conversations, take notes for key topics, and allows you to conveniently access hallmark moments within said conversations.
Specifically, conversation intelligence tools use conversational AI or analytics to harvest insights from conversations help between a rep within the sales team and a prospective customer. The idea is extracting usable data from human speech using natural language processing (NLP) which enables the computer to understand speech. Following the analysis, AI extracts and organizes the data.
Overall, these tools offer more than just conversation recording. They turn individual calls into a gold mine that could benefit the whole team. Important information gets to flow within the ecosystem. Thus, avoiding said information from being kept siloed to a single department or team member.
Team Building
Chances are that if you are in the founding stage, with just one team member, you might assume there wouldn't be much to gain from investing in conversation intelligence software. This is, in fact, not the case. Even if you have a one-person sales team, this tool could help with customer development as you are better equipped to capture customer feedback, including their pain points.
As the team grows through the early stages with two to five reps, conversational intelligence tools should come in handy as you build your sales playbook. You should be able to figure out which pitch and process work for you and what is needed to pass the key pain points the customer has.
Finally, if you're a manager with a medium to large team of reps, the tool gives you back control. You get the power to decide which calls to attend in person without worrying about the calls you are cut out of, as well as learn which calls require more focus. Overall, regardless of the number of reps and the size of the organization, the conversation intelligence tool enables timely CRM data entry.
Given the sheer number of conversation intelligence tools available in the market today, deciding which one to go with can be quite daunting. Here are a few factors to consider as you shop around.
Ease of Use
Ease of use is solely responsible for how the adoption of the platform within the organization goes. You want to find a solution that is easy to set up and implement. Be on the lookout for a tool that offers a self-service option, as this could ensure smoother adoption going forward.
Product Functionality
Off the gate, you want to make sure that the solution offers comprehensive and comparable functionalities. An insider tip would be to question the exact extent of both of these. Additionally, consider what integrations the solution supports and if it is flexible and customizable. Here, you simply are looking for a solution with the bells and whistles that you need.
Pricing
Before making the purchase decision, it would be best if you considered the affordability of the solution. This can prove to be a challenge since some of the players in the niche do not publicly release their pricing. Still, a little dive into different forums should give you an idea of what prices to expect.
As you shop, be on the lookout for the minimum platform fee and initial setup fee. Being an astute manager means being careful not to pay for something simply because it looks fancy and ending up with functionalities that are an overkill or not suited for the growth stage that you are at.
Future Proof
As discussed, conversation intelligence tools stand to serve your business throughout the different growth stages. As you shop for a conversation intelligence tool, you, therefore, want to look beyond your current business needs.
Consider how the tool will adjust as you continue to hire more reps as a high-growth organization. Additionally, consider how the tool will scale to other functions as the need arises.
Granted, there are numerous market leaders in this niche with hundreds of millions in funding and thousands of glowing customer reviews. After going through a ton of reviews and extensive research, we have arrived at three conversation intelligence tools that you should consider. Specifically, the article takes an in-depth look at Avoma, Gong, and Chorus with the hopes that you arrive at one that best addresses your needs.
Features & Benefits of These Conversation Intelligence Platforms
The difference in feature and product aspects is a great place to start when comparing different conversation intelligence tools.
Avoma
Avoma stands for "A Very Organized Meeting Assistant". Out of the gate itpositions itself as a meeting assistant and note-taking tool. It can transcribe calls and video meetings on Zoom and Microsoft Teams which are some of the platform's most notable integrations. After transcribing a call or meeting, the AI takes notes and draws insights from the entire conversation.
The setup is rather quick and easy. Afterward, all calls made or received will be automatically sent to your Avoma account for transcription and analysis. If you decide to have your Avoma integrated with your CRM, all call transcripts will end up on the appropriate contact, deal, or company profile within your CRM.
For Sales Reps
Avoma offers sales reps:
Searchable and editable transcripts
AI-powered note-taking
Objection handling insights
Talk time analytics
Sales managers benefit from the platform in that it makes it easy to train and coach their teams. Instead of showing calls, new additions to the teams can skim call transcripts and pick the specific points within the call to listen to. The tool will automatically flag certain subjects based on pre-determined keywords.
Besides, managers should benefit from asynchronous communications. There, said team leaders can comment on particular moments within the call, and the representative will be notified to attend to that particular timestamp. This asynchronous communication reduces the need for in-person meetings and allows everyone within the team to communicate more effectively.
What's more, Avoma makes provisions for keyword tracking where sales leaders can customize the platform to get notifications when certain keyword pop-ups in a call. Moreover, the platform can use specific keywords to automatically track conversational topics that are of interest. Finally, team leaders can help with identifying custom trends. For instance, the manager can track whether reps are pushing hard enough to close deals.
Gong
Gong positions itself as a revenue intelligence platform that captures sales conversations and delivers insights from these. On the platform, sales managers should be able to have direct visibility into all sales conversations. This translates to direct feedback on messaging, product rollouts, messaging, and other target topics. When the business priorities are the increase in sales and revenue as well as the achievement of the sales process, Gong is the platform for you.
On Gong, the most valued features by users include deal intelligence which means users have visibility into their sales pipeline. This has to do with understanding the interaction between the reps and the prospective customer. Then, remain proactive about potential risks and ensuring that these prospects are not lost.
Intelligence
Another advantage of this platform is that it comes with people intelligence, whereby it is possible for the team leaders to identify who within the sales team is crushing it. Each of the reps is presented next to their stats and benchmarks, which makes it easy to build personalized coaching programs.
Gong enables teams to understand how customers and prospects are reacting to the ecosystem that they are operating in. A neat feature is that the platform enables you to track competitor mentions on-call, thus making it easy to track sales and market dynamics.
Examining Gong's features, it becomes impossible to categorize it as being exclusively a "Conversation Intelligence" software. This is because the software can track deal progression activities, provide insights on deal risks, and more. On the other hand, it cannot be a true "Revenue Intelligence" software as it cannot track the various marketing functions.
Chorus
Chorus promises to make every interaction count. Similar to Gong's Deal Intelligence functionality, Chorus comes with momentum, which makes it easy for you to know each deal activity and pinpoint exactly what interactions most affect deal progression. This comes in handy during forecasting and when brainstorming the next actionable opportunities. Another attractive feature is market intelligence. The platform makes it possible to capture first-hand intelligence from the communication, thus yielding critical insights.
As for how Chorus relates to Gong, the former seems to use AI better to derive analytical data and provide visibility, while Gong has a lot of its focus on actionable people and deals intelligence. Both Gong and Chorus can neither be exclusively be characterized as "Revenue Intelligence" software nor "Conversation Intelligence" software. Overall, both are complex built and have their focus on the enterprise target.
Pricing for These Conversation Intelligence Platforms
No one wants to pay an arm and a leg for a solution when there is probably a cheaper option. Avoma, Gong, and Chorus differ in price in the following ways:
Note that neither Gong nor Chorus shares their pricing information on their website. With a little sleuthing, however, it is apparent that on average, they cost $1,400 and $1200 respectively. As such, these two are mostly ideal for enterprises and upper mid-market businesses and wouldn't be suited for an SMB. Overall, the lack of flexibility in usage ties is a gap that is a deal-breaker for most businesses.
Avoma starts with a free plan. Expectedly, this free plan is only good for personal use as it has limited features. At the pro tier, you get additional features, including summarization and collaboration, which is only fair as you'll have to part with $200 per user/year. Still, you will have to grapple with what could be considered tighter restrictions as it pertains to meetings and recording durations.
Notably, Avoma takes note of the gap as it pertains to Gong and Chorus pricing. For starters, the platform offers greater flexibility. If the team only wants to leverage the note-taking and CRM appending capabilities, the platform should provide a pricing structure that captures just these functionalities. On the other hand, if you only want access to the conversation intelligence and not the revenue intelligence, support can customize the pricing to reflect the same.
Avoma vs Gong vs Chorus Conversation Intelligence
Avoma, Gong, and Chorus all offer visibility into your sales pipeline, help with identifying high-performing sales reps, and are instrumental when it comes to tracking customer sentiment. What's more, the business gets first-hand insights into the customer's voice and essentially associates each call with an opportunity.
Just on the surface, the difference between these three tools is the positioning. While Gong has repositioned itself as a "Revenue Intelligence" solution, Chorus and Avoma still maintain their "Conversion Intelligence" positioning.
Chorus Final Thoughts
Chorus seems to be lacking in some areas, including the cost factor. Specifically, Chorus is costly as the per-user rate ranges from $100 to $200, exclusive of the compulsory base price. This translates to a starting cost of about $1400 per user/year at a minimum, which makes it inappropriately high. What's more, while Chorus is advertised as being a scalable solution that should serve any business in spite of its size, in actuality, Chorus has a rigid feature. It almost feels like there is strong resistance to customization. Even when you have had a long-term engagement with the platform, they do not offer a decreased cost. Besides, it currently only supports Salesforce and Hubspot CRM.
Finally, Chorus has in the past been heavily criticized for having poor support. For starters, they require multiple touchpoints even at the initial hiring discussion, which simply doesn't work for startups. In retrospect, the mid-market segment that both Chorus and Gong have carved for themselves means that they essentially cut themselves off from SMBs.
Avoma Final Thoughts
When it comes to Avoma, from the get-go, the UI looks cluttered and could be a defiant deal breaker. What's more, sometimes calls could take a long time to upload, while in some other instances, it uploads immediately.
As it pertains to the features listed above that you should consider, Gong leads when it comes to ease of use and is followed closely by Chorus. Still, when you critically look at it, both these could have this advantage disputed, seeing as the more they get comprehensive, the more they seem to be getting more bloated and complex. Note that both Gong and Chorus do not offer manual or automated notes as part of the platform. Thus, making Avoma the leader.
Avoma offers call recording, conversation intelligence as well as revenue intelligence. The automated notes powered by AI means that both managers and reps can use the platform for workflow. Besides, the solution allows for ongoing learning and productivity gains. Finally, Avoma ensures seamless integration with other software such as Salesforce and HubSpot, video conferencing, dialers, and Calendar solutions.
Learn More About Conversation Intelligence Platforms
Overall, if you are looking for a solution that helps your sales team stay at par with the competition and in tune with customer pain points, Avoma Is the platform for you. Contact us today for a free demo and to learn more about how we use Avoma and the HubSpot CRM.