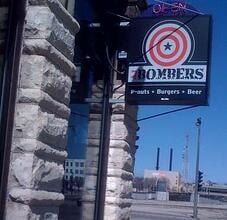 My wife, son and I were at a recent event in Milwaukee and we wanted to go somewhere for dinner afterwards. My first suggestion was to show them AJ Bombers. I figured our 2.5 year old would get a kick out of throwing peanut shells on the ground and watching the "p-nut bombs" fly across the ceiling delivering peanuts to us across the room from behind the bar area.
I originally found out about AJ Bombers because of conversations I was seeing on Twitter and then all of the following press they have been receiving because of their great use of social media (especially twitter and foursquare). They've been mentioned by blogger Chris Brogan via youtube, Wall Street Journal, NY Times, Hubspot, and numerous other bloggers lately. After making my first visit with co-workers a few months ago, we were all really impressed with the atmosphere and burgers so I knew I had to take my family at some point. While at the restaurant I threw out a tweet to them asking for a p-nut bomb and within a minute I had a response from @AJBombers letting me know it would be coming soon. And it did with a bang. My son thought it was great and I was impressed with how fast they responded to us via twitter.
While I am really impressed with their ability to use social media for brand awareness, as well as great communication with customers, my wife has never sent out a tweet before and really doesn't care about Twitter or Foursquare. However, what she does care about is a fun atmosphere and great food and they delivered both for her. She loved her turkey burger and thought the cranberry focaccia bun it came on was genius. The food is what will get my wife to come back, not twitter. And the very next day we ended up taking her Mom to the restaurant for lunch. So, as much as AJ Bombers does with Social Media, it's still the quality of service they provide that will keep customers like her coming back.
They definitely are a case study for how to use social media to build brand awareness, inbound marketing, as well as using it as a communication tool with customers. But above all that, they show how once you get someone's attention and get them into your place of business, you need to provide excellent service, a quality product and make the experience memorable.
We would love to hear your experiences with other business's that are doing the same as AJ Bombers, leave a comment below.