Last week, I had the opportunity to attend the PR + Social Media Summit hosted by Hanson Dodge Creative at Marquette University, downtown Milwaukee.
All I can say is "WOW." By the end of the day, I was exhausted. My brain was overloaded with information.
The sold-out event offered a variety of sessions with super-smart speakers, each with a unique angle for applying social media and public relations in the business world. Attendees included social media, marketing, and PR professionals as well as students interested in the industry of marketing, advertising, and of course social media and PR.
The summit utilized Twitter for the entire event. Throughout the day, attendees were encouraged to tweet to the speakers and use #prsms in the tweet. All the tweets were streamed live on a screen for everyone to see. Check out some of the tweets that were shared.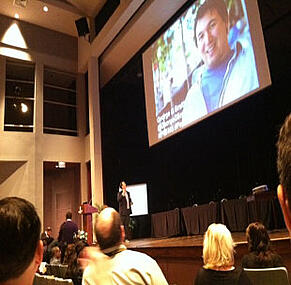 Engagement seemed to be the overall theme of the event. Many of the speakers discussed the importance of creating content that explores the points of interest and evolves the identity of the audience, based on values and cultures. @GeorgeGSmithJr, from Pepsi Co. said it best, "The best marketing still comes from Willy Wonka and his use of the golden ticket."
Other speakers included:
@cbarger, @the_spinmd, @JessBerlin, @AlKrueger, @SaraMeaney, @AugieRay, and @jennymctighe.
Here are a few takeaways from the event that can be applied to your social media strategy:
Social media enhances experience and engagement. With social media you can establish a personal connection and add another perspective.
Whenever possible, develop an offline element by interacting with people. This builds a better relationship and can change the overall dynamic. Be actively involved and participate.
Brands use social media to get people to take action – to buy, listen, and participate. Connect your brand to people's passions.
"Telling stories in social media is an art." (@AlKrueger from @HansonDodge) Create content that engages your audience, thinking about what they need to hear about.
"You can't influence an influencer unless you are an influencer." (@the_spinmd from Alcatel-Lucent) Overall, you must be yourself. You need to know your influencers better than they know themselves.