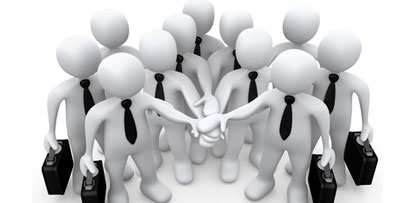 We meet with marketing professionals frequently and many are solely responsible for creating content for email, social media, blog and inbound marketing strategies. When we ask who and what departments these individuals work with to help generate ideas and stories for their channels, we oftentimes hear that the task never moves outside the marketing department or if it's a one-person role, the marketing manager's personal day-to-day responsibilities. Our question is always the same: If you don't step outside your silo, how can you avoid quality and consistency issues, burnout or most importantly, tell the full story?
Creating good content is too big of a task to only come from one source when you consider the need to incorporate the all-encompassing story of your organization and provide information that inspires a fully engaged customer. That's why when we meet with marketing professionals, we encourage the representative, who may also wear the hat of "Chief Content Officer" or "Chief Storyteller," to break down the barriers and misconceptions regarding additional work and tap into that deep well of content waiting to be unconfined from your internal department teams. If you would like to institute a company-wide content creation initiative, here are some steps to help get you started.
1. Define Goals
Before you ask internal staff or partners to contribute to content production, it is important to clearly define the goals of the information distributed among your channels. Do you want to spark a conversation, improve brand reputation or drive leads for your business? It is likely that your goals will incorporate a bit of each listed. May we suggest you include one important goal? Create content that truly answers the questions you hear from your customers on a daily basis. Jot down these questions and you will have a start to what we are sure will be a number of strong blog topics.
2. Create A Content Calendar (Editorial Calendar)
It's likely your marketing department already has an editorial or content calendar in place that includes areas / activities / programs of focus on a week by week / month by month basis. A good starting point is to look at your core business function and all areas of significance for your business. Not sure how to get started? Check out this free downloadable business editorial calendar tool.
3. Encourage Anyone To Contribute
Unfortunately, even in large organizations, marketing departments are made up of just one or maybe a few. It makes sense for marketing to have a say and review the content that goes out, but the responsibility shouldn't fall entirely on one department's shoulders. Here are a few reasons why it is incredibly beneficial to involve other department representatives:
Subject matter becomes more diverse when more than one person or department is writing it
Employees pay greater attention to content
Contributors become emotionally invested
Allows you to help contributors realize that everyone is a teacher
It will eventually become part of the organization's culture
4. Train Contributors
Non-marketers may struggle with the concept of writing dynamic content. A few areas to focus on when training contributors may include identifying topics that solve problems for customers or areas within your industry, creating effective blog titles, blog structure (intro, body, conclusion), tone and style and repurposing information from their day-to-day business dealings.
5. Encourage Different Content Formats
The reaction you may get from prospective internal contributors is that they have to be exceptional writers to share good content. Nonsense! Employees should share information in the way that best displays their talents. Here's an example of how our client, R&R Insurance account executive, Tom Boudreau, created a blog called 52 in 52 featuring Wisconsin business professionals. Tom used his iPad and LinkedIn network to video interviews with business representatives that could provide important information for his current and prospective clients. West Bend Insurance, another client of ours, created a campaign to give back to the community they serve called "West Bend Cares" with a program that focused on avoiding distracted driving. The campaign included video, an inforgraphic and more. Encourage internal staff to tap into how they communicate best.
6. Allow Contributors Freedom
We all have tasks we look forward to and those that we push off until the last possible minute. It's important to make internal partners feel like contributing good content isn't an addition to what is most likely an already full plate.
Be sure contributors are writing about their passions
Be flexible on timing
Be clear on expectations such as length, editing process, and final posting decisions
7. Explain The Benefits
Who wouldn't want to be a published author? Or positioned as an expert in their respective business area? Providing the opportunity for an employee to not only build their personal brand, but also build the credibility of the organization's brand, results in a positive impact all-around.
Contributing creates visibility for internal employees and allows them to display their knowledge and talents
Positioning themselves as experts allows for growth within their careers and most likely, the company
Establishes credibility with current and prospective customers
8. Share Feedback & Results
Keep internal content producers engaged by sharing the impact their individual contributions have on the business. Share their posts among staff and include specific results such as number of page views, inbound links and sales leads.
9. Lead By Example
There is value in encouraging content creation from the top down. Will some people blog if top executives aren't blogging? Sure they will. However, content created by executive team members will add fuel to the fire for others who are invited to be part of the process
10. Reward Achievement & Productive Contributors
Use Google Analytics or a CRM system to track your content contributors and view your top performers. Give out awards to recognize your top producers:
Blogger of the Year
Most Improved Blogger
Most Views
Most Conversions
Best Title
If you invite representatives from all areas of your organization to share in the content production process, with appropriate training and room for self expression to share their expertise, personal brand and successes, you will develop a network of devoted partners who will share the responsibility of generating interesting and important content. These employees will not only become dedicated to the success of their own contributions, but the overall added success for your business.
Photo Credit: Coastline Windows & Conservatories via Compfight cc