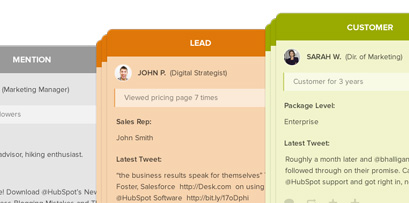 In a recent post announcing HubSpot's launch of their new inbound experience and content optimization system, we gave a brief overview of a tool called Social Inbox. It's a resource we've been testing out with some of our clients and have found that it has an incredible ability to allow sales and marketing representatives to make social initiatives what they always intended to be – a way to personally connect with and address prospects and customers' needs. While weeding through the clutter can be a challenge, social media and email marketing are highly recognized by company executives, marketing and sales leads as a way to grow business. Social inbox incorporates functionality that allows for social conversations to be organized and prioritized in a way that better examines marketing analytics and represents ROI.
Here are 5 ways Social Inbox differs from other social media monitoring tools you may have used:
1. Focus on people rather than keywords.
The social media monitoring tool you are using now may give you the option to segment keywords or anyone who has mentioned a topic – mostly including folks you have never interacted with before. Social Inbox is different in that it takes monitoring further than keywords by focusing on the people who currently are or have the potential to make an impact on your business. You can view social activity by customers, leads, or any other segment you want. The tool leads marketing professionals to the right prospects, gives sales reps the opportunity to monitor their specific leads and provides support staff the information needed to provide responses to anyone commenting about your company.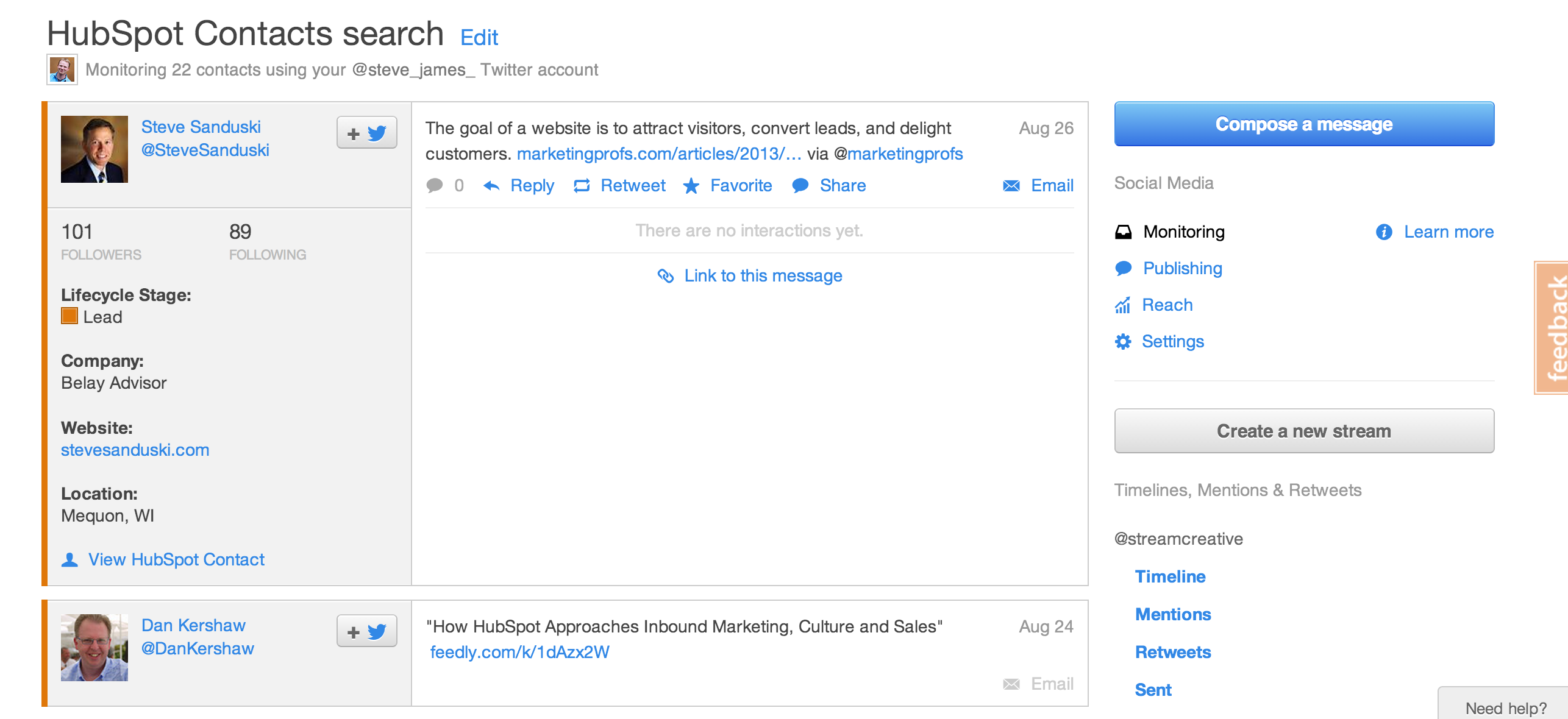 2. Create highly segmented, smart streams.
When you create a new stream using Social Inbox, the choice is yours in terms of how you would like to segment lists based on specific customers, lead scores, event or anything else. Combine a contact list with the keywords you follow, and you'll get a highly segmented list of contacts talking about the topics that matter most to you. Social Inbox will also give you a prediction of the volume (i.e. number of tweets each day) which will allow you to further segment if needed. Another great feature in regard to segmentation is the ability to alert team members when action is needed for a particular notification.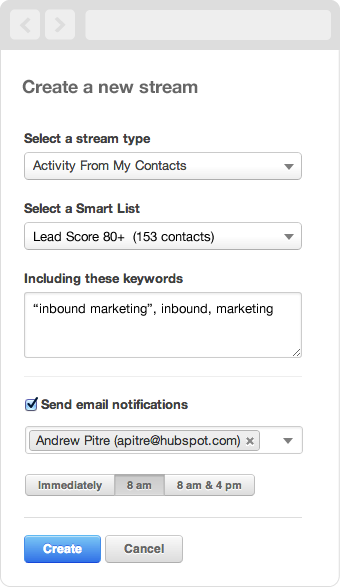 3. Enhance monitoring ability.
Some of the cool features offered in the Social Inbox monitoring screen include:
-Color-coded lifecycle state which allows you to know if someone is a prospect, lead or customer.
-You can view your contacts follower / following count to see their level of influence.
-One-stop-screen to reply, re-tweet, favorite, share or email the contact.
-View entire conversation and history of all interactions.
-View contacts' representatives within your company to see if any others have had interaction.
4. Increase automation functionality.
Two functions of the automated posting ability is Social Inbox's recommendations for suggested times that help drive results. You can also see what content performs best by grouping posts into campaigns.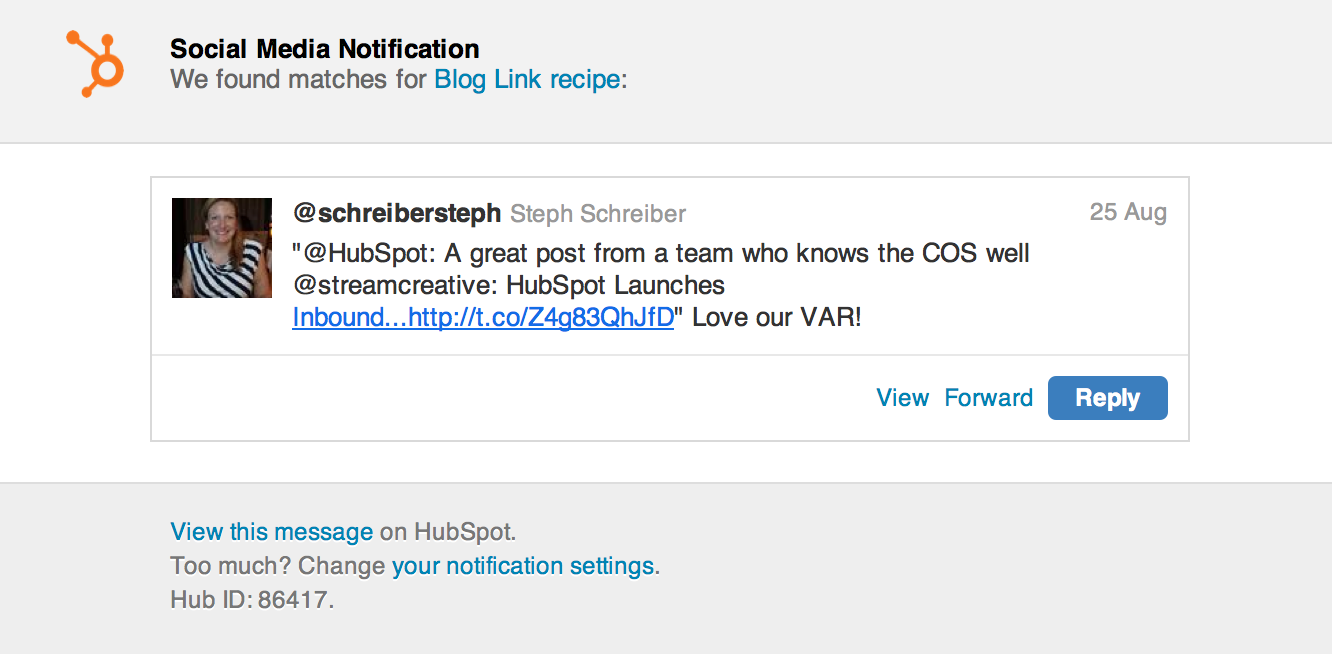 5. Impact to bottom line.
It feels good when someone re-tweets / shares your post or content, doesn't it? It feels even better when we know our efforts have had a strong impact. Social Inbox analytics show the actual return on investment for your strategy with the ability to analyze performance based on data provided for each social share, listings of contacts clicking or sharing your content, tracking the number of leads or visits resulting from social channels, comparing social channels to each other and closely monitoring campaign performance.
Social Inbox enables marketers and sales representatives to create highly segmented views of the social activity of leads and customers. It allows you to make social interactions about the person and the individual needs of that prospect or customer. Ultimately, it's our relationships that have a positive impact on the bottom line.
Social Inbox is a free tool for Stream Creative clients using the HubSpot platform. See it in action by viewing this HubSpot video.