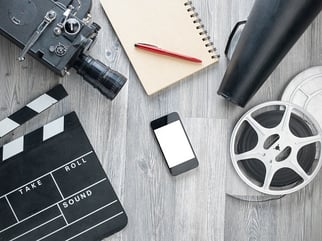 The use of video in marketing and sales is something influencers have touted as "the future of content" for the last five years. Despite the attention, the majority of brands are not yet harnessing the power of video to leverage marketing, sales and service offers for prospects and customers through every aspect of the marketing funnel.
Why is there a disconnect?
The common pushback to video is that video is hard to create and expensive. But the new consumer landscape for video makes this hesitation invalid. Why? Because the videos customers are demanding are personalized, relatable and authentic; no big budgets, no crazy lighting systems, no fanfare –- think screen captures, tutorials, explainers, expert interviews and unboxing.
The other major hesitation to video production is the ability to record, host, view and share video easily. This is now possible with Hubspot Video. With the new Hubspot video tools, you can quickly and easily include video in all aspect of your business: sales, marketing and service.
What is Hubspot Video?
With HubSpot Video powered by Vidyard, Professional and Enterprise customers now have the ability to add video to blog posts, landing pages, website pages, or knowledge base articles. You can also create custom videos and screen recordings directly in HubSpot to share in emails, workflows, live chat or within a ticket. The barriers to video creation are now gone, with Hubspot Video. Learn more about Hubspot video, now.
Below, we outline how you can get a jumpstart with video production through your sales, marketing and services lines. Let's start with understanding how to develop a video-friendly culture.
How Do You Develop a Culture of Video?
Your ability to effectively incorporate video into your business strategy starts with two simple tips: keep it simple and use it everywhere. When you implement video into every step of your marketing, sales and service processes, you can achieve a culture of using video to create an authentic, brand perspective that prospects and customers alike, will love. Hubspot video makes this possible with a highly integrated, intuitive tool that makes creating, sharing and viewing videos easy for every member of your team.
Video should be a business strategy, not just a tactic. With Hubspot Video, you can easily:
Host video with the ability to upload and manage video in your dashboard.

Add CTAs and form overlays at any point in your video to drive viewer experience.

Segment video view lists.

Create 1:1 videos for sales and service team members.

Easily access video analytics and insights in your performance dashboard.

Insert videos into live chat conversations.

Trigger follow ups after video views.
How to Integrate Hubspot Video into Your Sales Strategy
Think of a world where video lives on your sales pages, where video lives in email templates and where video drives the content library for your sales teams. With Hubspot video, your sales team will have access to tools, templates and drag and drop functionality that will make it easy to integrate videos in all aspects of your business outreach.
Here are a few suggestions on how to use video to support and enhance your sales efforts:
Prospecting with video can get you past traditional gatekeepers and make an immediate, personal connection.

Use video in your proposal to explain any complex elements.

Replace follow up calls with video emails.

Always have video meetings to humanize your brand and build more trust.

Create follow up videos to review next steps with new prospects.

Team introductions can show your prospects or clients the team behind the scenes.

Video voicemails.

Video out of office replies.
Here's an example of how we used video to help humanize our brand, introduce and explain an element, and even help promote it:
How to Use Hubspot Video In Your Marketing and Content Strategy
You know your buyer personas like the back of your hand and you know the most common questions they ask. Wouldn't it be great if your team members could drag and drop answers to the most common questions in live chat through the awareness, consideration and decision phases? Imagine workflows that utilize videos at the template level, where your single video could be viewed and shared in email, then re-purposed in live chat and finally, integrated into your blog -- it's all possible with Hubspot video.
Here are a few ways to get started with video content to meet the needs and demands of today's busy viewers:
Unboxing videos.

Product tutorials.

Expert interviews.

Facility tours and sneak peeks.

Testimonials and case studies.

Video in live chat.

Workflow and email video.
This video is a great example of one of our own expert interviews we had with Joanna Wiebe:
Below is a facilities tour and sneak peak video that we created for our client, Baker Cheese:
How to Use Hubspot Video In Your Service Strategy
Delighting your customers shouldn't stop when workflow email sequences end. You can find inventive ways to communicate with your current customers to build on your established relationship and turn happy customers into brand advocates for your product or service.

With Hubspot video, it is easy to:

Add video answers into your live chat platform.

Use internal video communication between teams.

Repeatable video processes that incorporate drag and drop functionality.

Create, send and track videos to customers.
As we dive into the Hubspot Video platform we look forward to sharing more insight about how the tool can transform your sales, marketing and service departments. Stay tuned for more information!
In the meantime, get started with your video strategy now! Here is a quick-list of what you need to get started with video.
The Tools You Need To Make a Great Hubspot Video in Five Minutes
The most common misconceptions about video is that it is hard, expensive and takes a lot of time. Once you realize the ease of delivering video content to your customers using Hubspot video, you'll be wondering why you haven't started earlier.
To make a great Hubspot video, you'll need:
Smartphone, webcam, or Chrome plugin like Wista, Vidyard, etc.

Tripod (if not using webcam)

Simple lighting system

Overhead or lavalier microphone (optional)

B-roll of your team, product or service in action (to splice in periodically)

A quiet area

Visually appealing background
It's never been easier to produce video content for your sales, marketing and service needs. With Hubspot video, not only is the recording process no longer a hassle, but sharing is now effortless as well. Your sales team will be delighted with their new set of assets, your marketing team can work with new content to integrate and your current customers will be pleased with helpful videos for their questions. Enable your business to grow with the Hubspot Video tools and find out just how easy it can be!
Using video marketing, learn how to choose different types of video throughout your customer's buyer journey, how to promote it, and how to deliver a compelling story your customers will love … Learn more here!