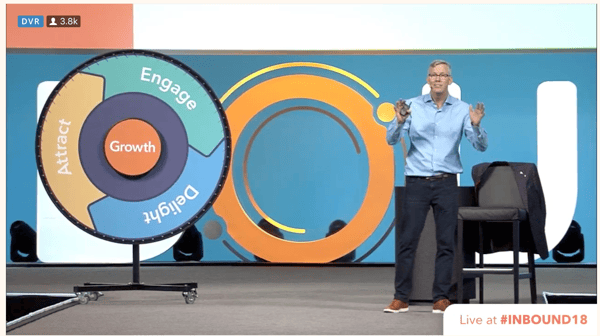 The inbound methodology has been built on the pillars of attracting, converting, closing, and delighting customers -- but does it seem like we have all forgotten the value of our new (and awesome) customers? What are you doing, right this minute, to delight your customers? Or more importantly -- how are you using your current customers to get more customers?

Data shows that word of mouth is getting louder than word of marketing. In this new, competitive landscape, referrals are often driving more traffic for customers than ever before.

Nielsen has found that 92% of consumers trust recommendations from friends and family over all forms of advertising.
It can be five times more expensive to acquire a new customer vs retaining an existing one
In the age of Google reviews, Amazon feedback, and research-based consumer decisions, you might want to start thinking about how active your brand advocates currently are (and how active they could be).

Enter the Hubspot flywheel.

At Inbound 2018, Hubspot announced a number of new product features that are designed to take a customer full circle with the concept of a flywheel. This integrated approach places customers and growth in the middle of a dedicated platform solution that covers sales, marketing, and service solutions for organizations big and small. It offers solutions for every consumer, in all stages of the buyer journey, with a focus on creating a streamlined approach to spin the flywheel -- a.k.a. move seamlessly from sales to marketing to service -- and back around again.

The focus is really about reducing friction for your sales, marketing, and service teams so the customer journey moves smoothly and the customer experience is exceptional.

Hubspot realized that they don't just want to help the marketer and leave it there. Instead, the platform built a suite of new products that can help support an entire organization -- sales, marketing, and service -- and help the collective organization spin its flywheel.

Inbound 2018 Hubspot Product Announcements
The Hubspot product suite now includes marketing, sales, and service offerings in all product and price categories: starter, professional, and enterprise. You can now manage the complexity of your businesses, from sales to marketing to service, all while exceeding customer experiences.

The big area of focus is that a company of any size can now sign on with Hubspot and grow with the service lines, expanding services when the need arises and when the time is right.

The focus is all about growing better, growing smarter, and knowing Hubspot has the service capabilities to help your organization through every touchpoint of your buyer's journey.


New Hubspot Marketing Hub Announcements
The biggest takeaway from Inbound 2018 Marketing Hub: customers are no longer the by-product of a funnel -- they are now the growth-engine -- and our jobs as marketers is to be the architect of the flywheel. With Hubspot, we now have the opportunity to connect with consumers in real-time, in addition to a host of other great new features, let's take a look!

1. Hubspot Conversations
The goal of Hubspot conversations is to connect with prospects when they want and in the manner of their choosing. This fluid communication model allows you to talk over live chat, follow up with email, and then talk through details over the phone.

The new conversations feature includes:

Live chat – connect with visitors in real time.
Team email – a unified inbox for marketing, sales, and service.
Chatbots – use bots to help qualify leads, schedule meetings, and provide answers to support questions.
Hubspot Marketing Hub Price: Hubspot conversations is now available for free.
2. Marketing Hub Starter
Marketing Hub Starter offers the fundamental tools that every business needs, and it now includes email! Marketing Hub Starter might be right for you if you have a robust sales program but lack mature marketing support. Now, you can adopt inbound methodology from start to finish.

Marketing Starter Hub Includes:

Lead capture – convert qualified website visitors into leads
Email marketing – create emails with goal-based templates
CRM
Hubspot Marketing Hub Starter Price - Now available for $50 per month.

3. Hubspot CMS
Hubspot offers a fully integrated CMS that goes far beyond content management. Buyers today expect a personalized experience that answers their questions and delivers solutions to their problems. Using the Hubspot CMS, you can easily build your website using the CMS and CRM combination to tailor the entire experience for your prospects.

Hubspot CMS includes:

Website Landing pages, blog
Lead capture, forms, CTAS
Smart content
Hosting SSL
Template and midcult marketplace
Database-driven pages
Web and content analytics
Domain manager
Content staging
Hubspot CMS is $300 per month and is no longer an add-on to Hubspot Marketing Hub.

4. Hubspot Video
Today people gravitate towards personal authentic and conversational videos. The businesses that have adapted to the way people consume information and shop are already seeing a return on their video investments.

Hubspot Video offers:

Video hosting – record, upload, manage and distribute.
CTA and Forms – easily add CTAs or a form overlay on the video at a specific time, or at the end.
Video Insights – performance insights right on your Hubspot dashboard.
Live chat integration into videos.
The ability to trigger follow-ups.
Advanced video reporting and data capabilities.
Hubspot video is included in Marketing Hub professional and enterprise.

5. Marketing Hub Enterprise
The enterprise level marketing hub now incorporates more robust automation, reporting, and personalization. It has been designed to give advanced marketing teams more control, greater flexibility, and deeper integration – all without making life complicated for you, your team, and your customers.

There are more than 20 new features being added, including the following:

Content partitioning – useful for teams and allows them to segment assets in Hubspot across teams, divisions, product lines, brands, and other dimensions.
Advanced reporting.
Custom reports and dashboards.
Multi-currency, with the ability to track and manage multiple currencies.
Cross object reporting.
New Hubspot Sales Hub Announcements
You may find yourself, like many companies, using a CRM tool with add-ons. Email. Voicemail. Meeting calendar. Chat. Video. The list goes on. In fact, managing add-on tools may take time away from your ability to be out in the field actually selling. Reduce your friction in the flywheel with Hubspot, your one-stop solution to integrate all of your favorite add-ons in one robust platform.

Hubspot Sales Enterprise Tools include:

Customer slack notification – keeps teams connected to customers and can trigger notifications in slack.
Integrations with Join Me and Zoom – connect your favorite online meeting providers directly into your Hubspot meetings.
Predictive lead scoring – automatically score and rank leads based on their likelihood to close as customers, factoring in hundreds of behavior, demographic and technology factors.
Quote approval management - require approval for quotes that meet certain criteria, like percentage discount.
eSignature – collect signatures on quotes and other documents right inside of Hubspot.
Goal management – measure your sales and services team performance on a granular level
Playbooks – build a library of interactive content with rules-based automation and recommended content your sales teams can share with prospects.
Call transcription and recording – save time and get insights for managers to dig into. Tasks can be created based on predictive knowledge.
Imports with associations – gone are the days of manual integrations! Your contacts will be associated automatically which will save you time in data entry.
Hubspot Sales Hub is $1200 per month with 10 seats included.

Did we forget to mention video? Hubspot video is a new and amazing tool you'll definitely want to check out and you can learn more about it here.

New Hubspot Service Hub Announcements
The Hubspot platform and flywheel approach places customers in the center of your growth strategy. But you might be asking … how do I do this and what tools do I need? Let's review what you have access to with Hubspot's new product announcements.

Service Hub upgrades for professional and enterprise, include:

Service hub starter includes tickets and 1:1 tools that help service reps be more effective.
Helpdesk upgrades include customer support forms, ticket tags in email, and import object association
Feedback upgrades allow for more customization and flexibility, and more customer experience surveys.
Knowledge base upgrades include drag and drop categorization, search reporting, feedback on articles, list restricted articles.
Service team members can now help customers with Hubspot video, which allows you to create, send, and track personalized videos
Sophisticated team tools, in Enterprise, is a tool built to grow with your team as you expand. It includes playbooks, goals, and health scoring.
Hubspot Service Hub Starter is $50 per month.

Overall, the new announcements from Hubspot at Inbound 2018 have been designed to help your organization grow better and grow smarter. Spin your flywheel faster with new Hubspot features and make rapid strides to integrate your customers through every aspect of their buyer journey including marketing, sales, and service.