SEO remains top-of-mind a
s marketers plan their content marketing strategy for 2023. For advanced marketers it looks something like this: you have an SEO plan and best practices in place, you have your list of keywords, you're actively blogging and your website is optimized. You have an on-page and off-page SEO plan after developing an seo strategy and keyword research. Your monitors are covered with dashboards from Google Analytics, an SEO ranking tool like ahrefs, Moz or SEMrush, reports from your CMS or marketing automation tool, and a few Google sheets or an advanced Databox analytics dashboard to keep your results organized to monitor your search engine rank positions.
For most marketers the process is not as complex. Time is an issue and weekly tracking makes you guess, second guess, pray, cross your fingers, and read a few blogs to get the latest SEO tips, tricks and trends. You need to increase leads and high quality website visits based on users search intent. Your content marketing plan needs help. And you're sick of seeing your competitor's name above yours when you search your best keywords on Google. Sound about right?
If you're struggling to get to page one on Google or working tirelessly to stay there, you're not alone. Very few businesses have an easy time achieving and keeping page one rankings, there are only ten sitelinks after all. But when you add in Google's featured snippets, knowledge panels, images, videos, local packs and more in the search engine results pages, you've got your SEO hands full...of great opportunities!
If you're one of the 99-percenters who struggle to get to or stay on page one — take these actionable steps, and let organic SEO strategies take its course:
1. Understand SEO in its simplest form.
Strip out all the SEO tactics and think about why you're doing what you're doing, and more importantly, why Google is doing what it's doing.

When you search online, you're seeking an accurate answer, item, detail, date, image, address, or definition. And you expect your answer in a split second. Sometimes you want Google to read your mind. Your prospects want this too. With today's algorithms and machine learning, Google delivers this and it's pretty good at it. Think about it — if Google served up ten links that didn't provide what you're looking for, you'd take your business elsewhere. This is the simple psychology behind user experience on SERPs. Google is looking to you to provide the data your prospects are looking for. If you provide it and you do it better than anyone else, your data and content will be promoted to a better position.
First step: Put yourself in your prospect's shoes. Run a search query on Google using your best keywords and most common questions. Make a note of who's on the first page. Do you see the same organizations showing up in these prime spots? Make a note of any direct competitors who are claiming top rankings. It's important to understand what your prospects are experiencing.
Quick trick: Take three minutes to listen to Matt Cutts explain what happens when you do a web search. This video is dated, but most of the material is still relevant today. Join the 2.5 million viewers who invested three minutes.


Advanced tactic: Take a deep dive into how search engines work. Get an inside view of how Google determines its ranking and algorithm changes directly from Google pros, Gary Illyes, Webmaster Trends Analyst & Paul Haahr, Software Engineer. Watch time: 30 well-spent minutes.


A quick rant on keywords

Has anyone ever asked you, "are keywords dead?"


The answer is this - NO, keywords will never die. Think about it for a minute - if you can identify the

most popular way that people describe your product or service

, wouldn't it make sense to use variations of these words and phrases on just about every piece of content you put out? And this doesn't stop on your website, remember to optiize your social and email messaging, press releases, YouTube videos, and any other content as well.

These keywords create a

comfort level

for your prospects. - it's how they think. Don't create barriers that cause prospects to spend unnecessary energy or brainpower to understand your content, and potentially destroy your ranking opportunities.
2. Keywords: Listen to how your customers speak, then speak their language.
Understand what questions they're asking, how they're asking, what their needs are, and what keeps them up at night. Your company is already solving their problems and fulfilling their needs or you wouldn't be in business, right? Translate this on your website.
First step: Understand your customer and prospect needs, start a list. This is an essential step. You can't focus on improving rankings if you don't understand what your prospects and customers are looking for. Then, transfer this knowledge to your website. Translate the products and services that make your business a success in a clear format using the natural language understood by your industry. Become a resource for your clients and Google will reward you.
Quick trick: To find out what the most popular search terms are, type your keywords and prospect questions into Google's search bar. Google will show you a list of related searches. Use these terms to update your copy and inform blog topics. Free and easy!
Advanced tactic: Use one of the top SEO tools to research keyword alternatives and search volume. At Stream Creative, our favorites are Moz and Ahrefs. Moz's Keyword Explorer is a great place to start. You'll get keyword suggestions and monthly search volume. Select a mix of the most searched terms to use within your copy. Remember to do so in a natural voice — this will make content consumable and shareable, while keeping Google happy at the same time.
3. Provide insanely useful content.
Content means more than just your blog. Content covers video, articles, webinars, live chat, lists, how-to guides, and much more. Content should be provided on your site and across the web on channels where your prospects hang out. Use different content types to answer your client questions and understand their obstacles and provide solutions.
According to Ann Handley, "...be sure you know the purpose or mission or objective of every piece of content that you write. What are you trying to achieve? What information, exactly, are you trying to communicate? And why should your audience care?" Provide answers. Be helpful. Solve their problems. Make your content relevant and rich. And when possible provide narrowed, niched content. Ensure your content has sharing value and gives your highest quality visitors what they're asking for.
First step: Seek out the thought leaders in your company and make friends with them. You might find them in the executive suite, in a biz dev cube, working remotely, in the lab or in the manufacturing plant. If they have answers to your hottest industry questions, sit down with them, ask them the questions, record their answers and turn it into a post. This is about progress not perfection. Get the information out there. Remember it's digital so you can always revisit and refine.

Those who know me best know I'm a Rand Fishkin fanatic. In a Whiteboard Friday that focuses on SEO best practices Rand says, "Have the most credible, amplifiable person or team available create content that's going to serve the searcher's goal and solve their task better than anyone else on page one."

Quick trick: Ask these internal thought leaders to forward their emails to you that show the types of questions they receive from prospects and customers, and their helpful responses. Use these to formulate new content.
Advanced tactic: Consider sharing your expertise through video. According to Content Marketing Institute's Joe Pulizzi, video is a top content format. And Mark Zuckerberg states, "...if you go back ten years ago on the internet, most of what people shared and consumed was text. Now a lot of it is photos. I think, going forward, a lot of it is going to be videos, getting richer and richer." Take it to heart. With users accepting videos delivered in an every-day quality/natural presentation format, making video part of the plan is a reality for many marketers.
4. Give your website a check-up.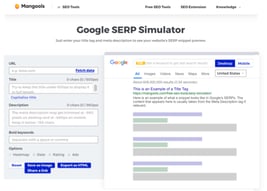 Look under the hood. If you don't have your page titles, URLs, image tags (alt-tags), and meta descriptions (yes, they matter) in place, you're doing your SEO a disservice. Want to see a preview of how it will all look right Google? You can explore your options as you write them with this cool Google SERP snippet optimization tool from Mangools. These on-page SEO factors affect your individual page rank in search results so make sure to get these optimized.
First step: Locate your most popular web pages in search results. Review your meta description and compare to competitors on the page. Does your title accurately describe the content of your page? Does your description encourage clicks? Consider upgrading your meta content using best practices.

Quick trick: Use our Website Grader to get a quick snapshot of your website. The Website Grader will uncover on-site issues and advise on next steps.

Advanced tactic: Download and run ScreamingFrog on your site. This is a free tool that will scan up to 500 pages. If you have a larger site a paid version is available. This tool scans your website and shows what on-page data needs your attention.
On-page SEO is the practice of optimizing individual web pages in order to rank higher and earn more relevant traffic in search engines. On-page refers to both the content and HTML source code of a page that can be optimized, as opposed to off-page SEO which refers to links and other external signals.
Source: https://moz.com/blog/category/on-page-seo
5. Check out who's linking to you.
If no one is linking to you, why should Google? Backlinks (links from other sites back to yours) can be golden, especially if they're from sites that Google respects. On the other hand, links that Google recognizes as blackhat (unscrupulous search engine optimization tactics) can negatively affect your search engine rankings. A research study by Moz shows that there's a direct relationship between quality backlinks and Google search rankings. The higher the quality of your backlinks, the higher your search rankings. Watch this edition of Whiteboard Friday to learn how to build a good process for link acquisition:
First step: Check your backlinks. You can easily run a report using the SEMrush Backlink Checker or Moz Open Site Explorer. Download your data and take a look at who's referring to your site.

Quick Trick: Keep track of your social reputation and track your brand with a social monitoring tool. Receive mentions of your brand helps build relationships, a great place to start is Mention.

Advanced tactic: Check out your competitors' backlinks. See who's linking to them and explore backlink opportunities. And don't stop there - backlinking is just one tactic covered by off-page SEO.
Off-page SEO embodies all marketing techniques that happen outside of a website (i.e. off-page) with the potential to positively impact search engine rankings. "Link building" and exposure of your product/brand to relevant audiences are the two main building blocks of off-page SEO.

Source: https://ahrefs.com/blog/off-page-seo/
6. Get listed!
Company listings (called citations) on local, national and niche directory websites let Google and your prospects know where to find you. Consistent, authoritative, and up-to-date citations create more exposure for your business and improve Google rankings.

Doing business locally? SEO is critical to local business. Google serves results differently depending on your location. With the solid growth of mobile engagement, getting found means mobile searchers become your buyers. To positively affect Google rankings right in your hometown, there are a number of essential steps you can take to outrank your local competitors.
First step: Ensure your Google My Business profile is complete. Don't just submit the minimum, take advantage of all the opportunities to promote your business through this profile. Google is looking for images, hours of operation, and more. Take the time to get this done!
Quick trick: Create a local landing page for each physical location for your organization. Remember to optimize the page with your city, state and zip/postal code.
Advanced tactic: Quality directory listings have an impact on your score and there are many quality directories waiting for your submission. Check out tools like BrightLocal and Yext to get listed on hundreds of recommended directories for a reasonable price.
7. Take care of business.
SSL certificate: You have this done, right? If not, do it today, it's an easy fix. Google wants everything on the web to be travelling over a secure channel (https). That's why in the future your browser will flag unencrypted websites as unsecure. It only takes a few hours to get an SSL Certificate and get everything up and running on your site.
Page speed: Best-in-class webpages should load within 3 seconds. Any slower and visitors will abandon their journey to your site. Google uses this information in their algorithm. Use Stream Creative's Free Website Grader to check your page speed. if it's loading slowly, check out this article for tips, then have a face-to-face with your tech lead.

8. Create less, promote more.
According to Salma Jafri (and I agree), "Spend 20% of your time creating. Spend the other 80% of your time expanding your reach in different formats and to more channels to reach a wider audience. See who it can help. Reach out to them. Share it on all your networks." Don't expect organic SEO to do all the heavy lifting. Let others know you have valuable content to share. Be creative in spreading the word. And remember, Google is watching.
First step: Make it easy for your visitors to share content by including social sharing icons on every post. In addition, make sure to include the most relevant social channels for your industry. Lastly, consistently post your content on your social channels. If you're active in your social communities you'll pick up a few shares. Thank people for sharing and always respond to comments.

Quick trick: Save time by using a social media management tool to manage posting for you. There are great free and paid versions - find a social media tool that works best for you. If you're using a marketing automation tool like HubSpot or Act-On, you already have this covered.

Advanced tactic: Mobilize your internal team and ask them to share your content with their social networks. Your business development team should be excited to help spread the word. If they're doing social right, they're connected to the people who will eat up your posts and insights.
9. Track your progress.
Time to evaluate all your hard work with a rank tracker template. Tracking your progress will inform your SEO strategy and marketing tactics for ongoing strategy iterations. Remember to track with a purpose. Not every number matters. These metrics, or KPIs, should be based on your specific business goals. Here are a few of our favorite and most relevant metrics that point specifically to search engine optimization:
Tracking Quick Tip - Use Free Dashboards like this Google Search Console Basics one from Databox to track your progress. (We are a proud Databox partner and affiliate) The Search Console Basics dashboard reveals which pages are most visible on SERPs and which ones actually drive organic traffic.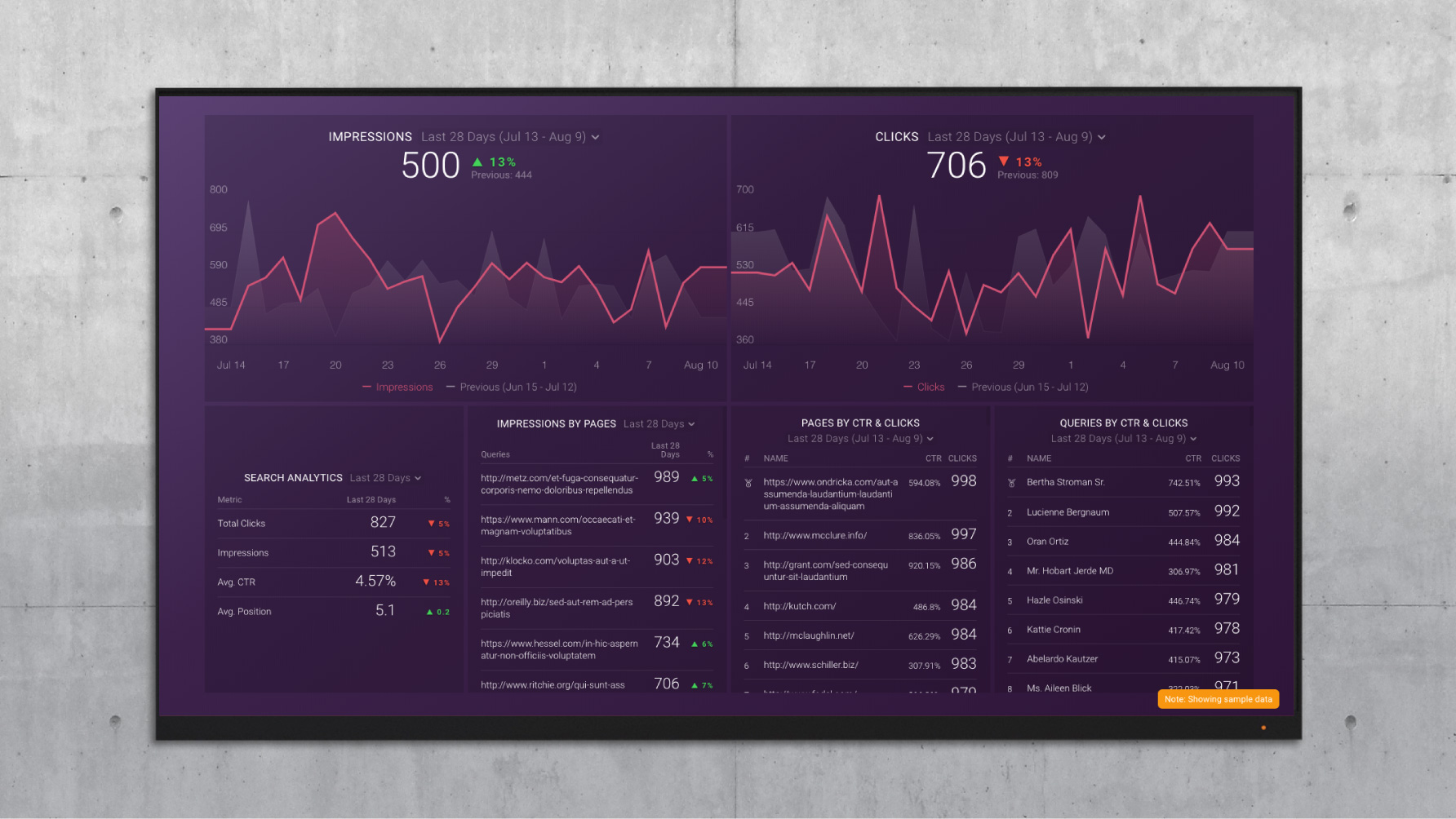 Keyword rankings - Check your rankings for the premium keywords selected for your business as a whole and the specific keywords that you're targeting with each blog topic. There are free options available like serpfox and paid keyword tracking tools like Rank Tracker from Moz. Word of caution — track only your most valuable keywords or you'll get lost in the minutia.
Organic search traffic - this can be measured using Google Analytics or your CMS. HubSpot's SEO tools make it easy to quickly track your organic search traffic with just a couple clicks.
Page visits (from organic search): Tracking your best converting website page visits is a key metric. Understanding which blog topics are most viewed will provide insights and direction for future blog posts and topics. Your audience may respond best to "how to" type posts, comparison posts ("Type A vs. Type B"), in-depth articles, lists, or short copy with images assisting in telling your story. To measure this, list your top pages, then note your monthly traffic. If you're not seeing improvement month over month, revisit your SEO strategy and tune up the pages that are struggling to provide results.
Time on page - Clicks to your page are great but mean nothing if those visitors aren't spending time on your page. Content engagement measured by average time on page is a key metric that can be measured using Google Analytics. If you want to get a deeper look into user behavior, check out HotJar's recording tool.
Backlinks: Quality and quantity - backlinks are among the most important factors that affect your search engine rankings. Track the root domains linking back to your site. Tools like SEMrush Backlinks Checker, Moz Open Site Explorer, and MajesticSEO Bulk Backlink Checker allow you to input your domain in order to track the number of backlinks you've gained over a certain period of time. You should see an upward trend if you're doing things right.
Visits: pages per session: This might not sound like an SEO metric, but ensuring that your content is on topic and relevant to your site should mean that visitors are interested in more than one page of your website. Adding internal links to your content will encourage your visitors to learn more and increase time on site! Use Google Analytics for this metric.
Returning users: For the same reason as pages per session, if your visitors aren't returning then you're either not providing relevant and useful content or you're reaching the wrong audience. You're getting clicks to your site, make sure you're delivering on what visitors are craving so you become the authority they're looking for.
Page load speed score: This is important to Google. They want to deliver quality. Your site needs to display quickly and appropriately. Check your speed score monthly with Stream Creative's free Website Grader.
Mobile bounce rate: Over 50% of web traffic coming from mobile devices. Make sure your pages load quickly and you're giving your visitors all the information they came for. Then, keep an eye on your mobile bounce rate to make sure you're not missing out on potential business.
Conversions: One of the most valuable SEO metrics. Increased conversions means your SEO strategy is working! You're finding high quality visitors and delivering the right content that successfully encouraged them to take a next step.
Keyword rankings: Understanding which keywords are most relevant to your business, then keeping track of SERP rankings will let you know where you stand with the competition. Word of advice: track changes using a three-month rolling calendar. Focusing on week-to-week changes will (in most cases) cause unnecessary anxiety with the natural ebb and flow of search results.
Blog visits (from organic search): Understanding which blog topics are most viewed will provide insights and direction for future blog posts and topics. Your audience may respond best to "how to" type posts, comparison posts ("Type A vs. Type B"), in-depth articles, lists, or short copy with images assisting in telling your story.
Domain Authority and Page Authority. Domain Authority (DA) and Page Authority (PA) are scores (on a 100-point scale) that predict how well a website will rank on search engines. These scores can be increased by improving overall SEO and providing excellent content. Tracking this score is easy with this free MozBar tool from Moz. Mark your baseline then check in on your score monthly, and compare to competitor websites. This score changes very slowly so be patient!
Social likes and shares: Like blog post views, your customers and prospects will let you know what they like by sharing it with their individual networks. You'll know you've selected the right topics and keywords to resonate with your audience. With this data you can be sure to give them more of what they want.
And if you're ready to dive into deeper measurement, these metrics will help you knock it out with your CXOs:
ROI: Depending on the length of your sales cycle this number may take time to track, but it's necessary. Evaluating which tactics are converting to marketing qualified leads, then to sales qualified leads, and on to customers is what it's all about. Measuring results from specific tactics will help you improve the bottom line and make your CEO happy!
Customer Retention Rate: New customer acquisition costs more than retaining your current customers. And if you like your current customers, this is a metric for you! Not only does marketing have a role to play in customer retention, your job is much harder if you have to keep replacing the relationships previously solidified.
10. Don't dawdle.
Improvements don't happen overnight, so the sooner you start the better off you'll be. Put a plan in place, and use our SEO Checklist and SEO Tracking Spreadsheet to shine a light on your path. Need more help with your SEO or Inbound Marketing? Give us a shout.