Here's four podcasts (video and audio) that I try to listen to each week through iTunes to keep up with everything going on with online marketing and the evolving digital landscape. Each one tends to stay with the formula of interviewing other marketers or experts in the marketing industry as well as discussing trends and case studies. If you have any other favorite podcasts please share and leave a comment below.

1. HubSpot TV - Inbound Marketing
Hosted by Karen Rubin & Mike Volpe.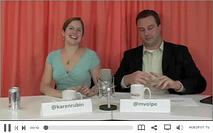 Hubspot is a software development company that's product features Closed Loop Marketing, Social Media Monitoring, Lead Nurturing and Content Management System. HubSpot TV is their weekly video podcast covering all the inbound marketing news of the week. The show is hosted by Karen Rubin & Mike Volpe and many times involves a guest of the week (someone in the industry doing it right in terms of inbound marketing practices ). It's a live show and you can tweet in questions/comments during the show at #HubSpotTV . They also have all of the shows archived on the site.
http://www.hubspot.tv

2. Duct Tape Marketing Radio
Hosted by John Jantsch

John Jantsch of Duct Tape Marketing has developed a small business marketing system and Authorized Coach Network and he is a marketing coach, social media publisher and author. The weekly podcast features interviews that provide information on small business marketing tips and resources. The podcast is mixed in with blog posts and can be found on the Duct Tape web site.
http://www.ducttapemarketing.com/podcast.php