Last week, we had the pleasure of helping our friends and partners with PR 20/20 launch their new website. As fellow inbound marketers based out of Cleveland, Ohio, the PR 20/20 team created exceptional content and imagery while our Stream Creative web team assisted with the design and development of the site. One element of the website that is a favorite of both groups is the team page - highlighting the company's philosophy of creating a "culture of we," along with personalized bios and individual / group interests and passions.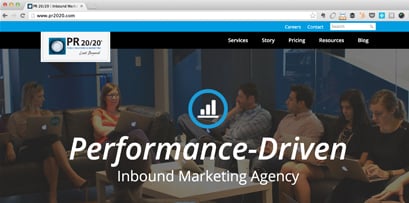 The personalities, expertise and ethics of the people that make up a company are as important as the company's reputation and achievements. Creating a team page that offers unique insight into a company's culture and character adds value to any site where client / agency partnerships are an important part of business relations. Additionally, it adds a personal element and credibility that builds trust with partners and clients. These are 5 of our favorite elements of PR 20/20's website team page that are great examples of how to make employees stand out, while exhibiting unity:
1. Put a face & personality to the name. Most companies include professional photos of key personnel on their team page that will help partners, clients and prospects put a face to the name. PR 20/20 took this feature a step further by not only including a headshot of each of their team members, but personal photos with friends and family to showcase each unique personality. Multiple photos of the team at social functions were incorporated on the site page to display camaraderie, teamwork and most importantly, the fun that the group enjoys together.
2. Explain what has contributed to professional expertise to establish credibility. Rather than including the traditionally, often stuffy bio information, PR 20/20 included individual team member's "professional moments", "favorite moments" or "fun facts" both personally and professionally to allow their staff to highlight skills, areas of expertise and other industry credentials.
3. Include fun, personal passions and interests that make individuals approachable and showcase personalities. Each individual team member's page includes a listing of personal passions and interests that correspond with photos of friends, family and hobbies. The value of including interesting personal information makes the individual more approachable to the reader - offering possible commonalities and interests. The bottom line is that it portrays the company as a group of real people and will likely give clients and prospects something to talk about next time they chat with their PR 20/20 partner.
4. Include personal social media handles or links. A company is only as strong as its team and this philosophy shines through when a team member shares their expertise via social channels. While it's important to position a company as an industry expert, oftentimes team members have much to contribute via their personal blogs, relevant publications and other content they read or research on a daily basis. The information shared through an employee's personal social channels is a reflection of the company's expertise as a whole. Including an employee's personal social handles or links is a great way to encourage readers to get to know your staff and the knowledge they offer, by following their daily postings.
5. Encourage team members to provide descriptive quotes for their colleagues' pages – further showcasing personalities, expertise and work ethic. One of our favorite elements of the PR 20/20 team page is the "testimonial" quotes fellow team members provided for each individual's bio page. The quotes not only represent who the employee is as an individual, but also the strength of their individual role and incredible value they bring to the team (as told by their colleagues).
Team bio & about pages are one of the most important components of any website. PR 20/20 did an incredible job putting a face to the personalities that make up their team, allowing website visitors to view the "realness" of their company. Adding a human touch can help build credibility and position your company and its representatives not only as thought leaders, but partners that clients and prospects will respect.
How can you add greater personalization to showcase the expertise and unique personalities of your team on your company bio or about page?