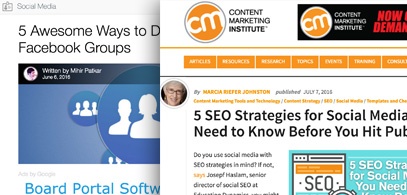 Are you looking to freshen up your marketing podcast list to find more thought leaders who can help grow your business? If so, you'll definitely want to check out "103 Genuine Marketing Thought Leaders To Follow" on this week's Weekly Flashback list. Additionally, this week's posts include tips on discovering new Facebook groups, how to write attention-grabbing search ad copy, everything you need to know about beacons, and social media SEO strategy. Take a look at my favorite posts from this past week:
5 Awesome Ways to Discover New Facebook Groups – MakeUseOf.com
Facebook is a social channel that was developed to help us connect with others. Have you also considered using it to connect with others outside your personal network? Facebook groups exist to help users connect with like-minded individuals who have similar interests. These groups can be tricky to locate and this post does a great job defining a few ways to help you locate groups that may be having relevant conversations pertaining to your area of business or industry.
103 Genuine Marketing Thought Leaders To Follow – Slideshare.net/MathewSweezey
Everyone claims to be an expert but which are the ones that can genuinely provide value? Mathew Sweezey created this list which includes some of the best marketing thought leaders. To qualify for the list, these experts had to have an active Twitter presence, be an original thinker and be a thoughtful and proficient writer of books, blogs and more.
12 Tips for Writing Clickable Search Ad Copy – HubSpot.com
Finding the right words for any content project can be difficult, especially when you are restricted to a certain number of words or characters. This post provides tips and best practices on how to stand out by using just a few words when writing search ad copy.
The Beacons are Coming: How They Fit Into Your SEO Strategy – searchenginejournal.com
Some marketing experts are claiming that beacons are going to cause a major change in search function and capability. What are beacons? Beacons are small, Bluetooth-enabled hardware devices that are installed in physical locations. Beacons can be used by any brand, business or institution to set up notifications for those who "op in" and want to be alerted by that institution directly on their phone (via Bluetooth). This new marketing tactic is described as "advertisements that directly pop up on a consumer's phone. This post outlines how beacons are making an impact on the way some brands and organizations are doing business.
5 Social Media SEO Strategies You Need To Know Before You Hit Publish - ContentMarketingInstitute.com
In this post, Marcia Riefer Johnston recaps Josepf Haslam's talk from the Intelligent Content Conference. If you need to strengthen you SEO and social media strategies, Josepf's tips will help you make your content more segmented, seachable and shareable, as well as help you "talk to spiders" and use social media meta tags wisely.
What articles have you read this week that you found interesting? Please share any good resources for inbound and digital marketing initiatives in the comments below.