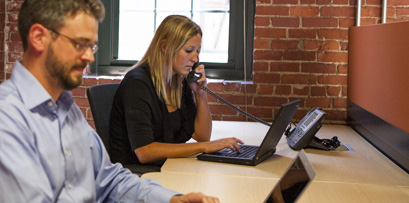 Communication and efficiency are top of mind when making recommendations to our clients for internal marketing teams to best work with an agency team. So often, businesses will have multiple representatives from sales, marketing or other departments – and they all feel comfortable calling their favorite agency rep to make even the smallest of requests...can't find logos, documents or other materials. From the agency side, we love talking with our clients and see value in the camaraderie established when working with representatives across multiple departments. However, when we sit down to evaluate a project or ongoing relationship, it is important to ensure that we are fostering efficient collaboration, strong communication and a streamlined operations process. Collaboration tools are imperative to the success of a marketing department and agency relationship. The following are just a few of the tools we use to make sure we bring more to the table than creative ideas and design.
Basecamp
Basecamp is a web-based resource to simply collaborate with your team and manage your projects task-by-task.
How it works
Time Tracking: If you're already tracking time to your projects in Basecamp, you can pull your projects and time entries directly into an invoice, set your rates and send your invoice off to your clients.
Share Files: Whether you are working with 1 or 100 files, all can be accessed, stored safely and edited on Basecamp by anyone who has be assigned to the project. When the project is complete, all files can be archived and retrieved when needed.
Assign Tasks: Everyone involved with a project can work collaboratively with the Basecamp system by creating groups to keep participants organized and assign tasks.
Centralize Feedback: Basecamp has a prominent focus on communication and collaboration. It allows teams to effectively communicate the work they've been doing, and helps keep clients engaged and informed.
Evernote
There are many ways inbound marketers stay organized and keep track of everything that needs to be done. Are you one of those people with a million post-it notes on your desk? Ditch the yellow stickies and check out Evernote – a desktop and mobile app that allows you to capture notes, photos and anything else you want to remember and refer back to at a later time.
How it works
Content Creation: To put it simply, Evernote is essentially a digital notebook great for drafting blog posts or articles, capturing ideas and saving articles. It provides a great place to capture ideas now, and go back to later for inspiration.
To-Do Lists: Heading to an event or meeting and don't want to bring your laptop? No problem – the Evernote app allows you to import, centralize your to-do's and keep them with you at all times. It also allows a marketer a resource for backlogging project ideas along with current to-do's.
Shared Project Notes: Evernote allows you to share project notes among your team with everyone's to-do's included. Team members can access and update while allowing all participants the opportunity to stay on top of updates made to tasks.
Hootsuite, Raven Tools, Etc.
Among many business marketing, sales, customer service and agency representatives, social media management and evaluation is a group effort. There are many resources to allow your team the opportunity to work cohesively and stay on top of social media monitoring, with Hootsuite and Raven Tools being a few of these great tools.
How it works
Manage Multiple Accounts: With Hootsuite and Raven Tools, multiple participants can manage multiple accounts in easy-to-navigate streams, schedule tweets and upload photos. All posts, interactions and scheduled communications can be viewed by all assigned account managers.
Cross-Platform Management: Link Facebook, LinkedIn and Foursquare accounts to manage all platforms from one tool.
Organize Contacts & See Trending Topics: Marketers know that some fans and followers are more valuable than others. Hootsuite and Raven Tools allow you to keep track of all interactions with social influencers as well as track the content you share.
Analytics: Booth Hootsuite and Raven Tools allow marketers to customize and automate social media reports in minutes. Raven Tools offers more expanded metrics that allow marketers to view who is outperforming you, who isn't and overall progress for engaging with your social networks.
Google Drive
Is your team already using a document collaboration resource like Dropbox or Google Drive? Dropbox is a great resource for document, photo and video sharing but what we love about Google Drive is the breadth of tools that allow you to share and edit documents, spreadsheets, calendars and more among your team.
How it works
Tools: Google Drive is a web-based resource that offers an Excel-like spreadsheet tool, PowerPoint-like presentation tool and Word-like tool as well as a few others.
Editing: The best part of Google Drive is the ability multiple users have to simultaneously work and comment on a file. Team members can view the same document, spreadsheet or presentation and provide changes to content or comments for the entire group to see. Your group is then notified when changes are made.
Cost: The second best part of Google drive is that it is free.
Security: If security of documents is a concern for your business, resources like CloudLock are able to secure data uploaded via Google Drive as well as files created from within Google Apps.
Communication, collaboration and efficiency should be a part of the initial conversation when marketers and agency partners discuss how to best work together to create successful campaigns and value-added project assets. When collaboration tools are used, efficiencies and productivity have a profound impact on the team's ability to meet aggressive goals.