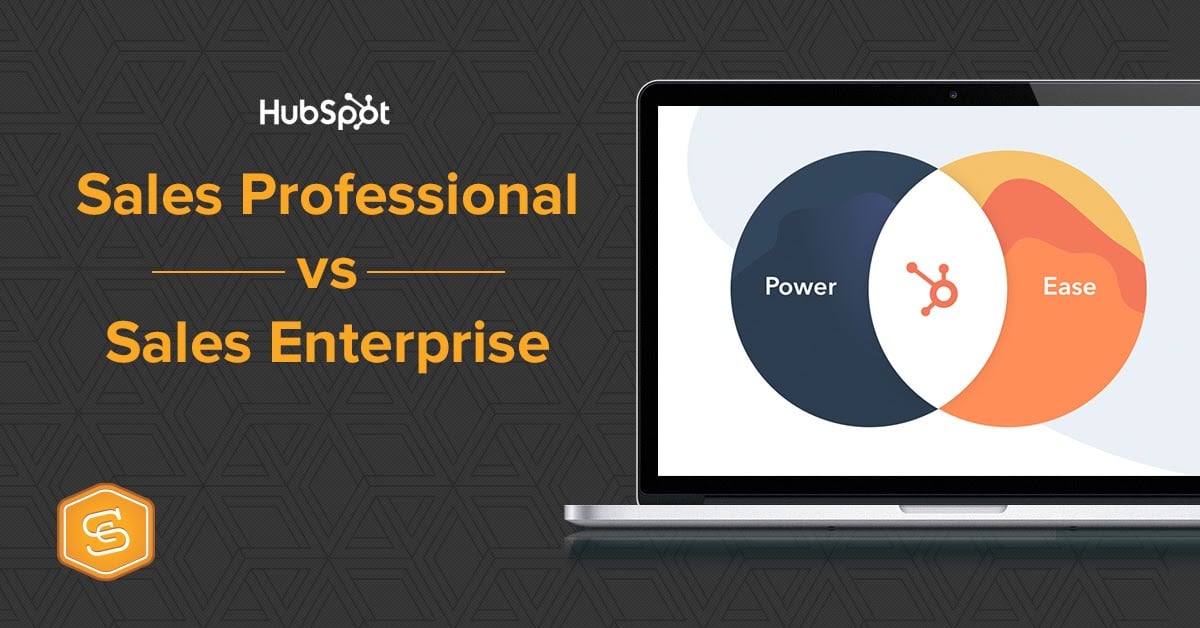 Is your team searching for a user-friendly sales software solution that houses all of the tools you need in one place?
HubSpot's Sales Hub provides an amazing CRM, numerous powerful free tools, and a full suite of premium edition tools to help your strategies evolve as you grow. Sales Hub is an incredibly effective sales CRM because it helps teams enhance their sales process by integrating multiple data sources, processes, and unique applications - eliminating frustration and saving valuable time.
In this article, we will detail the features and pricing of two versions of Sales Hub: HubSpot Sales Professional and HubSpot Sales Enterprise.
Comparing these details to your list of needs will ensure you make the right choice as your team moves into 2023. Here are four of the main points we will cover:
Sales Professional and Sales Enterprise: What are the key differences
Hubspot Sales Professional: Capabilities and New Features
Hubspot Sales Enterprise: Capabilities and New Features
A cost comparison of the tiered programs
HubSpot Sales Professional and HubSpot Sales Enterprise: What Are the Key Differences?
If you are reading this article, you are most likely looking for a new sales software solution.
To make things as efficient and helpful for you as possible, we want to quickly mention the top three features (and pricing details) for the Professional and Enterprise options. One of the biggest, and newly released features is Custom Objects. If Custom Objects capabilities are a must-have for your team, please move ahead to the Sales Hub Enterprise details.
Professional: Popular Features and Pricing:
Deal stage, task, and lead rotation automation
Sequences
Custom reporting
Prices starting at $500/mo.
Sales Hub Professional is ideal for sales teams looking to streamline their process, while adding the power and sophistication they need to achieve their goals.
Professional offers the powerful tool of automation, while also giving your team access to a framework that will help them to stay organized and work more efficiently. This framework includes features like required fields, multiple deal pipelines, teams, products, quotes, and custom reporting.
Enterprise: Popular Features and Pricing:
Custom objects
Predictive lead scoring
Playbooks
Prices starting at $1,200/mo.
Sales Hub Enterprise provides advanced sales organizations with all of the many CRM and sales acceleration tools they need in one single package: Making life much less complicated for you, your team, and your prospects.
It is a great fit for large, sophisticated sales teams - it is recommended for companies with between 10-100 Sales reps, multiple teams and managers, and advanced needs within pipeline and deal management.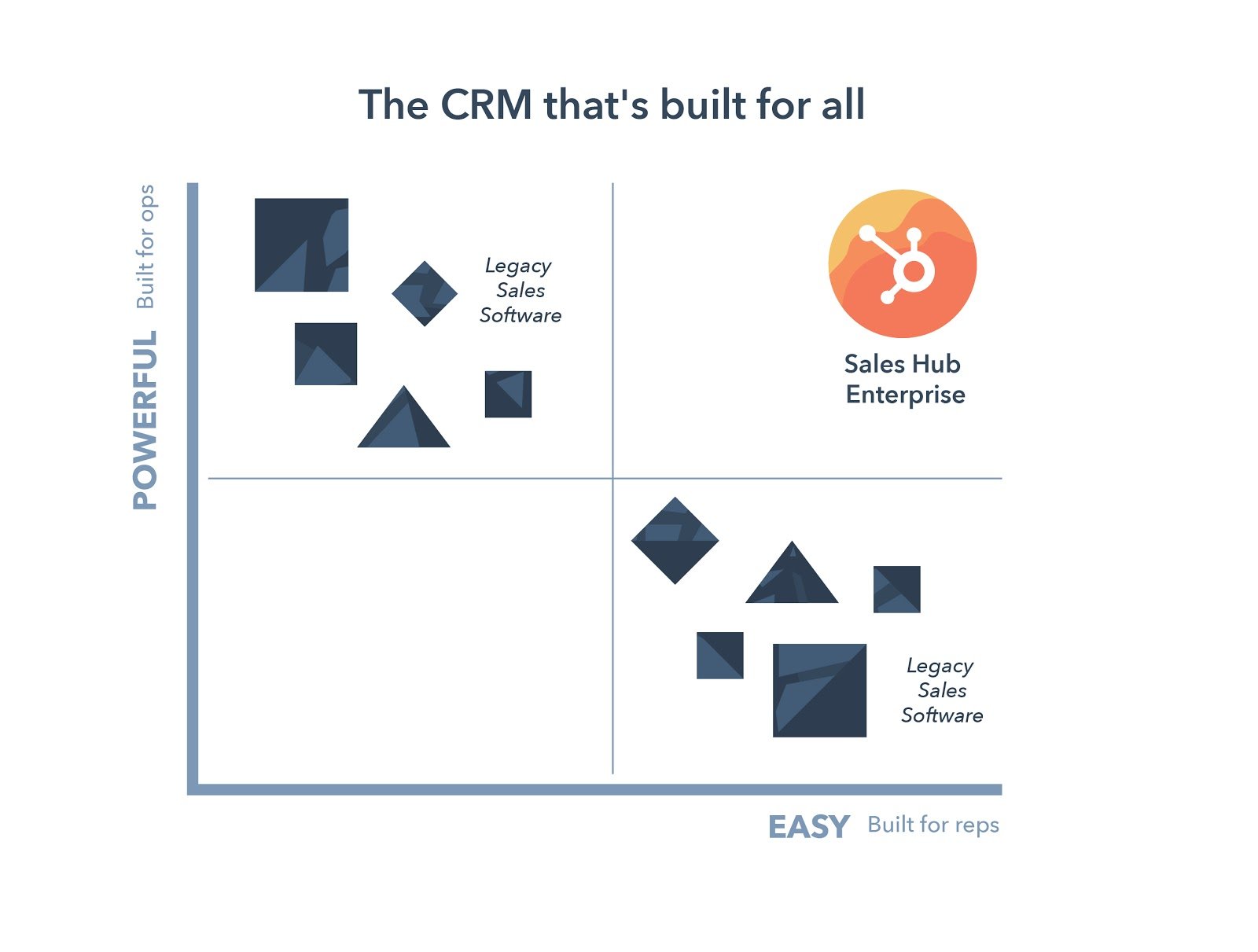 Sales Hub Enterprise provides solutions for global, specialized teams, with the flexibility, security, and sophistication to allow you to fully support your advanced sales organization. Enterprise offers all of the same features available in Professional, as well as unique tools to help you to manage and coach your Sales reps, calculate data automatically, and easily report on revenue.
Is Sales Hub Professional Right For Your Team?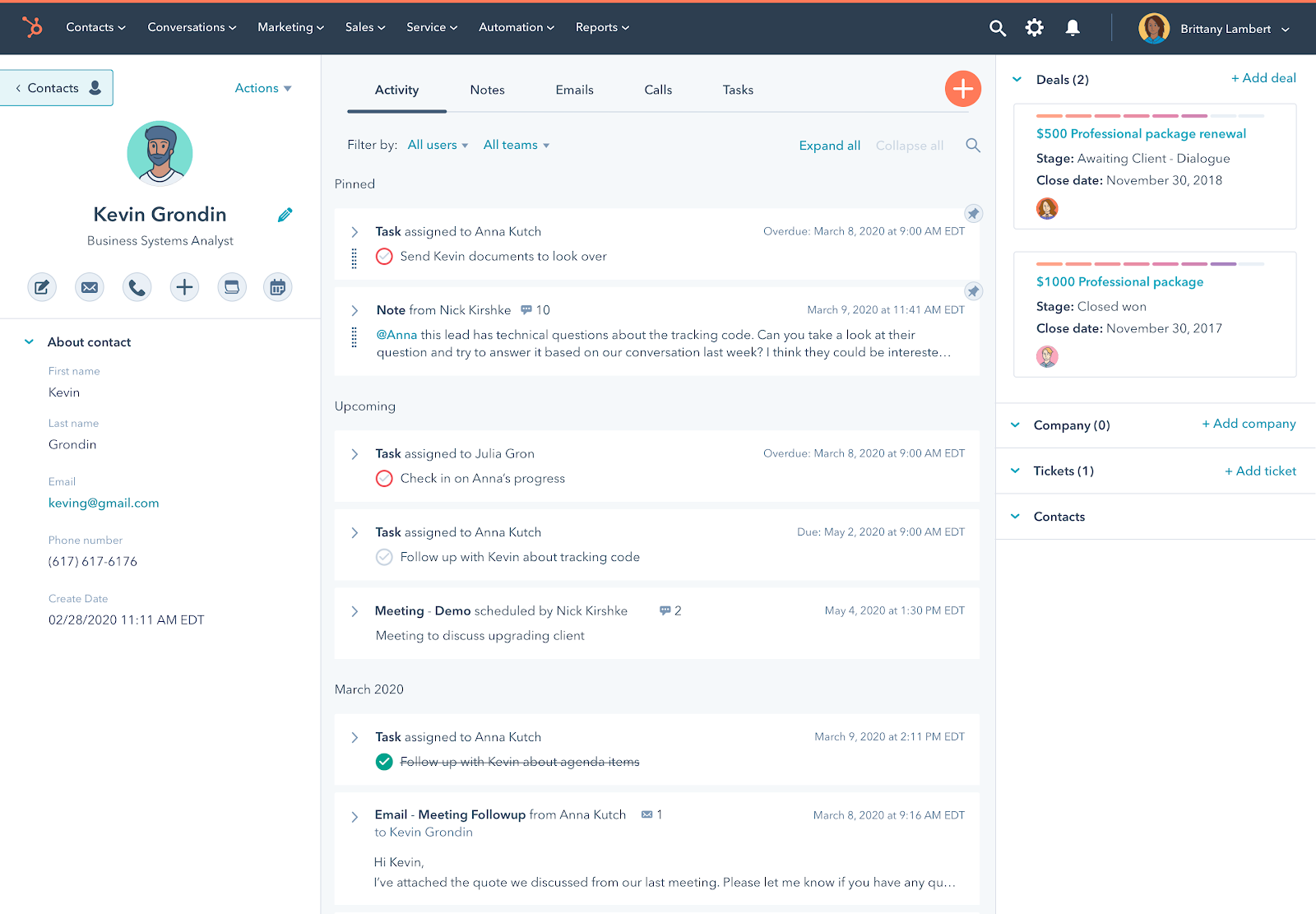 Sales Hub Professional is a comprehensive sales CRM that provides growing teams with the tools they need to easily automate, streamline, and scale their sales process. Here are some examples, and how your team can use them:
You can manage your growing team with powerful and sophisticated features such as teams, deal stage/task/lead rotation automation, record customization, required fields, and custom reporting.
You can also personalize your outreach at scale (and get the most out of your leads) with features like email sequences, 1:1 video creation, and smart send times.
Finally, you can close more deals by improving the way you configure, price and quote by using features like products, calculated properties, and eSignature.
In addition, new features are frequently being developed and added to Sales Professional. Three new features of HubSpot Sales Professional announced at inbound 2020 are:
Advanced Sequences
Native ABM Features
Sales Analytics (beta)
New features coming soon include:
Proposal Templates
Forecasting Tools
Sales Hub Professional: Pricing
Sales Hub Professional starts at $500/month (includes 5 users).
You can purchase an e-signature capacity pack starting at $60/month
Key Features of HubSpot Sales Professional Include the following:
Target accounts home
Create and manage an accounts-based growth plan via an overview dashboard for all companies that you have marked as target accounts.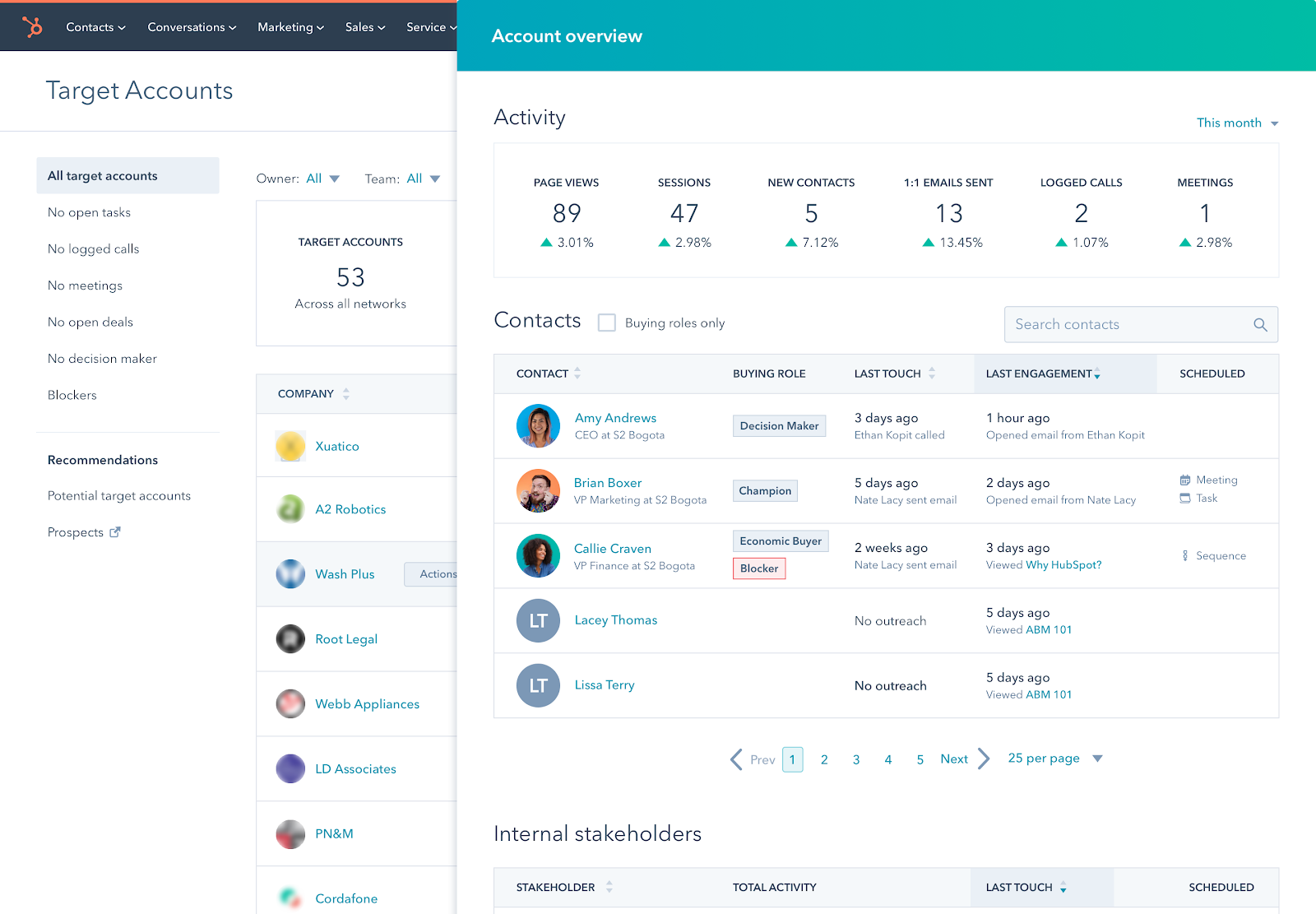 Company scoring
Create scores on the company object based on the company properties and associated objects.
Account overview
Quickly review account-level deal progress metrics within the company record.
Email sequences
Automate the slow and complicated follow-up emails and tasks that take up your team's time, while still ensuring that no prospects are forgotten.
Custom reporting
Create custom reports for your past sales activities, and use the data to inform your future decisions.
Record customization
Match your contact, company, deal, and ticket records to your unique needs by creating custom layouts.
Phone support
You can easily call the HubSpot support team and quickly get the help you need, saving valuable time.
Teams
Organize your account by teams, including the ability to rotate leads, sort through content, and easily report on each individual team's performance.
Required fields
Define the fields that must be completed by your team when certain actions are taken: This ensures that you will get more consistent data, and more predictable outcomes.
Products
Build a product library, and easily report on the sales performance of different products. This data can be used to see which products and services are top performers.
Smart send times
See suggestions for the best send time for each prospect, and schedule your email to send automatically at that ideal time.
Salesforce integration
Increase efficiency by ensuring that your Salesforce and HubSpot data are in-sync and up-to-date.
Standard contact scoring
Create rules-based scoring criteria, and then focus your outreach based on any HubSpot data point. Your scores can be used to segment lists, trigger automation, and more.
1:1 video creation
Create and share personalized videos with your prospects directly from the HubSpot CRM, and track their performance.
Sequence queues
Enroll multiple contacts into a sequence. Help your reps write time-consuming personalized emails much more quickly.
Rep productivity performance
See how productive your reps are by using the templates, sequences, and calling tools.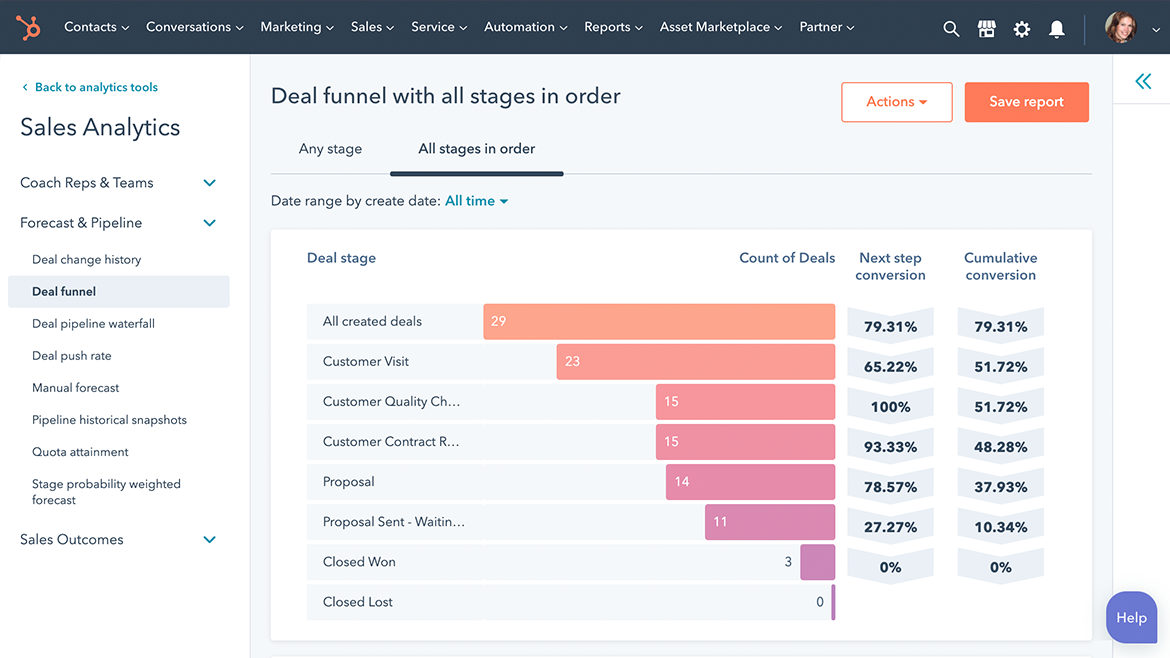 Slack integration
Create tasks, get notifications, see and share contacts directly in Slack.
Calculated properties
Create fields that roll up data from other fields, and easily calculate values like commissions and splits.
eSignature
Get digital signatures for quotes: No more printing, sending, and waiting for hard copies.
Workflow extensions
Trigger actions and export data to other tools you use, including your own custom outside applications.
Is Sales Hub Enterprise Right For Your Team?
Sales Hub Enterprise is Hubspot's most powerful sales CRM, giving advanced teams more control and flexibility. It's the best choice for large, sophisticated sales teams: Sales Hub Enterprise is a great choice for companies with between 25 - 200 employees, but performs well with organizations of up to 1,000. Here are four significant tools that Sales Hub Enterprise can offer your team:
Enterprise-grade CRM:
With the inclusion of custom objects and advanced permissions, Sales Hub Enterprise gives your sales operations team the flexibility and control needed to build their business on HubSpot.
AI-powered Sales Acceleration:
Available on iOS and Android, in your inbox, and your CRM, Sales Hub Enterprise gives sales reps the edge they need to boost their existing sales process.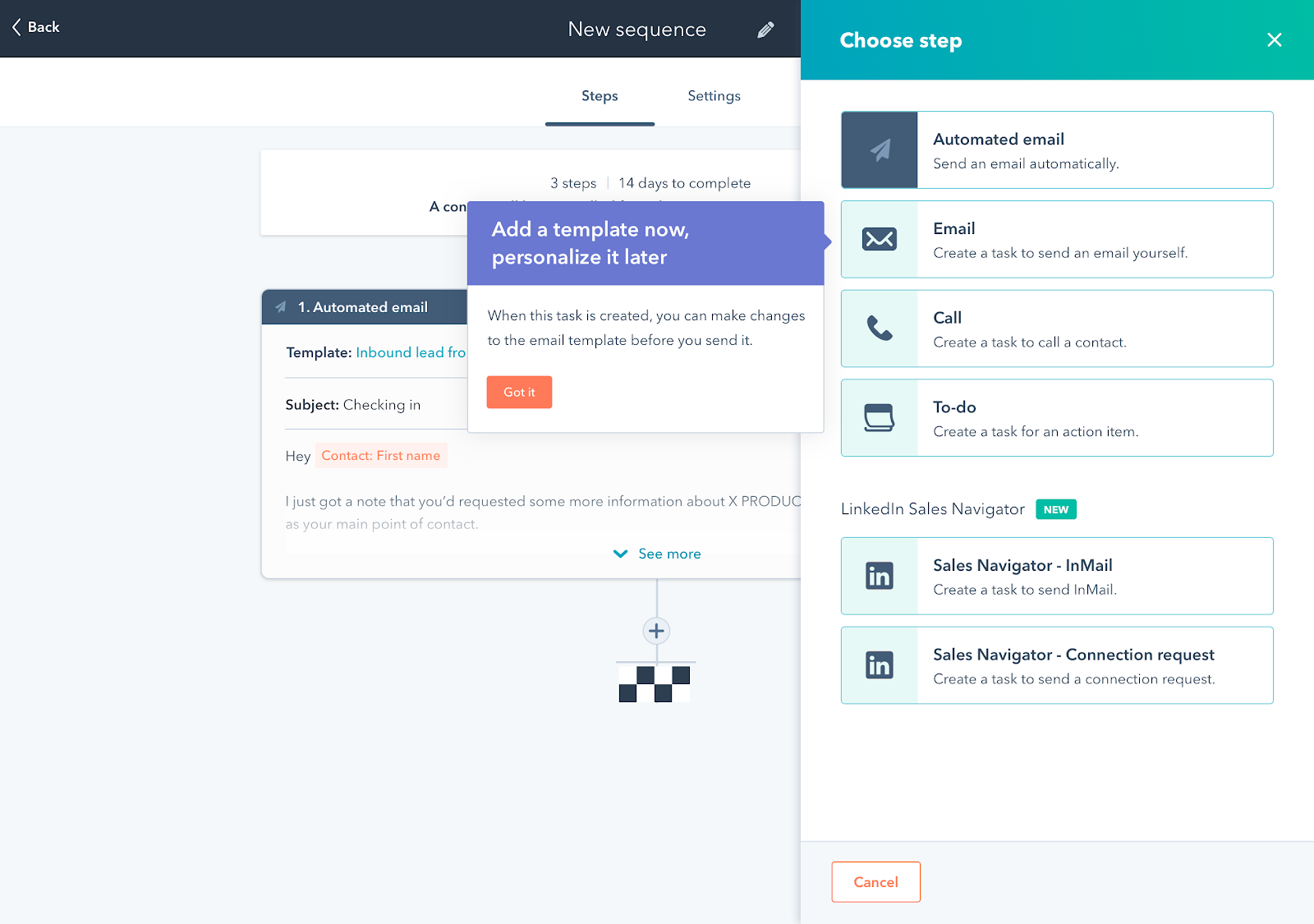 Connected CPQ Tools:
Custom quote templates and an all-new accounting integration allow Sales Hub Enterprise to help turn quotes into cash with greater speed and efficiency.
Streamlined Reporting:
Sales Hub Enterprise combines your data and equips your sales leaders with accurate records, future sales forecasting reports, sales rep productivity reports, and more.
New features of HubSpot Sales Enterprise announced in September 2020
The days of hating (or even just tolerating) your sales software are over: HubSpot believes that a great sales CRM should be easy - and even enjoyable - to use. It should eliminate friction, align your tools, and empower sales teams to stay agile even when faced with challenges. To keep up with the rapid developments in the world of sales, new features are always being added to Sales Hub Enterprise.
The new Sales Hub Enterprise features announced in September 2020 include:
Enterprise-grade CRM
AI-powered sales acceleration
Connected CPQ tools, including accounting integrations with QuickBooks Online and Netsuite
Streamlined sales reporting
Custom Objects
Create custom objects to monitor information specific to your business. Easily sort, automate, and report on this data right in HubSpot.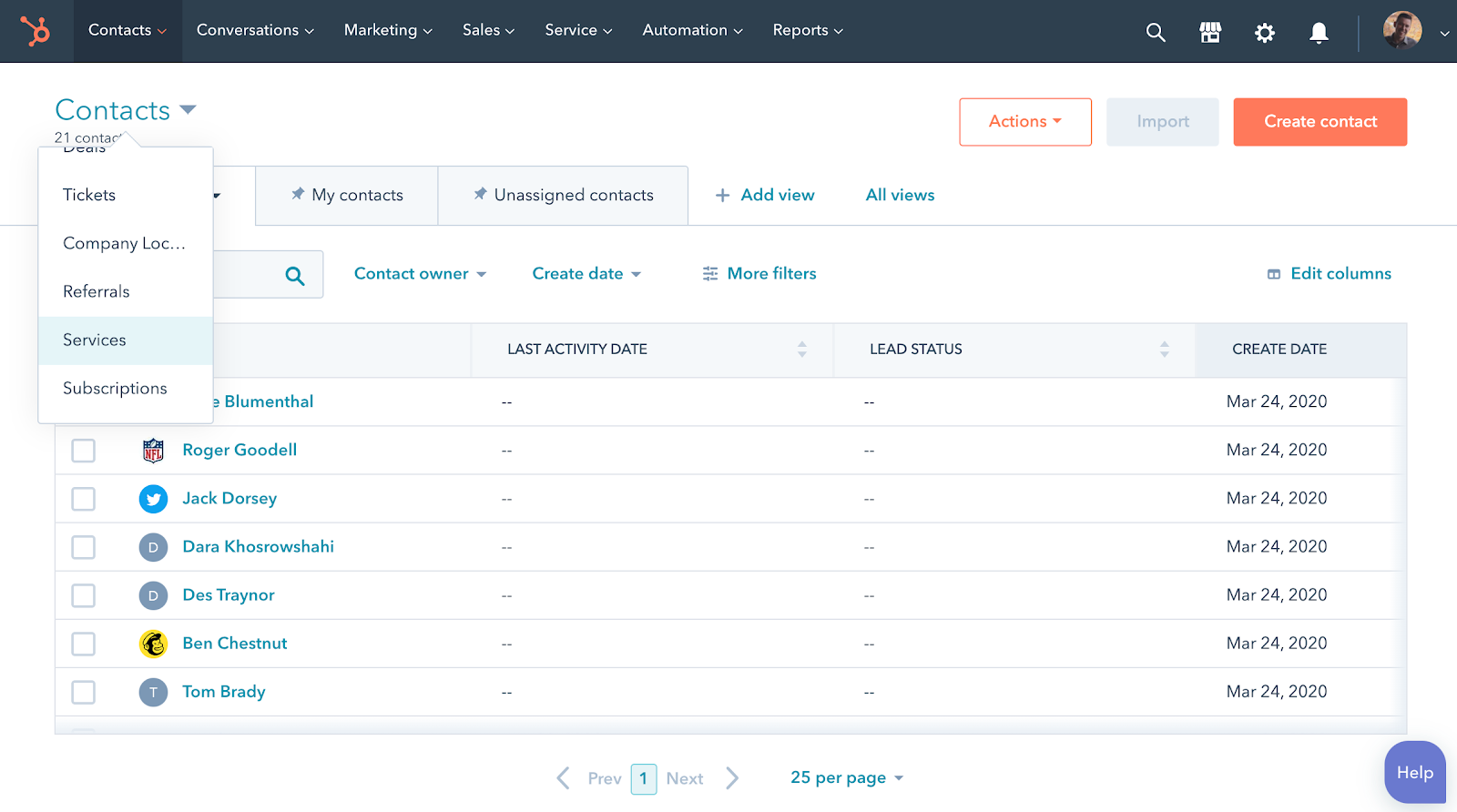 Forecasting BETA
Spend less time reconciling spreadsheets and more time selling: With all your sales data integrated inside HubSpot, you'll have the visibility and insight you need to forecast quickly, and with confidence.
Proposals BETA
Send proposals that command attention and close the deal. Easily adjust the look and feel of quotes and proposals sent through HubSpot.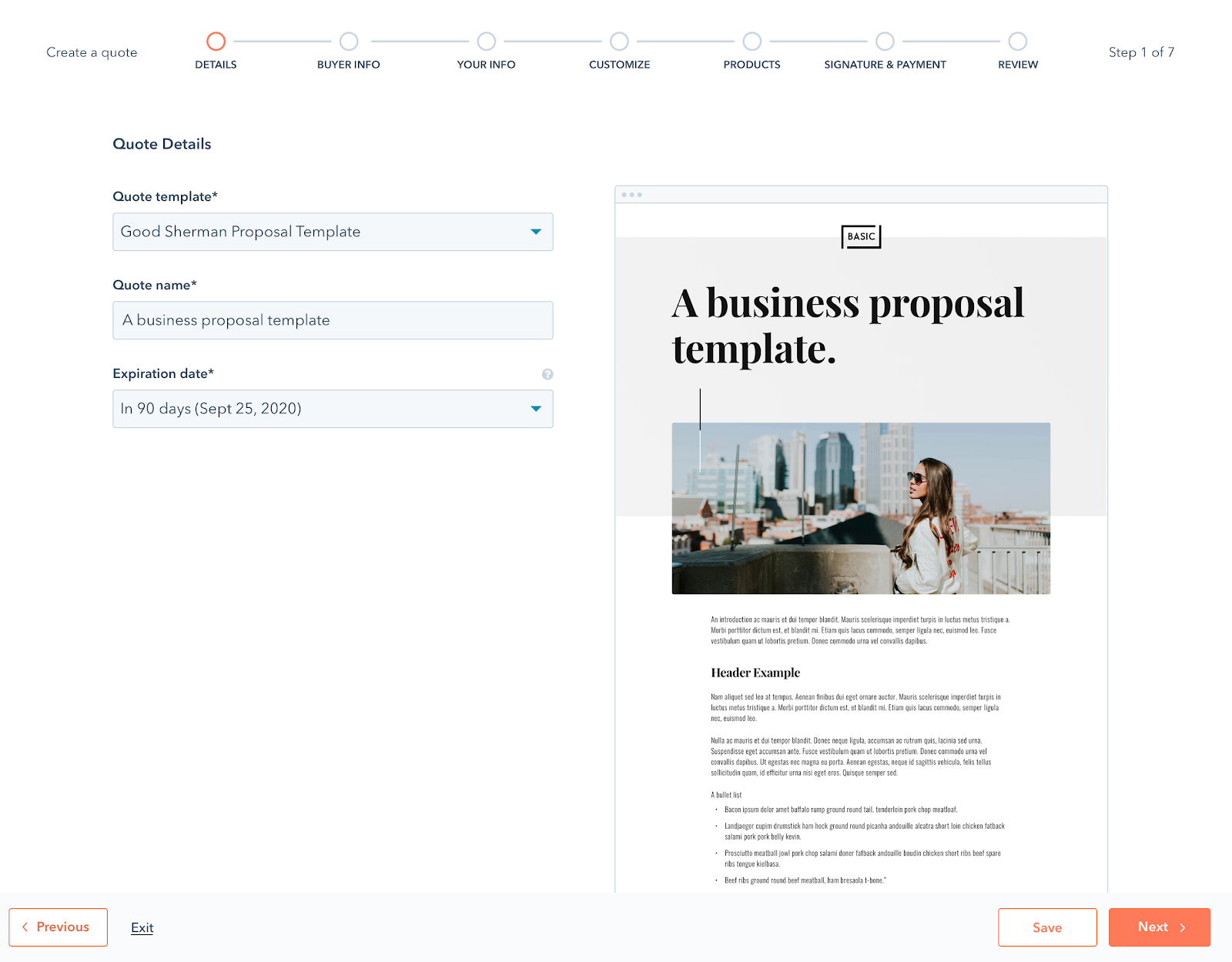 Advanced Permissions
Get the perfect balance of empowerment and management for your organization. Quickly and efficiently grant or restrict access to certain information based on individual, user role, or team.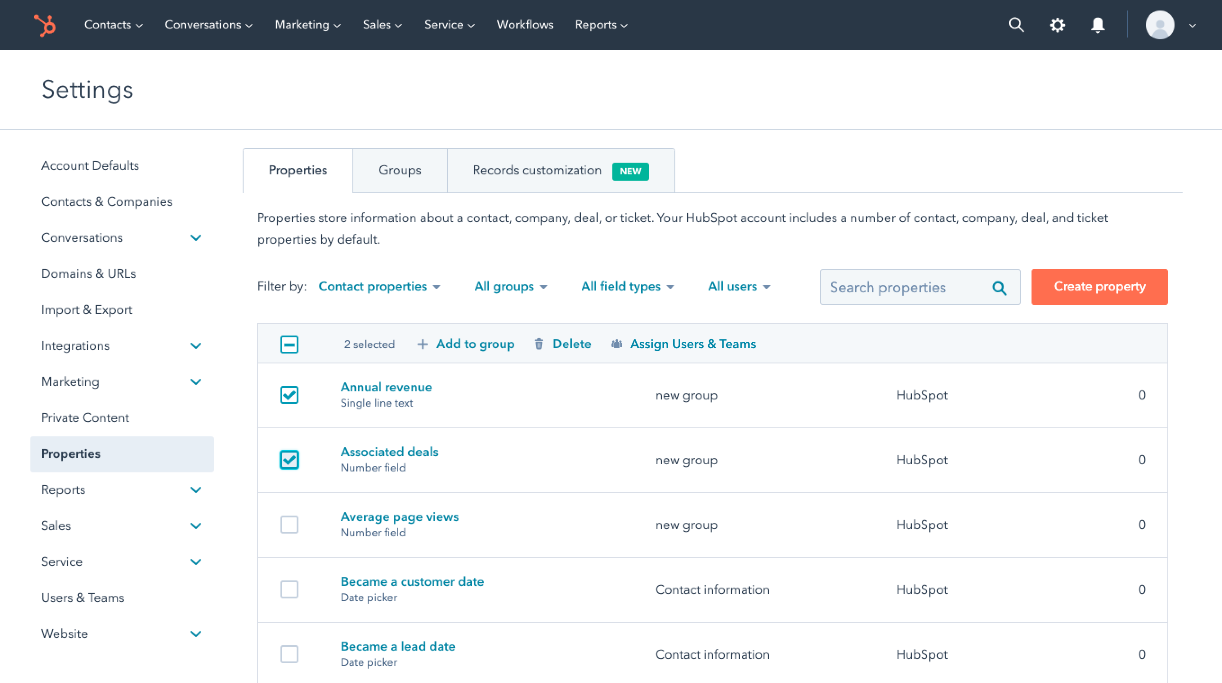 Sales Hub Enterprise: Pricing
Sales Hub Enterprise starts at $1,200/month (includes 10 users).
You can purchase an e-signature capacity pack starting at $60/month
You can purchase a custom objects capacity pack starting at $500/month
Please note all Sales Hub Enterprise customers must purchase onboarding through HubSpot or through one of Hubspot's certified partners.
Key Features of HubSpot Sales Enterprise Include the Following:
Sales Analytics
Take your analysis to the next level with HubSpot's comprehensive collection of customizable, ready-to-use reports that allow you to easily explore powerful insights, including deal change history, sales activities, and sales outcomes.
Product Library
Build a strong product library using custom properties. This allows you to manage product information like price, SKU, and color, and then tie individual products to deals and quotes to accurately analyze their performance.
Sales Engagement Tools
Connecting with prospects has been made much easier via templates, sequences, tasks, email scheduling, canned snippets, documents, and more - all tools that you can use to maximize the efficiency of your team's outreach.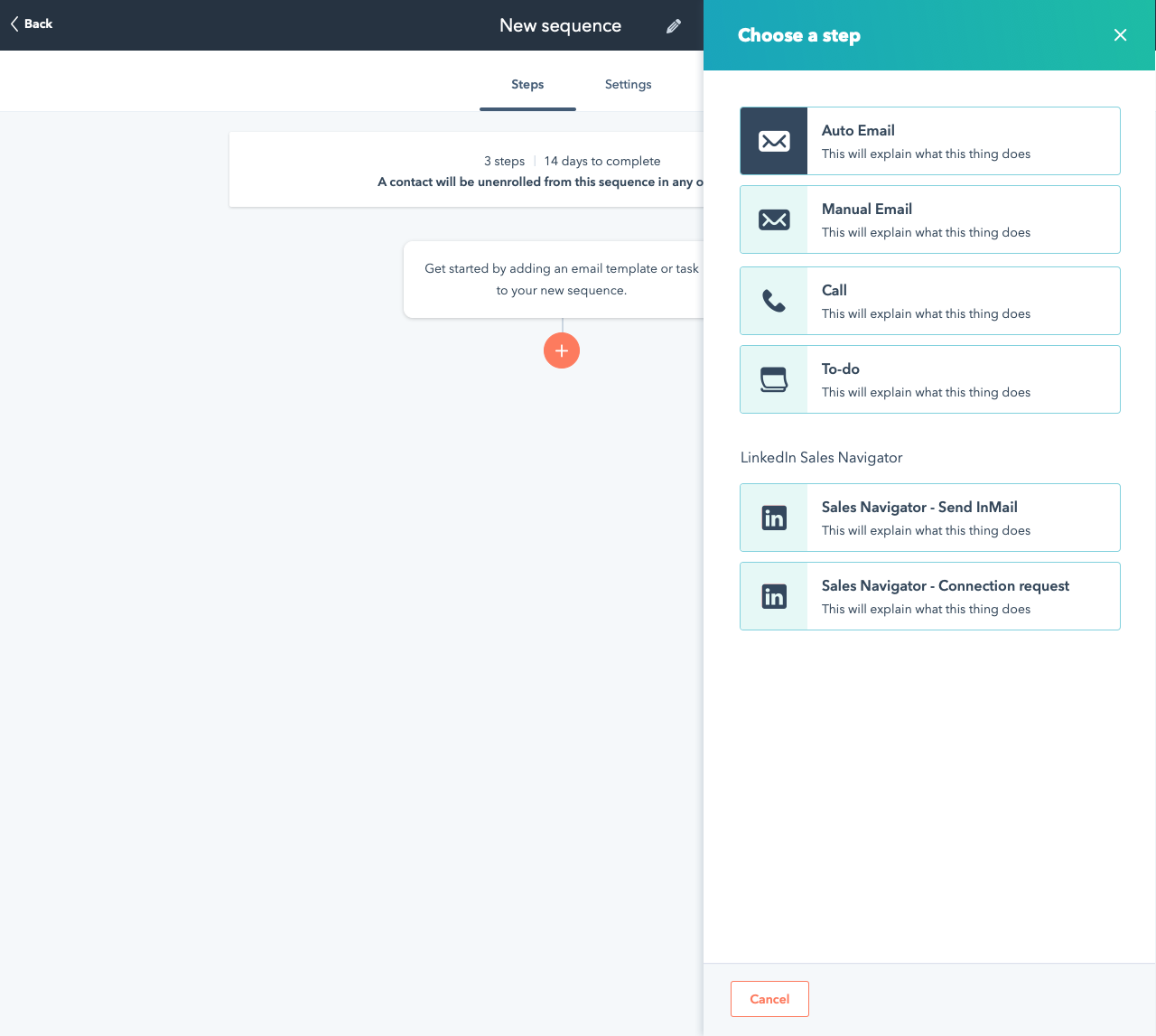 1:1 Video
Sales reps can download Vidyard's GoVideo browser extension to record themselves, their screen, or both, then add this powerful content to their emails directly from the contact record.
Accounting Integrations
Centralize your work in HubSpot with all-new time-saving integrations, including Netsuite, Quickbooks, and Xero.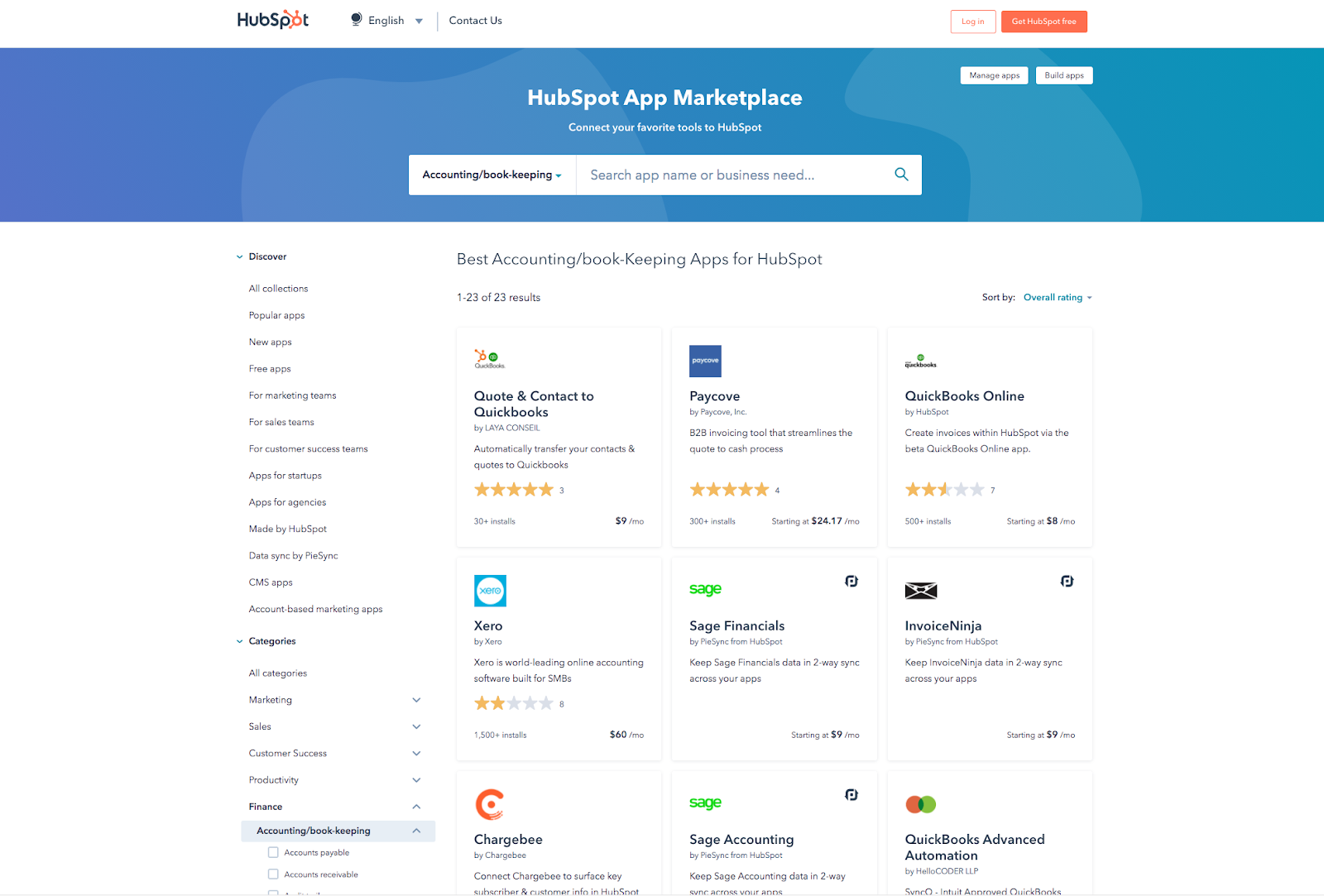 Calling
Connect with your prospects in a single click: Your team can make and record calls directly from the contact timeline, and access the call transcripts anytime. HubSpot's calling SDK also integrates third-party telephone providers with the communicator - no extensions or plugins required.
Live Chat
Don't let your customer's questions go unanswered: Easily have conversions with prospects when they are on your website. Customize their experience by routing incoming chat requests to the most appropriate sales reps based on criteria like list membership, or connect each prospect with the rep assigned to their account.
Meeting Scheduling
Meeting scheduling consumes a huge amount of every team's time. HubSpot's meetings tool syncs to a rep's Google or Office 365 calendar, so your prospects can immediately book a time that works for everyone.
Playbooks
Answer questions before they are asked and arm your team with the tools to respond in any situation. Easily create playbooks that include competitive battlecards, call scripts, and more so your reps can sell with consistency and efficiency. Plus, automatically save question and answer fields from call scripts as contact properties, and sources of future information.
Sales Automation
Automate your team's sales process so they can truly focus on selling. Use workflows to rotate leads, create deals, move deals through your pipeline, and more.
Hierarchical teams
Organize users on multiple levels based on team, region, business unit, brand, or any other dimension, to align with your unique business needs.
Predictive lead scoring
Automatically score and rank leads based on hundreds of factors. Focus on the customers that are most likely to close.
Playbooks
Build a library of sales best practices and resources to share with your team.
Call transcription
Transcribe any recorded call made using your HubSpot account. Save yourself time and manual effort, and easily get access to valuable details and content.
Recurring revenue tracking
Build detailed reports that will manage and track your recurring revenue and renewals.
Quote-based workflows
Use conditions to require approval for quotes that exceed any thresholds you set - this will ensure you stay in control of any discounts or deals being offered. .
Single sign-on
Let users sign in to HubSpot using single sign-on credentials, making it easy for them to log in while enhancing security and keeping control of who has access.
User roles
Grant or limit each team member using your account to the right permission levels for different functionality based on their roles.
Webhooks
Use webhooks to quickly and easily pass information from your HubSpot account to other web applications that your team uses.
Field-level permissions
Disable the editing of specific properties for certain reps: This ensures that you will keep your team efficient and your database clean and easy to use.
Whatever the needs of your sales team, Hubspot has software solutions that can help your organization grow with efficiency, create robust reports, and manage client relationships with success.
Which user-friendly sales software solution seems like the right fit for you?
Here are some additional resources that may help you determine the right fit: