When you think of TikTok, you'll probably envision viral dances and challenges. While this is true, TikTok has the power to do so much more and provides a unique opportunity for businesses to interact with their viewers. With over 1 billion monthly users on the app, the potential to reach vast audiences and promote your business is endless.

But is there room for the manufacturing industry on the video-scrolling platform? Absolutely! But you may be wondering where to start. Look no further because this article will give you tips and tricks on how to gain traction on your videos and have your brand seen on TikTok.

Continue reading to see real examples of Wisconsin-based manufacturing companies TikToks and how to use the app's algorithm to your advantage.


Wisconsin Manufacturing Companies on TikTok
Several Wisconsin-based manufacturing companies have already navigated their way on TikTok and post engaging videos for their viewers. While traditional marketing strategies such as billboards and broadcasting can reach a large number of people, TikTok has the power to reach an even broader audience without the limitations of location. Once you post a video, it can be seen by users all over the country and even at an international level.

Another benefit of promoting your business on TikTok is it helps reach viewers in more age ranges. 47.4% of the platform's users are under the age of 30, and almost half of this number are under the age of 20, the app taps into a whole new group of potential viewers. Even with the popularity of TikTok among younger populations, over half of the app's users are over the age of 30. Talk about the best of both worlds!

Let's dive into some TikToks from Wisconsin-based manufacturing companies.
Pierce Manufacturing is currently the largest fire apparatus manufacturer in the world, creating custom fire trucks for fire departments on a global scale. Based in Appleton, WI, its TikTok account is filled with videos of day-to-day operations and company culture at Pierce Manufacturing. Scroll, and you'll find everything from fun and engaging, culture-focused videos, to TikTok challenge videos, truck walk-arounds featuring fire departments from throughout the U.S., technical highlights of the truck and the gold leaf lettering application process on their trucks. You're sure to find inspiration here!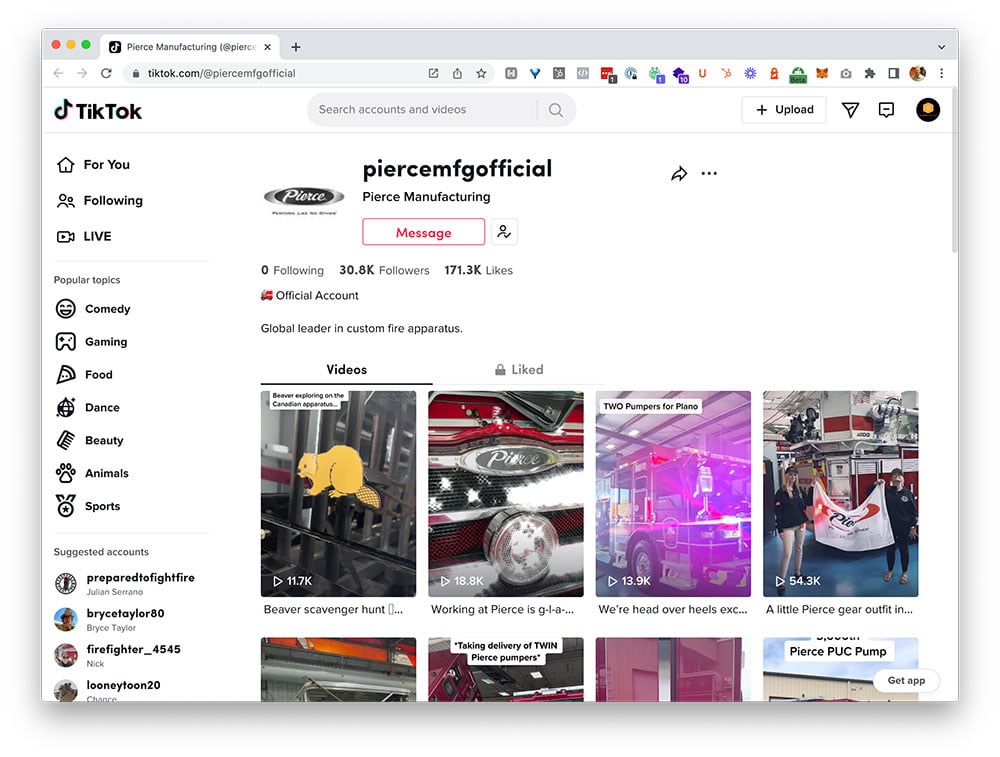 Located in Brillion, WI, AriensCo manufactures snow blowers and lawn tractors for commercial and high-end consumer markets. AriensCo's account does a great job at representing company culture, showcasing its products, and interacting with its audience. With over 4,000 likes, one video asks viewers to comment on their oldest Ariens product for a chance to win merchandise. AriensCo knows how to engage with its viewers!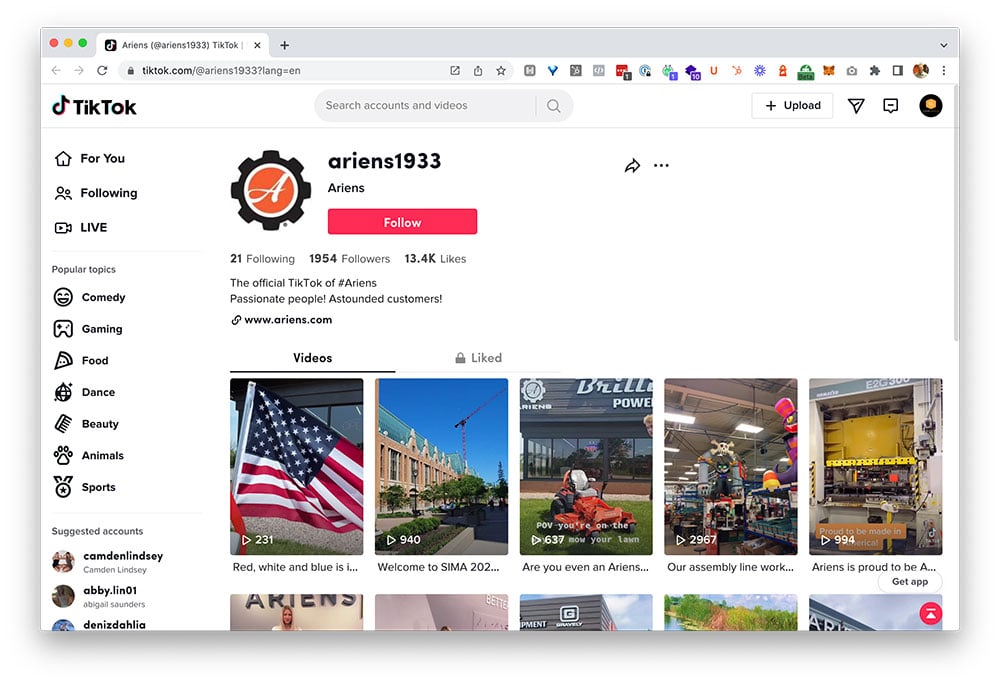 With over 42,000 followers on TikTok, Milwaukee Tool is a Milwaukee, WI-based manufacturer that develops, manufactures, and markets power tools. Their page is filled with videos showing their products in action. The account does a great job incorporating hashtags, and #MilwaukeeTool can be found in all of their captions. #GreatJobMilwaukeeTool!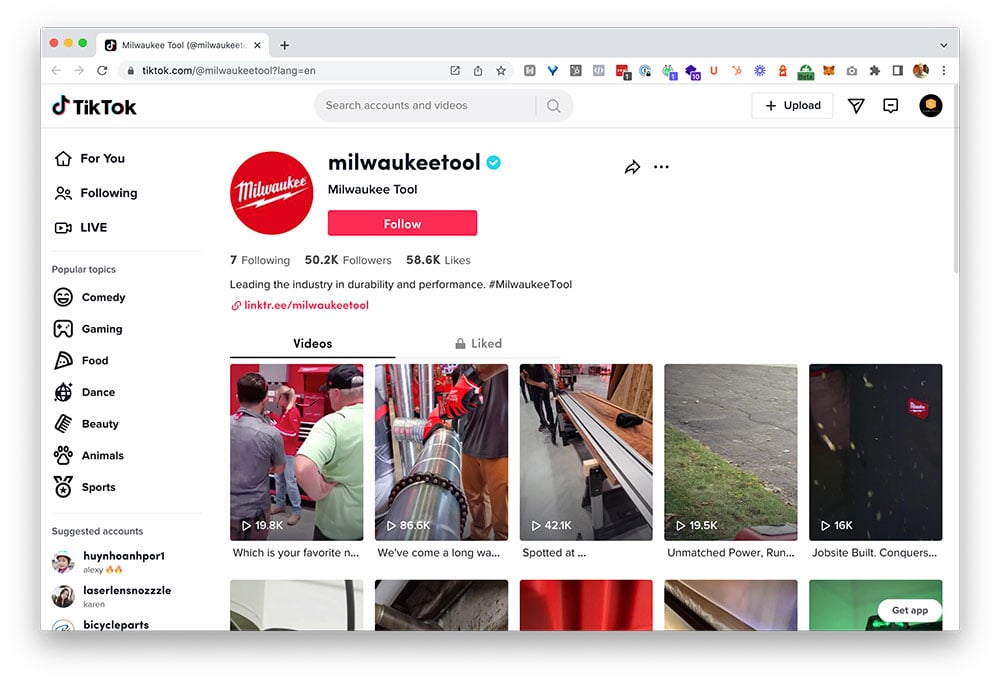 Founded in 1939, Mercury Marine designs and manufactures marine-specific motors in Fond du Lac, WI. On Mercury Marine's profile, you can find dozens of videos of their engines at work while boating and fishing and even vintage commercials of the company while incorporating the popular hashtag #ThrowbackThursday. The account takes the opportunity to engage with its viewers using captions, asking questions such as "Who will be on your boat this weekend?"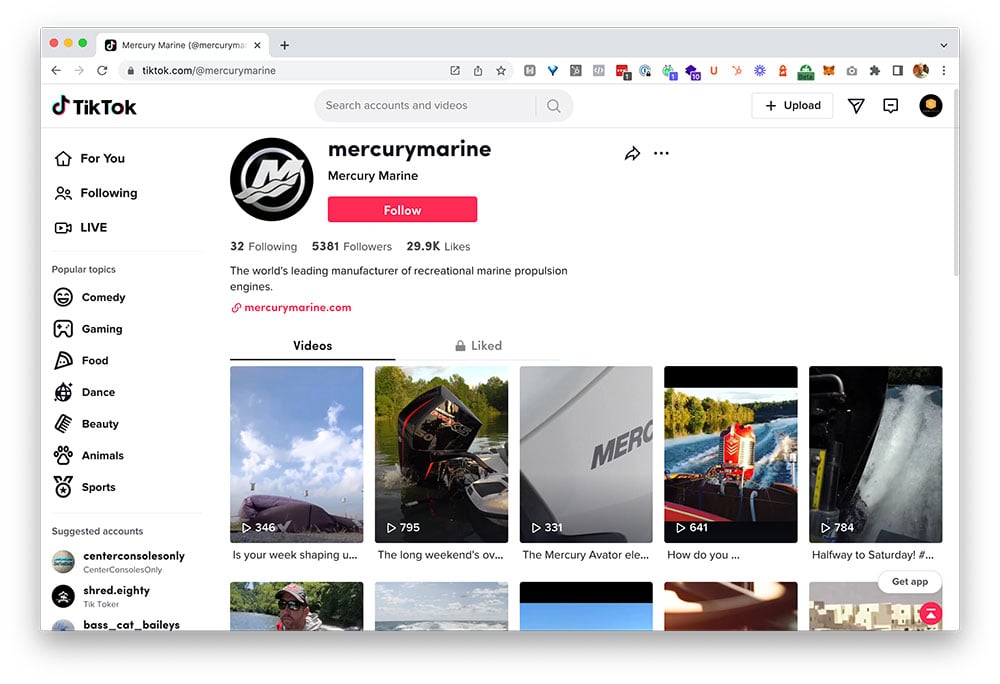 Global Finishing Solutions is an Osseo, WI-based company dedicated to developing high-quality paint booths and painting for several industries such as aerospace, automotive, and industrial business. The company's TikToks show the process of painting boats and airplanes and gives a sneak peek at the company's culture, including employees enjoying a company cookout and throwing an ice cream party for a local elementary school. GFS even takes the opportunity to promote open positions for the company using the trending Full House theme song. What a great way to attract applicants!
Based in Milwaukee, WI, Aviles Plastics provides fabrication services, CNC, and more. You can find videos of day-to-day work operations and machines in action on their page. The account takes advantage of captions and uses hashtags such as #AvilesPlastics and #Manufacturing. #Winning!
New MFG Alliance is a group of manufacturers collaborating with educators, workforce development, and state organizations to promote manufacturing in Northeast Wisconsin. Its TikTok page is dedicated to promoting careers and job openings in various manufacturing positions such as welding and machinery throughout WI.
Redline Plastics is a Manitowoc, WI manufacturer that specializes in rotational molded vacuum-formed plastic products. Its account showcases its machines at work and even a fun video of employees playing basketball in the warehouse. A hilarious video asks employees to finish the sentence "You know you're from Wisconsin when…". Loving cheese was a common answer… we do love our cheese!
Founded in 1879, The Lawton Standard Co. is located in De Pere, WI, and is a foundry specializing in high alloy and complicated metallurgical castings. Incorporating popular sounds and trends, the TikTok page gives tours of the warehouse and the history of the company. Keep making awesome videos, Lawton Standard Co.!
Waupaca Foundry is one of the world's largest independent iron foundries, producing gray, ductile, and compacted graphite iron castings. This Waupaca, WI-based manufacturer has 700 followers on TikTok and has 20 ASMR videos of its foundry processes. You can see videos on the history of the company, showing appreciation for female employees and asking viewers to rate employees' Captain Jack Sparrow runs. Savvy!
Key Takeaways: How Can Manufacturers be Successful on TikTok?
Now that you have a feel for the various types of TikToks being posted by Wisconsin manufacturers, you can start thinking about what types of videos and content you can post to promote your business!
One of the first steps to creating content on TikTok is finding your niche. The great news is this is already done for you! As a manufacturer, you are already specialized in an area of expertise. This provides the opportunity to create unique videos about your field of business and the company's products and culture.
But how do you create engaging videos and get the algorithm to work in your favor? With these few tips, you'll be posting videos like a pro in no time!
1. Incorporate Current Trends
TikTok trends go almost as fast as they come. There are always dozens of new trending sounds, visual effects, and jokes circulating the app. While this provides endless ideas for content, it is important to stay on top of the current trends. By scrolling through your For You page, you'll be able to identify popular trends and challenges, and then you can hop on the trend yourself!
Find trending sounds by selecting the "Discover" tab at the bottom of your homepage and search "sounds" in the search bar. From there, scroll over to the "Sounds" tab, and a list of trending sounds will appear for your use.
Viewers are 68% more likely to remember a brand better when a sound they like is used in a video
62% of viewers say they are curious to learn more about the brand when it uses a trending sound in a video
65% of viewers enjoy posts with an original sound from the company
So use trending sounds to your advantage! And don't rule out original sounds; they can work to your advantage as well.
2. Use Captions and Hashtags
TikTok has increased the caption limit to 300 characters. Take the opportunity to create engaging captions for your viewers, and incorporate hashtags!
Some ways to create engaging captions are using humor and interactive questions and prompts. Posting funny captions is a great way to make your content memorable and gain likes. Similarly, writing a question that invites your viewers to reply allows them to interact with your videos.
Just like sounds, hashtags are always trending. Here are some tips to make the most out of hashtags:
Search for trending hashtags. Simply select the "Discover" tab on the bottom of your home page and scroll through trending hashtags. Check for new hashtags often because they are always coming and going!
Find creative ways to incorporate your business with trending hashtags. If #soccer is trending, it probably won't directly relate to your niche in manufacturing. But you could post a fun video of your employees kicking around a soccer ball at work.
Don't overdo it on the hashtags. While TikTok allows 300 characters for a caption, this should be used for both an engaging caption and hashtags. Using 3-5 hashtags per post is a good amount to leave room for a caption.
Use both niche and trending hashtags. Consider using a hashtag with your company name, #manufacturing, or #Wisconsin so users can search and easily find your posts. Find ways to combine niche hashtags with trending hashtags. It's all about balance!
3. Post Quality Content Often
TikToks don't have to be cinematic pieces of art. But you should still be posting quality content often. All TikToks can be filmed and edited on a smartphone. With good lighting and sound and a few quick edits, you can create worthwhile content.
Making sure your posts are unique is important, too. You can still participate in trends while creating niche-specific content. Find ways to show the behind-the-scenes of your company. Showcasing your niche and using a trend is a great way to post unique and quality content.
Some more niche-focused content ideas are: What does a typical workday look like? What equipment is used at your company? What is your company culture like?
45% of TikTok users feel more connected to brands that teach them something new or provide information about their company.
Keep videos short and engaging. Because TikTok has endless scrolling, viewers can lose attention quickly. Grab the viewer's attention early on in the video to encourage them to watch the full post. While TikToks can be up to 3 minutes long, aim for 12-15 second videos. Occasionally posting longer videos is ok, too!
Another tip is to be mindful of the time you are posting videos. While your posts have the potential to be seen at any time of day, consider uploading your videos at a time of day when your viewers are awake and active on TikTok. On average, it's

suggested to upload

your posts from 6:00 AM-10:00 AM, and from 7:00 PM-11:00 PM. You can always create a TikTok and save it as a draft until you're ready to post.
4. Engage with your Audience
Unlike traditional marketing strategies, social media gives businesses the advantage of interacting directly with their audience. Take the opportunity to engage with your audience and reply to comments on your posts.
Answer commentor questions on your posts. You can reply directly to their questions.
Directly reply to comments with a new TikTok video. Simply click on the comment you'd like to reply to, press the red video camera logo on the left of the keyboard, and record/upload as usual. This allows you to answer questions viewers may be curious about while creating new content at the same time.
Engage with different types of comments. If you post a TikTok showcasing one of your products and someone comments "I need one of these", a great reply could be "We agree", perhaps with an emoji.
Incorporate humor in your replies. Social media is a great place to promote your business in a casual way. If the opportunity arises, consider replying to comments with a joke or funny emojis.
Now that you know how to create engaging videos on TikTok using popular sounds, hashtags, and trends it's time to get recording! Grab a buddy and see what unique content you can come up with. And most importantly, have fun! While you still want to promote your business in a professional way, TikTok is meant for creativity and to allow users to see your brand in a new way.
Do you love any manufacturing brands on Tiktok? Share your favorite Tiktoks with us!