Everyday I get so many e-newsletters that I've created a script in mac mail to filter them right away out of my inbox and into a different folder (here's the blog post on how to filter mac mail). However, when these three email subscriptions below come into my inbox, I have to stop and read the headlines and see what they have to say. These are great sources of marketing information and tips/how-to's for any marketing professional looking to keep up with social media and marketing.
1. Social Media Examiner
Social Media Examiner seems to always have great content (articles and videos) every week that they share with links back to their online magazine. Content usually has to do with social media tools tips/tricks and lead generation tactics. It's ranked as a top 100 business blog from Technorati and AdAge and over 30 industry experts contribute to the site, so it's definitely worth checking out even if you don't subscribe to the email.
http://www.socialmediaexaminer.com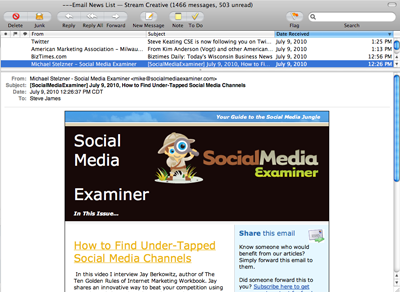 2. Inbound Magnet by Hubspot
Inbound Magnet is a weekly Inbound Marketing newsletter which provides information how to help your company attract qualified customers by creating extraordinary content. This newsletter shares the latest Inbound Marketing research, Inbound Marketing tips and tricks, branding opportunities, events, webinars, and Inbound Marketing classes. The newsletter is also an extension of Inbound Marketing University which offers free training and certification for internet marketing professionals.
http://inboundmarketing.com/newsletter


3. Social Media Today
Socialmediatoday.com provides social media news, strategy and tools and techniques on their blog and each week the most read posts and editor's choices are shared via the e-newsletter. They have a Blogger Board with marketers like Jonathan Salem Baski, Maggie Fox, Brian Solis and John Byrne to name a few that are guiding/developing the platform and content on the web site. You can also join the web site's moderated business community and interact with other marketers, bloggers, PR and media professionals.
If you know of any other great e-newsletters please share below in the comments.