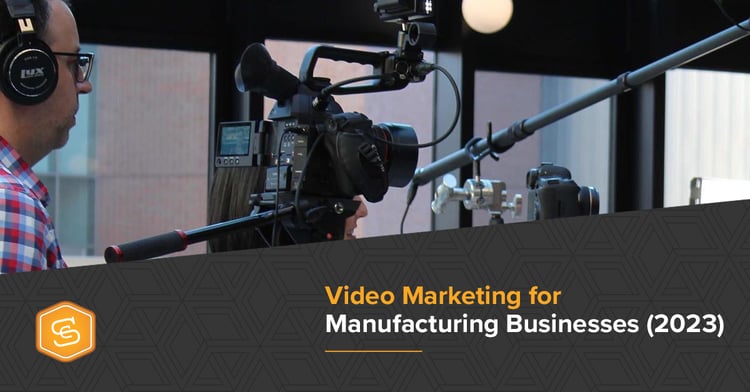 With an increasing number of businesses promoting their products in video format, video marketing is exploding worldwide. Due to its ability to promote products and services, increase website traffic and engagement, and build relationships with viewers, there's no wonder why video marketing has become an essential tool brands use to market themselves.

Read on to discover the best ways to promote your manufacturing business using video marketing and why it matters in today's digital age.
Why is Video Marketing Important For Your Manufacturing Business?
The rise of smartphone usage and easily accessible technology has made watching content online easier than ever. Estimates show that the Covid-19 Pandemic has boosted digital media consumption by 215% in the USA, with the average person spending 19 hours a week watching videos online, almost doubling the time spent viewing content on the web since 2018.

And with 90% of people reporting they want to continue seeing more video-based content from brands, there's no question if you need to include video-based marketing in your business's marketing strategy. Video marketing has become a necessity in today's internet-driven society.

Video marketing is a highly effective platform to promote your niche manufacturing product or service, and there are several ways to go about it. Posting videos online allows you to showcase your brand, and how your products can offer solutions to your viewers' problems.
94% of marketers agree videos have helped increase viewers' understanding of their products and services.


With Millenials and Gen-Z stepping into decision-making shoes, marketing and online content are shifting to becoming more tech-savvy and visual.


If you're interested in incorporating video marketing into your company's marketing plan or want to learn more about its benefits and impact, buckle up and continue reading.
Benefits of Video Marketing
Here are some of the top reasons why you should be incorporating video-based content to promote your manufacturing business:
Increase organic traffic:
86% of video marketers agree that video is an effective strategy for generating leads and increasing website traffic.

Over 60% of marketers report their customer acquisition has gone up after using video marketing.

Brand awareness can improve by 54% after video marketing efforts.
Keep up with the competition:
85% of businesses use video as part of their marketing strategy.

99% of current video marketers agree they will continue using video marketing, and two-thirds plan on increasing or maintaining their budget.

79% of businesses that currently are not using video marketing have planned to start in 2022. This is 10% higher than 2021's figure and 20% higher than 2020.
An excellent return on investment:
Video marketing undoubtedly improves Return on Investment: 87% of marketers claim video provides a positive ROI. This is a significant increase from the 33% of marketers who felt this way in 2015.

81% of marketers believe video has a direct and positive impact on sales.
The Best Types of Video Marketing For Manufacturers
There are various impactful and effective video marketing strategies to choose from. Different types of marketing videos relate to different members of your audience, depending on where they are in the marketing flywheel. Whatever video you may be using, they all can educate and build trust with your audience and provide personalized customer support.
Product Manufacturing Videos
Product manufacturing videos highlight the manufacturing process of a product, such as showing viewers a production line or the machines and workers in action.

A similar type of video that showcases the manufacturing process is an explainer video of your product, which explains the product itself. Explainer videos highlight the product's attributes, key qualities, how it operates, or why a viewer may need it.

Product manufacturing and explainer videos are impactful in all stages of the flywheel, and these types of videos have had profound success in the video marketing world; 96% of people agree watching explainer videos helps them learn more about a product, and 88% have been persuaded to make a purchase after viewing.
Manufacturing Overview Videos
Highlight what your manufacturing company does and why it's significant. Manufacturing overview videos can include information about the square footage of your warehouse, how many technicians are working at a given time, and how many products are manufactured or shipped daily.

Additionally, these videos allow you to showcase your expertise to potential customers.

Explainer videos have become popular in business marketing because of their flexibility in storytelling. Compelling explainer videos focus on their brand's message, call to action, and keep their target audience in mind.

When planning your next explainer video, keep the following questions in mind:
What issue do you hope to help your audience resolve? Introduce viewers to the problem in a relatable way.

What is the competition like for your business? Highlight any existing solutions to the problem and why your solution is better.


Are you addressing the right audience? Ensure you're talking to the right audience to get your viewers' attention.


Have you included how your viewers can reach you? Include your company contact info both on-screen and in the voice-over.
Pro tip: put your key message into the first :30 seconds of your video, and simplify the most important message into a single sentence in the first few seconds of the script.


How-to Videos
How-to videos are instructional videos that build viewers' foundational knowledge to help them better understand your business and its solutions. These videos can range from visual instructions on how to use a product to explaining preventative maintenance tasks to troubleshooting common questions.

How-to videos are helpful for viewers in the attract stage of the marketing flywheel and are useful for sales and service teams as they engage with customers.

Check out these examples of how-to-videos to start gaining ideas on how you can create your own.
Virtual Tour Videos of Your Manufacturing Facility
Virtual tours of your manufacturing facility allow you to give potential customers insight into your day-to-day functions and production processes. Showcasing your workers in action or your state-of-the-art manufacturing equipment and facility is a great, cost-effective way to promote your business and brand.

TikTok has quickly become a valuable marketing tool for brands to showcase their daily business functions and company culture through virtual tour videos, giving viewers an immersive and informative experience.

Check out how The Lawton Standard Co. gives viewers a tour of its pattern shop warehouse in this great TikTok video example!



Customer Testimonial Videos
While written testimonials are an excellent marketing addition to any website, video testimonials go above and beyond because the viewer can see and experience the customer's emotions.

Customer testimonial videos give your audience honest customer feedback about your products and allow customers to picture themselves using your services. These videos highlight how your business solved customer problems and why your products matter.

Loyal and satisfied customers can become company advocates and share their positive experiences with the company. This category of video provides helpful content to your viewers' journey and adds value to their customer experience.
Recruiting Videos
Recruiting videos showcase company culture and brand image and appeal to potential job candidates. These videos can be displayed in several locations, such as your career site, job postings, landing pages, and social media.

Providing videos for candidates allows them to better determine if the position and work environment will suit them. Including recruiting videos for potential employees reaps excellent benefits.
Recruiting videos don't have to stop at potential applicants. Take it a step further and continue communicating with those who have applied to open positions. Create an application response confirmation email, which can include a message from the CEO or a video that highlights the next steps of the hiring process.
Pro tip: show prospective employees what it's like to work for your organization, provide employee testimonials, and give an inside look at what daily responsibilities the job posting includes.
"Why We Matter" Brand Videos
"Why We Matter" videos build brand awareness and create connections and long-lasting impressions with potential customers. These videos, also known as brand videos, are helpful for customers in the attract phase of the marketing flywheel. They aim to increase your company's brand awareness, exhibit your values and missions, and intrigue your target audience.

"Why we matter" videos can also include an overview of why your manufacturing product is relevant or the history of your manufacturing company. Check out Global Finishing Solution's TikTok video, which shows the evolution of the company's paint booth business.

Pro tip: display your brand's personality and showcase how your leadership is a source of industry news and insights. Once you've attracted your target audience, you can build a relationship with your viewers and convert them into customers.
Hopefully, you can see how video marketing can benefit your manufacturing business.

Video marketing paves the way to generating leads, educating your audience, and converting viewers into customers. Incorporating video into your manufacturing marketing strategy helps you keep up with the competition and gives your audience what they want to see.

Whether you'd like to attract those who have never heard of your company, potential customers, or re-engage past customers, there's a video for that!

Grab your smartphone and get recording!
Manufacturing Benchmark Resources:

Manufacturing Video Marketing Statistics to Improve Your Strategy
Email Marketing for Manufacturers: Benchmarks and Statistics