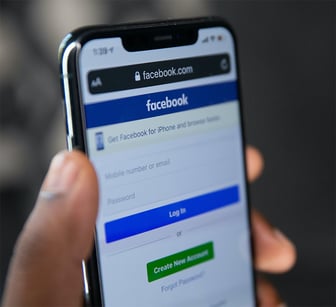 I made a joke about organic reach on Facebook this morning. Nobody got it!
No but seriously, why don't people see my posts?
The unfortunate truth is Facebook's organic reach has been going down for years, and it doesn't show signs of rising back up anytime soon. The platform is oversaturated, and with Facebook's 2016 algorithm change to prioritize Friends and Family accounts and with more changes on the way in 2022, it is becoming increasingly harder to get in front of audiences without resorting to pay for play.
So how can you go about trying to raise your organic reach on Facebook? Let's start by looking at what Facebook's algorithm currently values.
How The Facebook Algorithm Determines What's In Your Feed (2022)
In terms of Facebook business accounts, there are three main ranking signals the algorithm uses to determine what someone sees on their feed:
Who is doing the posting. Users tend to get more posts from sources they interact with. So if someone is actively interacting with an account, they are more likely to see more content from them. So if you can get one really good post in front of someone and they interact with it, Facebook will suggest more from you.


The type of content being interacted with. The general idea is that if you most often interact with video, you'll see more video. If you engage with photos, you'll see more photos. What does your audience prefer?


General interactions. The feed will prioritize posts with a lot of engagement and clicks, especially if the users who are interacting with it are people you know. After all, if so many people found it engaging, why wouldn't you?
HOT TIP: How do you grow interactions organically? Engage! For many marketers, it's easy to post on social media and then forget about it. Social media is supposed to be just that. Social. Try to make it as much of a conversation as possible. Thank people for commenting, tag other businesses you're working with, answer questions, make polls and comment on the outcome, encourage others in your business to interact. Show your audience you're listening and not just shouting at them through a social megaphone.
Remember, Facebook's top priority is getting you to stay on the platform. Whether that means watching lots of videos and doing nothing else or commenting and liking as many posts as possible. Facebook is trying to create a feed that keeps you there instead of switching to another app or site.
Facebook Engagement: The Big Picture
The good news is that it's not just your organic engagement that's going down, it's a trend being seen across many businesses and industries. Let's take a look at two important stats:
Not very encouraging numbers. But does that mean giving up on organic Facebook posts? Absolutely not! In HubSpot's 2022 State of Inbound Marketing Treads, researchers were able to pull the following data:

This data shows that Facebook still gets the most engagement among these five platforms. So while your organic reach may be lower than it's been in years past, it's still well worth your time and effort.
Using Facebook Messenger To Boost Organic Engagement (And To Delight Customers)
When you think of raising your organic Facebook engagement, do you think of Facebook Messenger? Or have you only considered the feed?
Consider building a strategy around using Messenger for customer service. After all, where are people most likely to go if they want a quick answer from a business? A "Contact Us' page might require giving up personal information in a form or a long-winded phone call with a salesperson. You could leave a comment on a YouTube video or Facebook ad where anyone could see it. But really, the most straightforward answer is as easy as a direct message to the business.
The Facebook Messenger App is one of the most downloaded apps of all time. According to Hootsuite, 1 billion messages are sent between people and businesses on Messenger every month. Of those businesses on messenger, over 33,000 are using bots to automate sales and help with customer service.
Think of all the customers and potential customers who message businesses and get an immediate response back. No muss or fuss. A perfect opportunity to delight your visitors and maybe get them to stick around a little longer or come back to your social account because they can trust you as an informational resource.
Looking for examples of how different types of businesses use chatbots on Messenger? Check out these five examples to get inspiration!
Looking for more resources on getting started with chatbots in general? Check out these other blogs:
So while this type of engagement isn't out there for the whole world to see and getting more posts in front of more eyeballs, it still has tremendous value. One-on-one contact with someone who has a genuine interest in your business presents an opportunity to make a lasting impression and build brand trust... And if you do it right, they will likely come back to your business for support in the future.
Facebook Video Engagement: Optimizing Your Video Content
You've likely heard that short form video content is the way to go these days. And that statement is absolutely true! Meta, as a company, is pushing to be a video-first platform and often prioritizes video assets in both Facebook and Instagram feeds in an effort to compete with TikTok.
"From the addition of Reels into Facebook, to the rise of YouTube Shorts, and TikTok overtaking Google as the most popular domain, the great shift to short form video is in full-swing. The platforms are increasingly placing priority on highlighting short form video in their algorithms, and if you aren't already exploring the use of this medium, now is the time to start."
Crystal King
Social Media Professor, HubSpot
(source: 2022 State of Inbound Marketing Trends)
Many businesses are running into trouble because they make video content, but that content isn't taking off the way they expect. The reason may be simple—the content is not optimized to succeed on the platform.
Tips for Optimizing Facebook Social Videos
According to Facebook, 75% of video is viewed on mobile. Therefore you should always optimize video to be viewed on mobile. Here are three ways to do this:
Sizing: Facebook suggests square 1:1, vertical 4:5, and full portrait 9:16 ratios—NOT traditional landscape.


Use subtitles or basic text on screen: 85% or more of mobile viewers watch videos without sound and Facebook videos auto-play on mute. Ensuring people know what your video is about even without sound is key. Additionally, make sure your text is easy to read on a small screen.


Keep it short. As a general rule of thumb with social video, less is more. What's more, the completion rate is a factor that tells Facebook how "good" your video is. So if people are actually making it to the end, that tells Facebook you're making quality content. Consider breaking down longer videos you've already created into smaller videos, perhaps even a series.
It's also important to keep in mind that videos don't require a huge production budget to be good. Most videos on social media are taken on someone's iphone and edited in whatever app they are posting on. Authenticity tends to resonate well with viewers, so don't be afraid to post videos that are minimally edited.
HOT TIP: This is not the end of long form video content. There are still plenty of people looking for in-depth interviews, walkthroughs, and reviews. The place for these videos is YouTube! YouTube is the second largest search engine and people go there specifically to learn and be entertained, whereas someone on Facebook may be in it for a quick scroll and not in the mood for a 15-minute product review.

Instead, do a short teaser for your long video on Facebook and lead them back to YouTube if they would like to learn more.
Wrapping It All Up
So what should you walk away from this blog knowing?
Organic engagement on Facebook is slipping for most businesses


Facebook still gets high engagement compared to other platforms


The algorithm put emphasis on who is posting, the style of content they are posting, and how many other people engage with the post


Consider adding Facebook Messenger into your social strategy


Meta is showing preference to video (in particular, short-form video)


Always optimize your videos for mobile
This information is a great place to start as you audit your Facebook social media plan, and build a new strategy to gain more organic engagement.
Got questions? Contact us or leave a message below! Looking for more social media resources? Check out some of our other blogs: