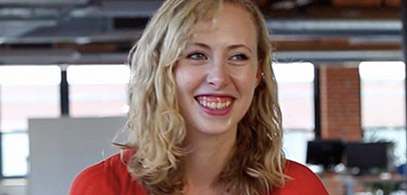 More and more businesses are discovering the value of using visual content and video as an inbound marketing tool to help generate leads and create loyalty. It is now apparent that marketers do not need to be turned off by the common misconception that video should be produced in a costly way. The reality is, video has an important place in your marketing workflows and it can be quite easy to do – not to mention fun. By far, it is one of the easiest tools you can use to build an emotional connection with your website visitors, prospects and customers.
Someone who truly understands the value of creating and evaluating engagement through video is Elise Ramsay, Community Manager at Wistia – a video marketing platform built for business (not cats). Elise is passionate about connecting people and helping businesses big and small do awesome things with video. We're looking forward to taking part in Elise's breakout session during Experience Inbound 2015. She was kind enough to give us a sneak peek at some of the great information and tips that will be shared with attendees.
What would a video introduction of you look like?
You've said that video is really about humanizing your business. What are the benefits of branding videos and product explainers, and do you need both to be successful?
At Wistia, we like to think not about having a video strategy, but about finding ways for video to be part of your overall marketing strategy. It makes you think differently about what information you choose to present in video form as opposed to any other form of content.
It's not so much whether you need both branding and product explainer videos, but whether brand awareness and customer experience are goals within your marketing strategy, and whether video would support your existing efforts there.
Video provides an opportunity to show faces of your company, so if you feel that will work toward the goal of, for example, a customer having a good experience learning about your product, then you should absolutely use video there.
What are some simple ways that video can be leveraged in the digital space?
I've seen great success with videos on landing pages, in documentation to explain complex workflows, as product demos, on social media to answer a question with personality, as hype for a big event, and more. Looking for an easy win? Make a simple video on a landing page to increase signups for your next webinar. Have the hosts introduce themselves and the topic with personality, then watch as your signups increase dramatically. Works every time!
What does a perfect video look in terms of length, feel, message and tone?
Ah, the ol' "silver bullet" question! Alas, there is no One Video To Rule Them All.
The tone and feel of a video should be dictated entirely by your brand. Video is a branding tool, just like social media. It shouldn't exist in isolation, and it shouldn't be the same as everyone else's.
The best bone I can throw you for optimal video length is that our data has shown most business videos under two minutes long get higher engagement (ie, the audience sticks around longer) than longer videos.
However, it's important to note that the best video is the one that delivers what the viewer wants and expects in a certain context. If I'm struggling with a part of your product and search through your docs for an answer, a short, concise video explaining that specific feature is exactly what I need. If I'm in a learning mindset and looking to level up my skills on lead generation, I might find your blog and appreciate a comprehensive tutorial video that goes deeper into the topic. It's all about context!
What has been your biggest "ah-ha!" moment in the past year?
To be perfectly honest, I have those moments all the time when looking through the Wistia Community (wistia.com/community). I've had my eyes opened to new ideas, strategies, and video production tips by folks all over the world. It still boggles my mind how awesome it is to make friends through Wistia and have their help in making my own videos wildly better. I've met a lot of their dogs via video chat, too, which always makes my day!
Tell us a little about your role at Wistia and what are some of the site's greatest benefits as a resource for inbound marketers?
I'm the Community Manager here, which means I dictate our community strategy (including the inception, development, and ongoing evolution of wistia.com/community) and communicate customer stories both internally and externally.
Wistia's Learning Hub (wistia.com/hub), which includes the Community, Blog, and Library of video tutorials, is geared toward helping people become better video marketers together. Our own content on topics from production to marketing strategy is available in the Blog and Library, and the Community allows folks to get feedback on their videos and learn from others with expertise. The ability to learn from both experts and others in your shoes is my favorite part of the learning resources on Wistia.
Elise Ramsay will be facilitating breakout sessions during Experience Inbound 2015 taking place in Milwaukee on June 3 and Green Bay on June 4. Elise will be alongside keynote presenters Mark Roberge, Chief Revenue Officer of Hubspot, Chad Pollitt, VP of Audience and Co-Founder of Relevance.com, as well as many other dynamic sales and marketing presenters. For more information about Experience Inbound or to register, visit www.experienceinbound.com.
If you're looking for other resources on how to take your video marketing to the next level, check out some of our other video resources!
Still have video editing questions, or want to talk strategy on how you can use video in your marketing flywheel? Reach out to us, we're happy to help.